Need Some Guidance? Use These Seven Tools in God's Toolbox for Discernment.
The Great Resignation is more than just a wake-up call. It's an invitation to discern.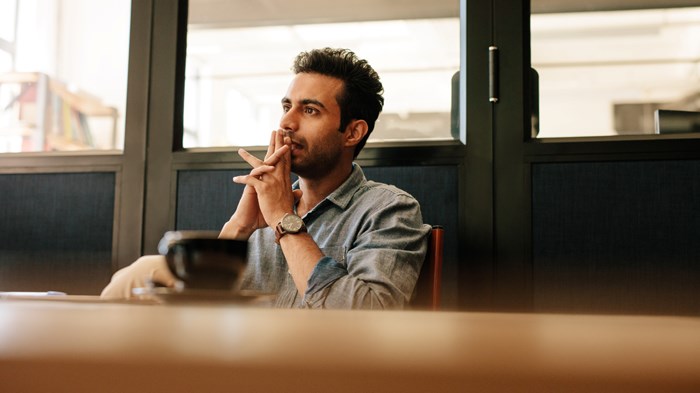 Fueled by a unique opportunity for collective reflection, the so-called "Great Resignation" is having reverberating effects throughout the global workforce. The shared trauma and disruptions of a worldwide pandemic, alongside humanitarian crises and war, forces each one of us to pause, if not just for a moment, to reflect on our priorities – both personally and professionally. Just as it is impossible in this day of age to not know someone who has been impacted by the Covid-19 pandemic or other disasters, it is equally impossible to not know someone who has or is considering realigning their career in reflection of their values and priorities.
As Christians, this process of realignment is twofold. Setting aside career drivers – job security, work-life balance, competitive salary etc., we are called to live out Christ's love each and every day— both in and outside of the workforce. When considering a life change, such as a career or further education, we often find ourselves seeking guidance from our Creator. While this path of spiritual discernment is different for each individual, our God provides us with the opportunity to seek the clarity of the Holy Spirit in guiding our lives towards alignment with Christ's love.
We are [often] led into a space of spiritual discernment as a result of internal dissonance.
Working in Christian higher education, spiritual discernment is part of an ongoing if not daily conversation with all types of students at every walk of life. Fortunately, or unfortunately, it is not a "one-and-done" process. More often than not, I've observed that we are led into a space of spiritual discernment as a result of internal dissonance – an unsettling feeling in the soul that something is off, a call to something bigger, a personal conflict, or unsettling pull between decisions. In working with students of all ages, this fog often can look like a search for clarity of God's calling in their life – a need for retooling, repositioning, and realigning their passions, gifts, and skills towards a higher calling.
I've seen and worked with students that are at all points of the discernment process. Some enter our office for a campus visit with a clear vision and calling, while others are simply in the early stages of exploration. Regardless of where you are at in your own spiritual discernment process or what you are in the process of discerning, there are countless numbers of tools you can utilize to aid in your journey.
Ask God for spiritual discernment. While this seems obvious, the first step is to ask God for guidance in your spiritual discernment. If your driving force is to seek spiritual clarity, God must first be asked into this process. Skipping this step can and most often will lead to further confusions or unfulfilled decisions. Take a moment to invite God into this process.

Humbly submit to God's timeline. Recognize and engage with the continuous process, answers and clarity will rarely arrive as quickly as you want them to. In our current culture we expect instant answers – the clarity of discernment rarely aligns with this timeline.

Enter with an open heart. Recognize and name the dissonance between where God is leading you and where the world is pulling you – be aware of when you are making compromises and when you are fully trusting God.

Explore through relationships. We are intentionally designed to be in relationship and community with one another. Lean into your relationships and create new ones to aid in the discernment processes. If you are considering further education or a career change, this can look like networking, informational interviews, and inviting those that know you best for support in this process.
Value hands-on opportunities. Seek out experiential opportunities in the areas you are being pulled towards. Interested in graduate school? Sit in on a class, visit campus, meet with faculty. Interested in a career change? Find paths to volunteer in this new field. Spend time reflecting on these experiences – do they give or take your energy?

Set aside dedicated time to be still in God's presence and receive guidance. Just as we need to intentionally invite God into the process of spiritual discernment, we also need to spend dedicated time in our Creator's presence to receive guidance. Block off regular dedicated times to simply be in God's presence through prayer and worship.

Decide and thank God for guidance. The ultimate end goal of spiritual discernment is to discern. Find peace and confidence that God has guided you towards a decision. Thank and praise God for guidance and take action on your decision.
God has an infinite toolbox to aid yourself and others in the discernment process – in addition to the suggestions shared above, there are many other creative ways to enter this process. If you are considering realigning your career, calling, or furthering your education I encourage you to intentionally submit into a process of spiritual discernment to guide your decision making.
In a posture of humility, let us together enter our Creator's presence seeking guidance in aligning our lives towards Christ's love.
Amy Becker Karl is Assistant Director of Graduate Admissions at Wheaton College. She holds a B.A. in Geography and Spanish from Augustana College and an M.Ed in Higher Education from Loyola University Chicago.
The Better Samaritan is a part of CT's Blog Forum. Support the work of CT. Subscribe and get one year free.
The views of the blogger do not necessarily reflect those of Christianity Today.