Just One Year since the Atlanta Spa Shooting, We Have Even More to Grieve.
Not much has changed over the last year, but how can we care and respond for our AAPI brothers and sisters who are hurting? How can we affirm the dignity of our fellow image-bearers?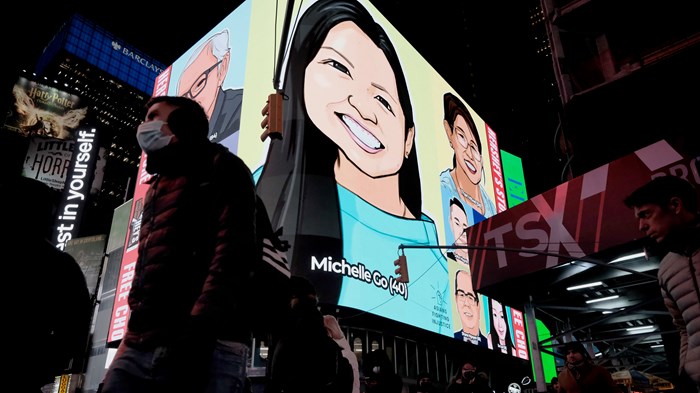 "Umma, that's you!"
My daughter exclaimed while we were cuddling in bed. I felt a sudden piercing in my heart, and quickly scrolled past the photo.
"No, baby…that's…"
My voice trailed off as the words dissolved in my mouth. How do I begin to describe a woman who I have never met, but whose murder resonates with me so deeply? How do I explain to my daughter why her death is personal to me?
That night, I wept. I wept for the senseless loss of two young and vibrant lives. I wept for their mothers, their fathers, their families, and their friends whose sorrow might never fully be healed. I wept for the people whose lives they touched, for the equity they fought for, and for the loss of their great potential. I wept reading about Christina Yuna Lee screaming and crying for help in her last moments, and Michelle Alyssa Go never even seeing the face of her attacker. I wept because two precious image-bearers were robbed of their lives and dignity.
I also wept because my daughter was right - it could have been me. Christina Lee was an Asian American, a bright light, a woman, and a daughter. Michelle Go was a helper, a sister, and a friend. I see my own story in their stories, and my face in their faces, just like my daughter did.
According to a March 2022 study by The National Asian Pacific American Women's Forum (NAPAWF), there has been a 339% increase in reports of hate crimes against Asian Americans over the last year, with Asian American and Pacific Islander (AAPI) women bearing the brunt of them. One of the bleakest findings of this report was that, 74% of the AAPI women surveyed reported personally experiencing racism and/or discrimination, 38% reported experiencing sexual harassment, and 12% reported experiencing gender and/or race-based physical violence within the last year. The main reasons they said they experienced the racism and discrimination were due to race/ethnicity (46%), skin color (34%), and language or accent (19%).
Although these are disheartening findings, none of it is revelatory to members of the Asian American diaspora. We see our aunties and uncles robbed and assaulted in our Chinatown, we hear the slurs from cars driving by as we walk down the street in K-town, and we experience the xenophobia in Little India, Little Tokyo, and Little Saigon. We absorb the microaggressions in our children's schools, our workplaces, our churches, on the playground, and our book club because we are taught to survive, and expected to endure. Asian American women are the main targets and also the principal witnesses to these daily injustices, but are largely ignored and dismissed when we ask for it to stop because we are seen as weak and unimportant.
Historical portrayal and tropes of Asian women in the media and the prevalence of prostitution overseas during such conflicts as the Vietnam War have grossly fetishized us, made us into hypersexualized yet submissive creatures who live to serve the every whim of men who desire us. This idea has fueled a lucrative financial demand for businesses and pornography featuring Asian women, the latter which often also incorporates violence against us.
This was on full display for the world to see in the Atlanta Spa shootings on March 16th, 2021. The Asian women who owned and worked at these spas were devalued by some Christians because they chose to focus on the perpetrator and his personal struggles with sin, rather than the victims. None of the victims were identified by police as sex workers; nevertheless, there is a reason why so many spas are owned and staffed by Asian women. It is the basic law of supply and demand, and a result of the toxic and harmful way that Asian women have been and are seen in America. That sin needs to be admitted, repented and reconciled first, rather than redirected as blame on what the sin has created.
The violent murders of Michelle Go and Christina Yuna Lee have triggered the same deep sorrow in the AAPI community that many of us felt when the Atlanta shootings occurred. Two recent shootings at Asian-owned spas in Albuquerque resulting in two more deaths have compounded the anguish. And another brutal beating of an Asian American woman in Yonkers, just this week.
I cannot describe in English how I am feeling, but there is a Korean concept that is at the very heart of our culture called han 한. Many describe han as resentment, rage, sorrow, injustice, and loss. Although it has been present in our culture since the beginning, in recent years we use it to describe things like the pain and agony of our families being separated during the Korean War. In this moment, I am feeling distress as an Asian American woman, grieved as a Christian, fear as a mother to small children, indignation at my invisibility despite being an image-bearer of God, a burden for the hatred and evil represented in the acts against the AAPI community as a humanitarian, and aggravated by the many other terrible events plaguing our fallen world at this time. I am living and breathing han right now, but feel completely unseen.
You probably know a Christina Lee. You might see a friend in the faces of the women who were shot in Atlanta. Many AAPI women are scared right now. We are more nervous than usual to walk outside by ourselves, even during the day. We are constantly looking over our shoulder to see if someone is following us, and moving in front of our children to shield them in case someone passing by means us harm.
Check in on your AAPI community. Help your friends, especially your female friends, by making them feel visible and valued by amplifying their voices and speaking up for them when they can't. Validate their fear and concern. Pray for them, our elders, and the entire Asian American and Pacific Islander community. Condemn these acts against us, and speak out against all acts of hate. Stand for justice, even when it's uncomfortable. See us.
Remember that we are all image-bearers of God. Look at others until you recognize your own face, and then you shall see Christ.
Additional Resources:
AACC Statement Condemning the Killings of Michelle Go and Christina Yuna Lee
AACC Statement on the Atlanta Massacre and Ongoing Anti-Asian Hate
Mobilization for Justice Statement on Statement on Christina Yuna Lee
Michelle Go's Family Statement
Revisit: Asian American Leaders on Atlanta Murders: "I Want You to Step In"
Lora Kim Kwan is committed to walking with marginalized and vulnerable people towards wholeness. Through her pastoral care counseling ministry, she has the privilege of being witness to the restorative power of the Holy Spirit, and the unfathomable love that God has for His children. She seeks to embody Christ to all those that she meets, and cares deeply for people affected by the great injustices present in this fallen world. She hopes to be a peacemaker and bridge for racial reconciliation, as well as a champion for cultural connection. Lora is currently pursuing a Master's degree at Wheaton Humanitarian Disaster Institute.
The Better Samaritan is a part of CT's Blog Forum. Support the work of CT. Subscribe and get one year free.
The views of the blogger do not necessarily reflect those of Christianity Today.