Don't Waste the Waiting: An Advent Reflection
Anna's faithful love for the Savior convicts and challenges me. It breaks apart my excuses and points me toward a life of worship and surrender.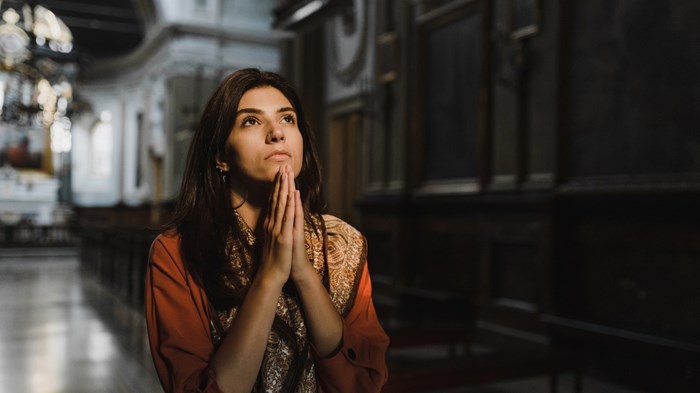 One of my favorite passages in the biblical narratives about the birth of Jesus might surprise you. It's Luke 2:36-38, which gives us a glimpse into the life of the elderly prophetess, Anna.
Anna means "favor" or "grace." She had been widowed after only 7 years of marriage. Luke tells us Anna never left the temple and spent every day and night worshiping, fasting and praying.
What a role model! Anna was married less than a decade, but instead of letting overwhelming grief descend, she dedicated herself to the Lord. Whatever Anna's emotions and choices were immediately following her widowhood, she allowed God to use her as His servant in her golden years.
Picture with me: you're nearing the end of your life, and your bones creak as you rise from your bed and prepare for the day. Your eyes aren't as focused as they once were; your mind isn't quite as sharp. However, you believe God has yet more to show you. In fact, your deepest desire is to meet the promised Messiah before your death. God's prophecies are on your heart and His word on your lips as you wake and sleep, and you wait excitedly for the fulfillment of all you (and your people) have hoped for.
"Soon," you whisper to yourself each day. "It's happening soon. I feel God asking me to give Him a little more time."
How good of God to allow Anna to see our Savior before she left this earth. Her heart must have burst with gratitude as she gazed on the Christ-child and His earthly parents, and her soul must have filled with joy. I wonder if she quickly moved out of the temple and into the streets, almost skipping as she shared the news that the promised One had been born? Surely, she died with a smile on her face and a song in her heart.
Luke reported that upon seeing Jesus at his temple dedication, Anna gave thanks to God and spoke about Him to all who were looking forward to the redemption of Jerusalem. A chorus of angels may have announced the Messiah's birth to shepherds, Mary, and Zechariah, but Anna had the honor of proclaiming His arrival to the people in her sphere.
Anna recognized Jesus as the Promised One, thanking God for Him. She exemplifies Romans 5:1-5 (NIV): "Therefore, since we have been justified through faith, we have peace with God through our Lord Jesus Christ, through whom we have gained access by faith into this grace in which we now stand. And we boast in the hope of the glory of God. Not only so, but we also glory in our sufferings, because we know that suffering produces perseverance; perseverance, character; and character, hope. And hope does not put us to shame, because God's love has been poured out into our hearts through the Holy Spirit, who has been given to us."
Anna's suffering did not lead to bitterness, but to perseverance. That perseverance—namely, her dedicated service to the holy God—formed her character. And her character, forged in the fires of waiting and worshiping, led this prophetess to a fervent hope of seeing God's glory in the person of Jesus before she died.
Do you and I have this kind of gospel hope, one that isn't fixated on what the world might give but what will most glorify God? Do our prayers focus on us and our problems, or on places and people that need our Savior's beautiful redemption? Or does world-weariness win over worship?
If I'm honest, my prayers are more often for financial provision or health than for God's glory to be shown and His purposes fulfilled. Bills, work, and the daily-ness of life tend to crowd out my desire to glorify Jesus. And my to-do lists seem more pressing than doing justice and loving mercy.
Anna's faithful love for the Savior convicts and challenges me. It breaks apart my excuses for not worshiping more (protests of "I'm too old/too tired/too weak/too busy" seem silly when I hold them up to her example) and points me towards a life of persistent, faithful surrender.
Instead of waiting out her last years with worry, Anna stayed connected to God and His people. She was fruitful, and God multiplied her act of obedience.
During one particularly long waiting season, after trying to fix things, fretting, and then getting frustrated, I confessed my sin. During that time, I distinctly felt the Holy Spirit say, "Don't waste the waiting." I understood this to mean that I was to submit and trust, instead of running ahead of my Heavenly Father. And after a time of repentance, I did just that. Though my situation remained the same, my next few months felt more peaceful and joyful.
I wish I had allowed the season of unanswered prayer to turn me towards God and not away from Him. What if, like Anna, I had worshiped God instead of getting stressed out? Instead, I wasted months when God could have been my comfort and joy.
As we walk through these short, sometimes dreary days before Christmas, waiting for the celebration of Jesus' birth and looking forward to His second Advent (when all things will be renewed), let's not waste the waiting.
Dena Dyer is a professional speaker and Bible teacher, as well as the author or co-author of twelve books including Wounded Women of the Bible: Finding Hope When Life Hurts with Tina Samples. In her day job, she serves as Communications Specialist for Wheaton's Humanitarian Disaster Institute.
The Better Samaritan is a part of CT's Blog Forum. Support the work of CT. Subscribe and get one year free.
The views of the blogger do not necessarily reflect those of Christianity Today.