99 Arepas for Peace: An Advent Story
An arrival of migrants during Advent's week of peace gives one community a tangible opportunity to be peacemakers.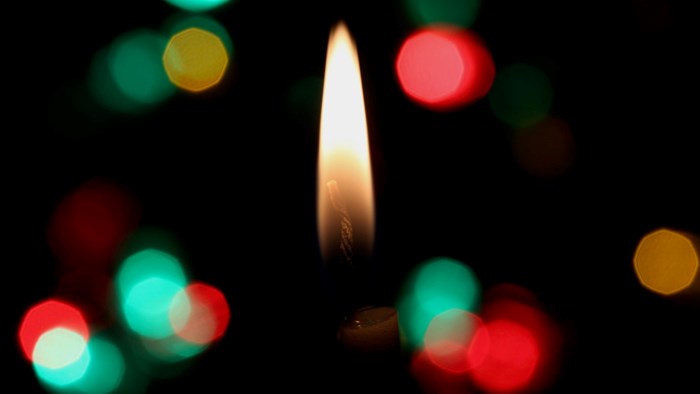 December may have 31 days, but it feels like the shortest month of the year. The desire to accomplish 31 days of work in about 16 days is palpable. Recently, in the midst of my personal chaos, I received a text from a friend which read, "Migrants are at the Denver bus station, probably a result of a border state's governor. Can you help?"
No effective front-line efforts of response are done in a vacuum. I texted another friend, a pastor who helped coordinate these types of efforts with his church. Soon, a spreadsheet with opportunities to cover shifts (from intake to overnight shelter care, from cleaning to serving food), arrived in my inbox from this pastor. In response to his leadership and request for help, I began to share it with neighbors and friends.
The sign-ups started slowly. It was the Christmas season and everyone had packed schedules. No one had the time to drop everything and help migrants who showed up unannounced. I smiled as I thought about the timing, the disruption of schedules and plans, all during the second week of Advent—the week of peace.
The Meaning of Peace
Peace, an often-misunderstood word in the Bible, means wholeness, restoration, to join or bind together. It is not about silent surroundings. Churches and saints around the world were reflecting on peace. In Denver, we were scrambling to meet work, family and personal demands while also trying to respond to the arrival of migrants, nearly all from Venezuela.
In Isaiah 9:6-7, a familiar scripture during the lighting of the second Advent candle to commence the week of peace, we read: "For to us a child is born, to us a son is given, and the government will be on his shoulders. And he will be called Wonderful Counselor, Mighty God, Everlasting Father, Prince of Peace. Of the greatness of his government and peace there will be no end…"
From the beginning of time, when all that was created good (connected, functioning well together) became broken, humanity has longed to be reconnected. The promise of a Prince of Peace whose government would be great and unendingly peaceful was exactly the kind of good news needed to reconcile and heal our broken world back then, and today.
As Christians we celebrate that Christ's arrival had purpose, to be our peace, our reconnector. We believe that His work on the cross, "the punishment that brought us peace [would be on] him, and by his wounds we are healed." In Paul's epistle to the Colossians, we learn of the supremacy of Christ and how "God was pleased to have all his fullness dwell in him, and through him to reconcile to himself all things, whether things on earth or things in heaven, by making peace through his blood, shed on the cross."
Our reconnection back to God is a beautiful plan, but it's not the whole picture. Christ ushered reconnection bigger than our personal salvation. He gave us a gospel of the kingdom that is to be active and alive in the world today. As children of God, we are called to live our lives as blessed peacemakers. We aren't to hold our position as children of God for ourselves, waiting for His return. No, in Christ's upside-down kingdom, our peace is not a retreat from the world or a stay-away-from-the-noise kind. Ours is to be brought to the chaos and brokenness of our world. Ours is a peace of engagement.
The story of Venezuelan migrants crossing the border is not unlike many stories that have been told across the decades. Stories of unstable governments, of people in search of safety, opportunity, and a future. Over the years, I have led numerous border trips and have borne witness to the brokenness both literally at the border and through the stories of migrants. Many have been forcibly displaced, leaving families they loved, a country whose language and culture were understood with ease. Each person had both big and small disconnections and brokenness in need of healing and repair.
Serving at the shelter during Advent's week of peace seemed beyond fitting. As I worked my shift, meeting migrants who had finally had a good night's sleep, they began to ask me, "Do you know about arepas?" They hadn't eaten Venezuelan food since they left home. A Colombian friend lived with me a few years back, so I actually knew what an arepa was. As the morning progressed, we learned there were three cooks in the group of migrants. If they had access to a kitchen, they indicated they would be more than happy to make them.
In the sheer joy of newly formed friendships, food was purchased and plans were made to make arepas at my house a few blocks away. Minutes before we headed over, the city put the kibosh on our plans. The woman who shared the disappointing news said, "You can make the arepas and bring them." Make arepas? I had no clue how to make arepas.
A few calls later, a plan was hatched. Four people from my church would make them the next afternoon. A Columbian, a Venezuelan, a Nicaraguan and I met up. At times it was a comedy of errors with two of us learning alongside two who had made them for as long as they could remember. When we were finished, we had made filling, toppings, and 99 arepas.
Bringing Peace to Brokenness
I again remembered the prophet Isaiah, this time chapter 58 where God speaks to His children, frustrated that they were once again missing his heart. They were trying to understand, trying to draw close by fasting. God was frustrated at their ritual and asked, "is this the kind of fast I have chosen, only a day for people to humble themselves?…Is that what you call a fast, a day acceptable to the Lord?"
They were fasting in hopes that God would hear and answer their prayers, but they were not making the sacrifices He wanted, "to loose the chains of injustice…to set the oppressed free…to share your food with the hungry and to provide the poor wanderer with shelter…."
When we sacrifice time and resources, seeking for ways that liberate and bring peace to someone else's brokenness, God will allow our light to break forth in darkness and heal us. Instead of feeling depleted, when we share peace, we will be filled and strengthened. In this ongoing practice of peacemaking we will earn reputations as peacemakers, "repairers of broken walls and restorers of streets with dwellings."
A few days after the story broke, high-ranking elected officials and grassroots immigration activists like me were all wondering how the migrants had come. Was this a result of some partisan game? Had a border state governor put them on the bus? After the last of the calls were placed and the reporting began to be corroborated, we learned that they had organized themselves and had planned to come. They heard Denver was hospitable and had opportunities. Our city's reputation over the years as we served migrants, working toward their flourishing, had been heard and people were now heading our way.
Christ was giving us the opportunity to meet Him this week in the faces of men, women and children, these strangers in need. He was asking us to be peacemakers, to reconnect people to safe spaces to sleep, shower, have wifi to tell their families they were safe, and even to ask for and receive arepas.
As we continue the celebration of the Christ-child's arrival, may we do so bringing peace, joyfully offering our sacrifice of love. Until what we hope for is no longer needed, and we are reconnected with the One seated at the right hand of God, our Prince of Peace.
Michelle Ferrigno Warren is the president and CEO of Virago Strategies, a consulting group that provides strategic direction and project management for civic engagement campaigns alongside communities impacted by racial and economic injustice. She helped found Open Door Ministries, a community development 501(c)(3) corporation in downtown Denver, to address poverty, addiction, and homelessness through social programs. She is the author of The Power of Proximity and Join the Resistance.
The Better Samaritan is a part of CT's Blog Forum. Support the work of CT. Subscribe and get one year free.
The views of the blogger do not necessarily reflect those of Christianity Today.