The Crushing Wheel: Shifting Missions Engagement From Transactional to Transformational
Why our churches should ask deeper questions about the root causes of grinding poverty and systemic violence.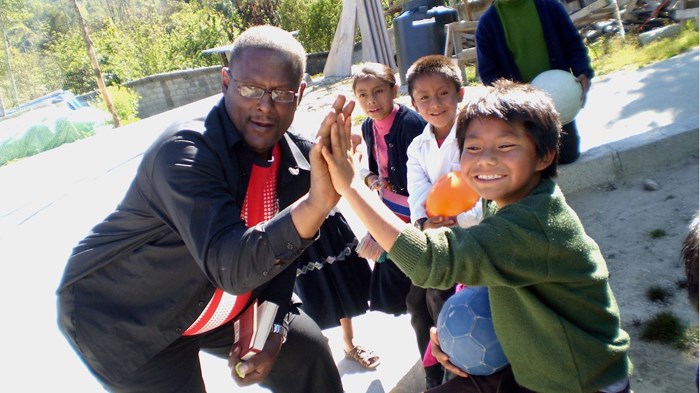 Struggling to minister faithfully in the vortex of war and human need of World War II, German pastor, theologian and martyr Dietrich Bonhoeffer wrote these provocative words in his book Ethics: "Will the church merely gather up those whom the wheel has crushed, or will it prevent the wheel from crushing them?" Bonhoeffer perceived an often-missing element in Christians' participation in God's mission: the preventive work of identifying and addressing the root causes of human suffering.
At Pittsburgh Seminary's World Mission Initiative, my co-author, Balajiedlang Khyllep, and I conducted four surveys of more than 1200 Evangelical, Catholic and mainline Protestant congregational mission leaders and dozens of interviews about the ways their congregations understand and engage in mission. Their responses and concerns form the foundation of our book, Freeing Congregational Mission: A Practical Vision for Companionship, Cultural Humility and Co-Development.
Our research suggests that U.S. Evangelicals, Catholics and mainline Protestants tend to engage in similar kinds of mission activities. Short-term mission trips, child sponsorship programs, orphanages and meal-packaging programs are among the most popular activities. Shaped by the demand of the mission marketplace, each of these popular mission activities has mushroomed into a multi-billion-dollar industry. Yet they are curious choices for American congregations (which tend to value the efficient use of resources) because none of these mission activities represents an efficient or sustainable use of resources.
Each year, child sponsorship agencies elicit more than $3 billion in contributions from sponsors who want to make a real difference for "their" child. More than nine million children are currently sponsored around the world. Sponsorship creates a sense of connection between a donor and a child and provides agencies with an unusually dependable source of revenue year after year. Yet the cost of "servicing" donors (providing them with individualized reporting, translating letters, delivering gifts, facilitating donor visits, etc.) make these programs less than efficient and "it is surprising that almost no research exists that evaluates the impacts of these programs."
Jeremy Moodey, a British agency executive whose organization stopped using child sponsorship to generate revenue for their programs, noted the bigger challenge with these popular programs: "Child sponsorships can create an artificial and unhealthy attachment between sponsor and child which may insulate sponsors from an understanding of the wider issues contributing to 'their' child's poverty." By supporting a particular child, we could be averting our gaze from the conditions that keep the child's family dependent on our charity.
Let's consider the impacts a well-known trade agreement unleashed on Mexican corn farmers almost thirty years ago and continues to impact our immigration crisis today. Beginning in 1994 the North American Free Trade Agreement (NAFTA) Mexico had to agree to lower the tariffs that had traditionally protected that nation's corn industry. In the United States, corn is highly subsidized by the federal government to the tune of $10.2 billion per year. "Mexico does not subsidize its corn farmers and, when NAFTA was signed, tariffs were lowered, cheap U.S. corn flooded the market, and the price of corn in Mexico fell precipitously," driving more than a fourth of all Mexican corn farmers off the land and pushing millions of them to emigrate to the U.S. Even though most of the ten largest meal packaging organizations in the U.S. were founded by Christians to respond to the needs of hungry people, few of these organizations educate their volunteers as to the root causes of hunger. Yet without this critically important element we are condemned, in Bonhoeffer's words, to only "gather up those whom the wheel has crushed."
How can we help our congregations to ask deeper questions about the root causes of the grinding poverty and systemic violence that render communities in the Global South (and North) unlivable? Dr. Kim Lamberty, a Catholic mission leader, channels short-term mission travelers' desire to "do something" into immersion experiences that help local Haitian parishes survey their own communities' needs. Dr. Ashley Goad, a short-term mission scholar-practitioner, has helped her Louisiana Methodist church shift their global mission engagement "from transactional to transformative" by reframing their objective to come alongside global Christian leaders on the frontlines.
By sharing the practices of innovative congregational mission leaders like these in our book, Balajiedlang Khyllep and I lift up ways our churches can stop the wheel from crushing our neighbors, global and local.
Hunter Farrell is the Director of Pittsburgh Theological Seminary's World Mission Initiative. He worked for thirty-four years as a missionary, director of Presbyterian World Mission and as a professor of mission and intercultural studies. His work has been published in Missiology: An International Review, The Journal of Latin American Theology and Christianity Today magazine. With S. Balajiedlang Khyllep, he is the author of Freeing Congregational Mission: A Practical Vision for Companionship, Cultural Humility and Co-development (InterVarsity Press, 2022).
The Better Samaritan is a part of CT's Blog Forum. Support the work of CT. Subscribe and get one year free.
The views of the blogger do not necessarily reflect those of Christianity Today.