From Performer to Pastor
An interview with gospel singer—and pastor—CeCe Winans Love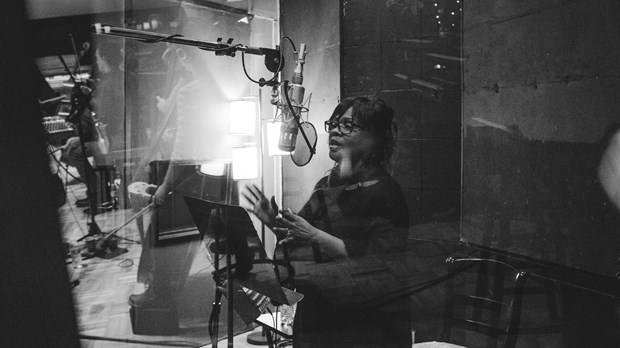 CeCe Winans Love is known for many roles. With her family, especially her brother BeBe, she was a longtime fixture in Gospel music before launching a solo career. Now she's a ten-time Grammy Award winner, a wife, a mother, a friend to many, a TV personality, a book author, the subject of a documentary, and a voice of inspiration to generations. We wanted to talk with her because she's recently added another role: pastor.
Can you start off by telling us what you're doing with your life these days?
I am co-pastoring a church with my husband: Nashville Life Church in Nashville, Tennessee. This year we celebrated our fifth anniversary. And I just released a brand-new album titled Let Them Fall in Love. It's my first released music in over nine years.
The last five years I've been really focused on the church. It's taken up all of my time and heart and passion. There was a call that my husband and I answered; this was something that we had not planned on doing in our lives. But we've been empowered to serve, so we are making disciples. That's our focus for our church, to make disciples. The majority of the church is Millennials, which is very exciting. It's a diverse church. You see people from all walks of life and all different ethnic backgrounds. It's pretty awesome what God is doing. I'm really, really busy these days, but I'm really, really happy. I'm trusting in the Lord. And whenever you lay down your life for him, he always shows up in an immeasurable way.
You and your husband are co-pastors; how is your role different from his?
I'm here to support him 200 percent. I'm focused on making women disciples. And he's focused on the men. We are an independent church, but we have an advisory board, a directors board, and a board of accountability. He leads, and I help him lead. I'm his support.
We both understand the massiveness of the call, especially on him, at this stage of our lives. God is so faithful because not only are we working together, but my son and daughter are involved as well. We all preach and teach and lead, and God has called us as a family. We're a priestly family.
What are some of the challenges and joys of co-pastoring with your husband?
The challenge is just being in such unfamiliar territory. I feel so unqualified. But God equips when he calls. I've always believed that. With my singing, I hear better singers every day. But it's because of my heart and my passion for God that he continues to celebrate me, bless me, and give me a platform for his glory.
When the church thing came along, my husband and I looked each other. We were about to retire. I was going to continue singing until I take my last breath, but I wasn't going to continue to tour. We were going to chill out. So that's changed my whole life—timewise, marriage-wise. We have only so many hours in a day, and we have to balance everything. It's the same answer I gave when I was on the road: you have to prioritize. Our relationship with Jesus is first and foremost. We make sure we keep our devotions with him daily, being in the Word, fasting, all the things it takes to keep myself submitted to the Word of God. Then our relationship with our family. God didn't call me to win the world to lose my family.
The challenge has been becoming a pastor. Now, after five years, we know we are pastors because we have labored with people. But at the beginning we didn't see ourselves as pastors. We didn't feel like we were qualified. But God qualified us through the work. And he changed our hearts. That was probably my biggest challenge, to see myself as God saw me. And to not worry about titles. I know some people don't feel like women can pastor. We're just here to please God.
The greatest challenges I hear other pastors going through, I think we have escaped those. Not that we have not gone through them, but we were older. At this age, we have dealt with people already. We're going to have people get mad or whatever, but we're too old to be moved by that. I can definitely tell how it would be different if we would have started this in our twenties or even in our thirties, but I'm in my fifties and my husband is in his sixties. So we are like, "God, whatever you want." We are not here to impress people. We are not here for our motives. We are purely here to serve God and do his work. And that's pretty awesome. There's no clutter.
I think that's why Millennials are being drawn to our church. It's not based on music. When the word started to get out here, a lot of people thought we would have great music. They'll come to the church with their guitars and want to get on the music team, and I'm like, "Do you have a relationship with Jesus?" You don't get on the worship team unless you're being discipled by somebody, which is awesome. You don't have a whole lot of people running there when they find that out, but that's okay.
How is success measured differently in performing versus pastoring? What has this adjustment been like for you?
They're the same in one way and different. As an artist, I've always wanted to sell records and excel in being successful in the world's system of music. But my first priority was always to be successful in God's eyes. And that can look totally different at different times.
When I released my first solo record, Alone in His Presence, the pastor put it on the hold music at our church. A lady called the church and was really upset. The church put her on hold and when they came back, she was calm and knew she was going to be okay. God literally saved a life with that music before it was even out. It went on be successful in other ways, but if that was it, it was worth it.
When you're building a church, you have to get to know the people. They're coming from different walks of life, different teaching, addictions, etc. We have to lay down the foundation, understanding who they are and who we are.
We want to multiply the kingdom. We do want thousands and hundreds of thousands of people to be saved. So my prayer is the same: we want to see lives saved and changed. You always have the other part of success, which I think is good success when it's connected to the right purpose. And that is multiplying and being faithful and doing things in a first-class way. But true success is good success. That's when you're teaching the Word of God. You're living the Word of God. And you are seeing lives changed, being added to the kingdom, being changed into disciples.
What would you say to other women who might be thinking about stepping into pastoral ministry?
I say go where you're called to go. Don't go anywhere if you're not called. It's not a career choice to me. It's a calling, and it's very serious. Don't let anybody stop you from answering the call because of tradition or because of what people think. You have to listen to the Word of God and see how it lines up with whatever ministry you feel you're being called into. Just listen to the Holy Spirit, not yourself, not your ambitions, not your own ideas, not other people's ideas. Don't be led by anything but the Holy Spirit.
I want to encourage all the women in leadership. If you're a mom, you're in leadership. Leading really just means setting an example that people can follow. We want to look like Christ wherever we are, wherever we're leading or influencing somebody. That's what leadership is. You're in a serious role. And sometimes we forget that. My greatest example is for my children. That is to keep them in love with God and passionate about winning souls for Christ. Being the leader in my home means way more to me than a title of being a pastor or any other title. You're influencing people, and you want to influence them to do the right thing. So be encouraged. As long as you follow Jesus, you're going to be a great leader.

Amy Simpson is a life and leadership coach, a popular speaker, and the award-winning author of Troubled Minds: Mental Illness and the Church's Mission and Anxious: Choosing Faith in a World of Worry (both InterVarsity Press). You can find her at AmySimpsonOnline.com, on Facebook, on LinkedIn, and on Twitter @aresimpson.