My Biggest Ministry Mistake
Ten leaders weigh in to help others avoid their mishaps.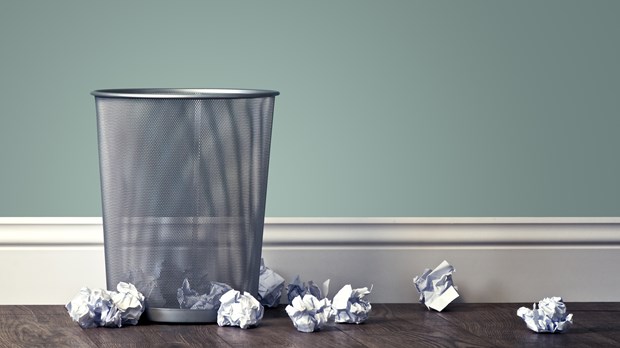 As I look back on my 35 years of church leadership, I am struck by a peculiar dynamic. I struggle to recall many of the times when God has shown up and powerfully proven his love, but I remember every detail connected to my mistakes. There was the time when I organized an end-of-the-year celebratory dinner for 80 people and forgot to assign someone to bring plates and utensils. Perhaps a small mistake, but it still stands out in my mind.
Another far more consequential mistake that still makes me weep. One of our team members had been struggling with severe depression. Though we were aware of this, we did not know the depth of her depression or that we should have physically checked her in to a hospital. After a particularly stormy weekend, she committed suicide. We don't blame ourselves, but we do see that if we had known more, we might have been able to help prevent this tragedy.
Such memories bring a mixture of shame, pain, and regret—a feeling that most of us prefer to avoid. But no matter how smart or seasoned we are, we will make mistakes because we are flawed and broken creatures. Any time we can learn from someone else's mistakes, however, we should! In the hope of helping others avoid blunders, I asked ten seasoned leaders to share their own mistakes.
Fearing My Own Strength
In my previous church, I was the Minister of Pastoral Care and functioned as an assistant pastor. In fact, congregants introduced me as their pastor. At the core of my being, I am a shepherd and theologian who loves to write and teach. I teach seminary classes to pastors and lay leaders. Yet, one of my references told those interviewing me for my current position that my weakness is not owning up to the power and influence I have. I think she's right, and that's a mistake.
—Marlena Graves, author and director of adult discipleship
Failing to Say No
My lack of healthy boundaries in ministry was a recipe for burnout and eventually became my undoing. I loved being needed—but I loved it too much. I could not say "no" or let go of control in some areas. Time with a counselor helped me recognize my unhealthy patterns. Time spent in prayer, solitude, and honest conversation with a couple of close friends helped me maintain those boundaries, and serve God and others with more freedom and joy.
—Michelle Van Loon, author, speaker, and lay leader
Giving too Much of Myself Away
As a pastor and because I love people and ministry, I thought I needed to be completely open and vulnerable to everyone. Other mature Christians tried to help me understand how to be honest, but not overly vulnerable. Thinking I knew better, I did not heed their advice. Big mistake. I quickly learned how some individuals within the congregation took advantage of me, appearing to be interested in a friendship, but only wanting to be my friend for their gain. After several years of this, I found myself somewhat isolated because I built walls to protect myself. Now, I have been gradually working my way back to the middle, but this time with more wisdom and godly maturity.
—Gail Dudley, publisher of READY Magazine, author, advocate, and ordained pastor
Not Asking for Help
My pride and strong work ethic meant I wanted to do everything myself so that projects were done to my standards. The result was exhaustion, isolation, and anger—and I directed that anger at myself, God, and everyone else. I hit a ministry wall head-on without a crash helmet by not letting go of my perfectionistic expectations and not asking for help even when it was clear I needed it. My independence and pride caused me to lose sight of my deep love for children and God's plan for this particular church.
—Jo Young, children's ministry director
Holding Myself to Impossible Standards
I thought a spiritual leader never wavered through unbelief or sin, had mastered spiritual disciplines, and always appeared strong. Trying to keep up that image left me alienated and led to shame when I (inevitably) fell short. As I've been more willing to see my sin, confess it, and receive his grace, I find myself resting in his acceptance of me. That, in turn, gives me courage to share my struggles with others. I lead best when I allow others to see my limitations and witness me finding him in the midst of my mess.
—Gina Butz, global leadership for CRU
Mistaking Confidence for Maturity
Early on in ministry, my husband and I invited Paul* into a church leadership program. We didn't know him well, but he had a remarkably certain faith which we mistook as an earnest passion for Jesus. Although he had no other training, he'd often remark, "I know this stuff already." Kevin and I assumed his issue was pride. But when he was later arrested for sexual misconduct (which preceded his involvement in our church), we realized the dark truth. The biggest lessons learned were: 1) Knowledge and confidence do not necessarily equal spiritual maturity; 2) Time reveals true character; 3) Insist on background checks with anyone who wants to lead! * Not his real name.
—Aubrey Sampson, author and church planter
Letting Fear Limit Me
I've made a lot of mistakes: big mouth, me-centered motives, self-medicating. But the two biggest impediments that have kept me from loving and ministering deeply, were my fears of uncovering my deep wounds. I doubted that Jesus would take these broken places, raise them to new life, and give them meaning. The truth that Jesus will meet me in my suffering so I can love others in theirs can be hard to believe. I wish I hadn't been so afraid. I wish I had believed that Jesus, who was wounded for my healing, loves to use my wounds for the healing of others.
—Wendy Stringer, pastor of discipleship at Grace Toronto Church
Neglecting to Express Gratitude
One mistake I have made (and continue to make!) in church ministry is not saying, "thank you" often enough. As the pastor's wife, I have a unique opportunity to see people serving the church in all the hidden ways that most people never observe. I know exactly who cleans the kitchen, folds the bulletins, and purchases treats for the Sunday school kids. I know who shovels the snow in February and rakes the leaves in November. Although I know these things, I am frequently too busy to pay attention to the people whose nearly invisible labors make mine possible.
—Megan Hill, author, pastor's daughter, and pastor's wife
Ignoring the Holy Spirit
There have been many times when I've sensed the Holy Spirit telling me to keep my mouth shut and I've failed to obey. Recently, I was in a meeting with other leaders when a sensitive topic came up. As the discussion continued, emotions escalated. I sensed God prompting me to stay quiet, but I spoke up anyway, spreading fire instead of quenching it. I spent the next two days writing apologies and asking for forgiveness, and I spent months building bridges to restore friendships that were hurt. When the Spirit asks me to stop talking, it's because he knows that I'm about to slander, complain, boast, or gossip. He's doing me a favor!
—Ilona Hadinger, missionary in Mexico
Complaining Rather than Praying
One of the most helpful rebukes I've ever received was early in my youth ministry. I was complaining about a couple of girls who I simply couldn't connect with; we were so different. They spent hours choreographing dance routines and gossiping about celebrities. Our youth pastor overheard me and asked if I had spent any time praying and asking God to help me make connections with them. No. No I had not. I had allowed their irksome qualities to be a problem instead of an opportunity to seek God and his solutions.
—Aleah Marsden, writer and youth leader
Mistakes should not define or crush us. Because of Jesus's infinite grace and the redemptive power of forgiveness, they can help us grow and develop into mature, compassionate, and wise leaders. Thanks be to God!

Dorothy Littell Greco is an author and writer living outside Boston. She is a regular contributor to WomenLeaders.com and CT Women, and a member of Redbud Writers Guild. She is the author of Making Marriage Beautiful.