Sabbath Is More than Rest
Everyone wants a break and more time off, but Sabbath offers more.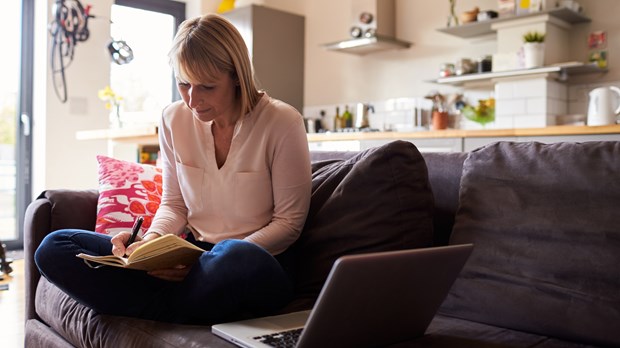 I have struggled over the years as I've tried to find balance in practicing Sabbath. As a new believer, I took the Ten Commandments as gospel and thought a lot about what it means to keep it holy. For me, that easily translated into going to church, and then coming home to investigate the passage that was preached. I spent the afternoon combing the verses that came before and after, as well as investigating every cross reference I could find. This practice did, indeed, feel holy and was instrumental in my growth and discipleship as I gained a tenuous grasp on the complexity and constancy of Scripture.
As my responsibilities grew, however, the leisure of such time was shoved aside. When I married, worked, and had children, spending any time reading the Bible became rare and precious. Sundays turned into a stressful morning of getting everyone rounded up and to church in a presentable fashion as I prepared to teach, greet, and serve. (I remember one Sunday morning when a friend came up behind me to zip my dress, since I had been so frazzled, I didn't even realize it wasn't up all the way.) It took all my Holy Spirit-inspired courage to remain positive and not resort to grumbling like the Israelites in the desert. After church, we somehow managed to feed our tired kids and get them down for naps before my husband and I would collapse into something resembling rest.
During those mind-numbing years, I had to think again about what it meant to keep the Sabbath holy. I found some help as I once again pondered the Ten Commandments. The first three commandments are, without a doubt, God-centered. The first is "I am the Lord your God, who rescued you from the land of Egypt, the place of your slavery. You must not have any other god but me" (Ex. 20:2–3). The second flows from the first: "You must not make for yourself an idol of any kind or an image of anything in the heavens or on the earth or in the sea" (Ex. 20:4). The third warns us to "not misuse the name of the Lord your God" (Ex. 20:7).
A shift begins with the fourth commandment. It is still God-centered, but it's also about us. Of course, all the commandments are for our good and benefit, but this one is uniquely about both God and his people. "Remember to observe the Sabbath day by keeping it holy" (Ex. 20:8).
The first three commandments definitely inform the fourth one. Unless we have God in his proper place in our lives, the idea of a Sabbath is meaningless. This is why observing a Sabbath is not simply taking time off. Otherwise, everyone who takes a day off each week to do whatever they want is having a Sabbath. The phrase "keeping it holy" is all-important in making sense of this commandment.
Of course, we are New Testament people. We are no longer bound to the law, and yet never has the idea of a Sabbath been more needed. As Jesus said, he came to fulfill rather than abolish the law (Matt. 5:17).
As women leaders, a Sabbath is especially important because we are often concerned with accomplishing tasks and meeting needs, making it all the more vital we be connected to the only One who can meet our own needs. With this in mind, I have centered on two reasons to observe a Sabbath regularly: (1) to focus on who God is, and (2) to quiet myself enough to listen to his voice and be refreshed.
Focus on Who God Is
As a young, single person who was simply at church to learn―and had freedom to spend my afternoons as I pleased―it was easy to focus on who God is by taking hours to explore the Bible. When that changed with church and family responsibilities, I couldn't spend my time so freely. Therefore, Sunday could not be my Sabbath in the same way. I wasn't willing to abandon long hours of Bible study, so I had to shift my studies to a different day of the week when I had time and energy to think. Sometimes, that meant my husband or a sitter watched the kids so I could get away and study. I have always made studying the Bible a priority, and I'm certain it has made me a better mother, employee, spouse, and leader.
In addition to seeing who God is through reading the Bible, I also began looking for clues as to who God is by observing his people. When I was at church, I noticed the older man who took time to talk to the teenager to see how he was doing. I observed the younger woman who sat next to the older woman so she wouldn't have to sit alone. I overheard one person inviting another person for a meal after church. I saw a friend pick up another person's child as the two conversed. All of these things taught me much about who God is, and it made me want to know him more.
When I came home from church, I learned about who God is by spending quality time with my little ones. As they depended on me, I, in turn, depended on One who is far greater than I am. Their childlikeness taught me what it means to come to Jesus as a child, in faith and confidence (Matt. 18:3).
Quiet Myself Enough to Listen and Be Refreshed
I also found it important to quiet myself, even in the midst of my hectic schedule. I learned to do this on Sundays, but trying to do it that one day also taught me more about doing it every day of the week. When I was at church, I learned to pray about my attitude as I tried to listen to the sermon and interact with others. I can be a cynical, skeptical person, so I began to put that aside and simply learn, asking God to help me see truth.
I also asked God to help me feel loved by him, rather than feeling like a guilty failure—my go-to attitude every time I am in church. When guilt―for no reason―would threaten to overwhelm, I began to look for ways God loves me. I would hear it in a passage of Scripture, a truth in a sermon, or a hug from a friend.
I've learned I may not be able to spend Sundays leisurely―and there is still a need for finding leisure time―but Sabbath can be found even in the midst of busyness. As I quiet my heart, I can focus on the only one who can truly give me rest (Heb. 4:1–16).
JoHannah Reardon loves Sabbath any way she can find it. Discover her devotional, No More Fear, and her family devotional, Proverbs for Kids, as well as her many novels at johannahreardon.com.