Find Your Natural Rhythm
You can't run full speed all the time.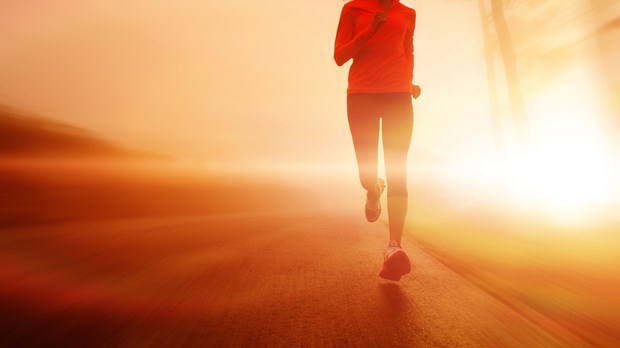 There is strength in a song that compels us to respond with clapped hands, lifted voices, stomped feet, and waving arms. There is power in a song that can pull on our emotions—make us shed a tear or reflect on an old memory. Sometimes a good tune makes us jump up and dance. It reminds us that we have soul, that we know a little something about rhythm and perhaps blues. Meaningful lyrics evoke a response by reminding us that we are human, connected through this shared experience we call life.
But too often the songs we love most—those things that bring us life—are drowned out by screaming kids, packed schedules, and burdensome responsibilities. When our lives are so consumed with meeting expectations, trying to measure up, and fulfilling the needs of others, we lose sight of ourselves. We forget who we are, what we need and want, and where we're going. This sense of loss can become a dangerous reality in the life of leaders. To avoid this danger, we must intentionally practice personal leadership, or what I sometimes refer to as self-care or self-leadership.
The Art of Self-Care
Caring for one's well-being is necessary for those who intend to lead for an extended period, and it requires heightened self-awareness. There are personality tests and leadership diagnostics to help determine your personal needs, strengths, and weaknesses. Sustaining healthy relationships and building an affirming community can help ease some of the emotional strain life may bring. Intentionally developing a natural rhythm that brings purpose and significance to your life, however, is perhaps even more important than relationships and self-awareness.
When I was in the Navy, I worked out daily because it was required of me. I didn't always like the discipline, but I loved the results. Working out increased my daily energy, gave me a good "attack" to start the day, and increased my capacity to enjoy the food that I loved. But after so many years of rigorous training, I needed a break. Five days of workouts every week dwindled to three, then two, and two eventually became none. I had exchanged a rhythm of fitness for a rhythm of desk work. I noticed that the more weekly responsibilities I had, the less I worked out—my physical fitness was the first thing I sacrificed for ministry. Within months, I had gained a few pounds, lacked energy, slept fitfully, and suffered from body aches. In order to gain back the rhythm I once had, my life needed a complete overhaul.
Identify Your Needs
The road back to fitness was not an easy one. Working out on my own or with a friend was inconsistent, and even having a gym membership lacked accountability. Finally, I had enough; I was determined to take my personal care, or self-leadership, seriously. With a full schedule, I knew I needed predictability in my routine, so I joined a gym that offered classes at times I could schedule (just like an office meeting) with instructors who would motivate me when I wanted to quit during that last repetition.
Maybe your struggle or challenge isn't physical. You might want to explore another ministry opportunity, stop drinking so much caffeine, go back to school, or cultivate more relationships with your family or friends. The first step to finding the natural rhythm that you want is to identify the things that are crowding out that reality. What are your goals? What's keeping you from them? What needs do you have that aren't being met?
Recruit a Friend
Good friends can help you find your way back to yourself. When you're honest with your friends about the gap that exists between where you are and where you want to be, you begin to create an environment where encouragement, accountability, and motivation can grow.
Wrestling by yourself will only leave you frustrated. I remember feeling frustrated and tired while trying to maintain a normal schedule even after making a commitment to become a full-time seminary student, self-employed writer, and minister. Being a night owl, I would work late into the night, waking early the next day to maintain normal office hours. It took the wisdom of a friend—in this case my husband—for me to change my work schedule to accommodate my body's natural rhythms instead of forcing my body to conform to what's considered a normal daily routine.
One of the beauties of being in ministry is you often have more flexibility than you think. Perhaps this means you can take off Fridays and work longer days during the week in order to enjoy a Sabbath without the kids. Or maybe your church would allow you to dedicate blocks of time for study and reflection, anchors in your schedule that will enable you to prioritize what's important. Finding your natural rhythm is about identifying your needs, prioritizing your schedule to meet them, and and living in a community that helps you with this goal.
It's Time to Cut Loose
The church as a whole is more interested in the sacred rhythms of Sabbath and rest, and that's a good thing. Taking time to rest when you've worked hard is not a selfish act, but rather a necessary and natural rhythm that God uses to shape your soul. During these times of rest, don't underestimate the value of intentionally pursuing fun. "Fun" sometimes sounds like a four letter word in the church. While the Bible is full of words regarding praise, shouting, dancing, and rejoicing, people are certainly not quoting scriptures about fun.
One of the Scripture verses I continually revisit in my mind is Galatians 6:9 that talks about not growing weary in doing good. In response, one of my natural rhythms of reflection has been to ask myself, What could help keep me from becoming weary on this journey? None but Jesus, of course. But sometimes dancing helps too, at least for me. Fun allows your system to reset, and it brings perspective and levity when life feels too heavy to bear.
What old rhythms might you put off in place of something new? Who might help you determine your natural rhythm? What keeps you from growing weary? Your daily and weekly choices can significantly impact the way you live this faith journey. Cultivate natural rhythms that allow your needs to be met and your wants to be considered. At the end of the day, construct a life that allows you to invest in people and relationships while never neglecting your own self-care, a practice even Jesus modeled.
Natasha Sistrunk Robinson is the visionary founder of Leadership LINKS, Inc. and author of Mentor for Life: Finding Purpose through Intentional Discipleship. She desires to intentionally serve as a credible witness of Christ's leadership to engage, equip, and empower people to live and lead on purpose. She is a graduate of the U.S. Naval Academy and Gordon-Conwell Theological Seminary Charlotte. Natasha has over 15 years of leadership and mentoring experience, and is a sought after speaker, leadership consultant, and mentoring coach. Connect with Natasha through her official website, blog, Facebook, or Twitter.