When It's Time to Quit
"Finish what you start" isn't always good advice.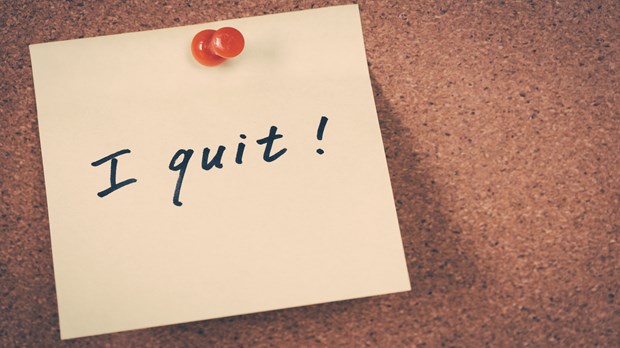 As a child, I was told, "Don't be a quitter." and "Finish what you start." These commands served as a means of encouragement and motivation for academic performance, athletic prowess, and character building. Through these instructions, I learned responsibility, and I find myself saying the same words to my daughter.
Nobody wants to be thought of as a quitter. After all, we don't want to be thought of as weak or lazy. And I don't want people on my team who are too eager to give up, either. Even Jesus warned about a lack of commitment: "No one who puts his hand to the plow and looks back is fit for service in the kingdom of God" (Luke 9:62).
While I firmly believe in the importance of following through on one's actions, and completing what you start, I've grown to understand that there are times—both as a leader and a minister of the gospel—that call for quitting. There are ministries or roles or jobs that require a necessary ending.
Through quitting these things, I learn invaluable lessons about God's character, my identity in Christ, the work God is doing in my heart, and the purpose he has set before me. To be a good quitter, we must be humble as we seek to understand what God wants us to do. And while God certainly doesn't ask us to quit for the sake of it, he does call us to discern when it's best to quit or give up something for the sake of something else.
Quitting Good for Great
In the summer of 2008, I found myself at a crossroads. I had to decide whether I would continue as an officer in the United States Marine Corps. At the time, I had spent all of my adult life, a total of 11 years, in a military environment. I was a good Marine, loved my job, and was making great money. But our country was at war, my marriage was in trouble, and my only daughter—the child I wasn't sure I'd have—was one. There was no way for me to deploy, work on my marriage, and be present to see my daughter grow. So I turned in my papers and was honorably discharged from the military.
I left that job to work at the Department of Homeland Security. I liked the job and the people I was working with, and we were doing important work, but God was growing my love and thirst for his Word. I spent my evenings studying the Word, teaching a Bible study, and leading a small group. Sometimes it felt like I had two jobs—the day job that was paying the bills and the night work which I was most passionate about. When my husband lost his job and we moved to North Carolina, I saw it as an opportunity to quit my day job and pursue seminary full-time, which allowed me to dig into the Word on a regular basis.
Quitting is hard. It puts us in a place of uncertainty and vulnerability. It forces us to trust God. As I look back at the times I've quit something good to pursue something great, I realize how these situations forced me to depend on God. Part of being a faithful servant has been trusting God with all of me—my family, our financial provision, and the work he has assigned to my hands. Every time I quit, I realize again that my life and identity are not wrapped up in what I do—my title, job, or income. Rather, my identity comes from my Father who created me and knows what's best.
Stop Looking Back
Sometimes we're afraid to quit and move on because we're focused on what God has done through that ministry or role in the past. But remember the story of Lot's wife. When God sent angels to rescue Lot and his family from the judgment of Sodom and Gomorrah, they only had a responsibility to follow quickly. The angels told Lot's family that their former ways of living and being were over, and they needed to get moving and prepare for the new thing that lay ahead.
Moving forward, though, proved difficult: "When [Lot] hesitated, the men grasped his hand and the hand of his wife and of his two daughters and led them safely out of the city. . . . and as soon as they had brought them out, one of [the angels] said, 'Flee for your lives! Don't look back" (Genesis 19:16–17). But Lot's wife looked back, and she was turned into a pillar of salt. She quit the future God had for her because she was focused on the past. You see, it's impossible for us to have a laser focus on the journey ahead when our lives and our identity are tied up in our past. When we follow Christ and his leading, however, he can guide us to a new city, open doors that we never imagined, clarify our vision, and make straight ways for our feet.
Is God calling you to quit? Perhaps a ministry needs to end, or you need to focus more on a single ministry rather than be involved in five. Perhaps your role requires a schedule that's not healthy for you in this season, or you need to quit your current small group so you can start something new. Pray for discernment and talk with a trusted community of friends. As you gain clarity about what God wants you to do, go forward boldly and never look back.
Natasha Sistrunk Robinson is the visionary founder of Leadership LINKS, Inc. and author of Mentor for Life: Finding Purpose through Intentional Discipleship. She desires to intentionally serve as a credible witness of Christ's leadership to engage, equip, and empower people to live and lead on purpose. She is a graduate of the U.S. Naval Academy and Gordon-Conwell Theological Seminary in Charlotte. Natasha has over 15 years of leadership and mentoring experience, and is a sought after speaker, leadership consultant, and mentoring coach. Connect with Natasha through her website, blog, Facebook, or Twitter.