Don't Take "No" for an Answer
When God calls, he'll help you find a way to fulfill that calling.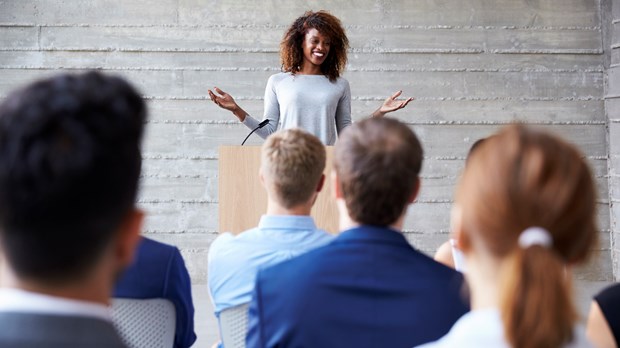 Editor's Note: February is Black History Month, and that's important for all of us. Together we celebrate, especially in February, the amazing contributions African Americans have made to our society. Julia A.J. Foote is a perfect example. She was a trailblazer for all the women God has gifted to lead. Enjoy this reflection on her life and what her legacy means for women leaders today. —Amy Jackson
Her momma said she shouldn't.
Her husband didn't like it.
Her pastor wasn't thrilled.
But Julia Foote felt she had no choice. She was called to preach, and preach she would.
Julia A.J. Foote (1823–1900) was the fourth child of former slaves. She began her young life as many African American women in that century, facing obstacles from a society that segregated based on skin color and placed limits on women leadership roles. She grew up in Schenectady, New York, which was segregated at the time. Her family was staunchly Methodist and equally committed to education, which Foote pursued with abandon through voracious reading. Later, when Foote's parents hired her out as a servant to a white family, she attended two years in a country school when the family used their influence to secure her a seat. Foote's only formal education was two short years in that school around the age of ten.
She immersed herself in her Christian faith as a young girl by reading the Bible, and at age 15, she had a conversion experience that lit her fire for the Lord. Just three years later, she married. The couple never had children, and Foote poured all her energies into ministry.
Soon she felt a call to preach and wanted to speak at her church, but her pastor refused, so Foote took the matter to overseeing church authorities, who likewise refused her a place at the pulpit. She was expelled from her church in 1844.
As a result, Foote struck out on her own.
Foote's mother and father were mortified, though they had equally showcased tremendous propensity toward non-conformity themselves in their early lives. Foote's mother was born a slave but refused one of her master's advances, resulting in a notable whipping. When she boldly reported the master to his wife, she was traded. Foote's father was a strong man who earned side wages in order to buy freedom for himself, his wife, and their infant child. This was the strong heritage into which Julia Foote was born.
Julia respected the church, but felt its stand regarding women in leadership was misguided. Foote once said, "When Paul said, 'Help those women who labor with me in the gospel,' he certainly meant that they did more than to pour out tea!" She felt one thing trumped man's call on her life: God's call on her life. Foote insisted on loyalty to that, and she eagerly encouraged other women to follow God's call.
Her speaking career took her from New York to Ohio to Michigan and as far as Canada. She spoke to white and black audiences alike, evangelizing during revivals that swept the Midwest after the Civil War. She spoke to huge crowds, with one meeting in Ohio in 1878 numbering 5,000.
Her husband initially embraced her expressions of faith, but he grew weary of her career and once threatened to commit her to an insane asylum for having too radical a position. Yet, Foote persevered. "I have a consciousness of obedience to the will of my dear Lord and Master," she once said.
In time, she found peace with her husband and extended family. In fact, in 1851 she paused her ministry to care for her sick mother, who lived with her in Cleveland for several years.
Around that time, Julia's voice gave out due to throat problems. Foote was sidelined from preaching and feared she would never preach again. She wrote about it in her memoir, A Brand Plucked from the Fire, as some of her darkest days: "During all this time I was less spiritual, less zealous . . . the witness was not clear and God suffered me to pass through close trials, tossed by the billows of temptation," she wrote. "I had much of the world to struggle with and against."
Struggle, she did, and triumph. The woman who wouldn't take "no" for an answer from her church, would likewise not succumb to her own physical and spiritual trials. She rallied, and went on to become a missionary in the AME Zion Church. Then in 1894, Julia A. J. Foote became the first woman to be ordained a deacon in the AME Zion Church. In 1900, she became the second woman to hold office as an elder in the same denomination.
Foote's life is a testimony of forward momentum. Though she struggled every step of the way, she didn't let others hold her back from the calling God had on her life.
Julia A.J. Foote's legacy calls for the same in each of us. In the face of today's confusing pendulum swings of affirmation and opposition, women called to lead and preach will need to carry out Foote's bold but simple plan of action: don't take "no" for an answer. With scores of preaching and job opportunities still denied to women, we must take Foote's example and forge creative ways to lead and preach anyway.
"Sisters, shall not you and I unite with the heavenly host in the grand chorus?" Foote wrote. "If so, you will not let what man may say or do, keep you from doing the will of the Lord or using the gifts you have for the good of others."
Janelle Alberts writes pithy Bible synopses for anyone who asked questions in Sunday school but didn't get straight answers. She can be found at www.janellealberts.wordpress.com.