How to Steward Your Ministry Well
What does it look like to invest in the resources God has entrusted to you?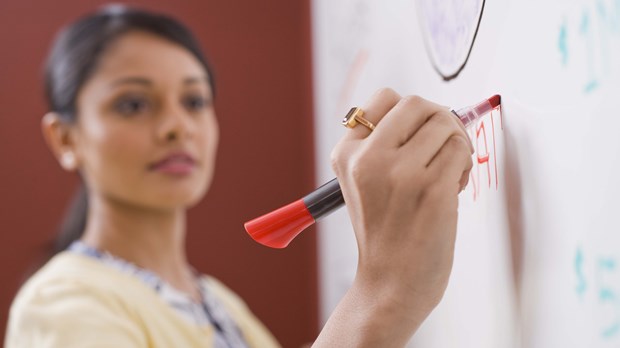 Stewards are people who care for someone else's property. They oversee, protect, and care for what is entrusted to them. That's also the management responsibility of a leader. As people of faith, we are accountable as stewards on behalf of two different owners: (1) God, who created it all and entrusted it to us, and (2) for the ministry for which we work.
A familiar passage in Matthew speaks to the responsibility and the consequences of stewardship. Jesus told the story of a master who entrusted three servants with different amounts of money. One of the servants was given an amount comparable 100 years' wages, the second was given 40 years' wages, and the third was given 20 years' wages. This was an outrageous sum of money for three men who had very little resources of their own. What an amazing opportunity to prove themselves! While the master was away, the first two servants went to work and both doubled the amount they were given. But the third did nothing. In fact, he dug a hole in the ground and hid the money. He literally buried his treasure.
Stewardship Is a Big Responsibility
I'm quick to criticize the third guy. "Seriously, you just buried it! You were given an amazing opportunity. Don't squander this!" But then I put myself in his shoes. He's a servant. He's at the bottom of the corporate ladder. He's not used to a lot of responsibility, and he's fearful of messing it up. When the master confronted him about why he buried it, he said, "I was afraid" (Matthew 25:25). Paralyzed by fear, he was unable to steward the treasure he was responsible for.
That's the way it is for you and me as well. How many times does fear paralyze us and prevent us from stewarding what's been entrusted to us? Each of these servants was given a responsibility that was probably much greater than they'd ever experienced before. The first two rose to the challenge, but the third allowed fear to hold him back from experiencing his greatest opportunity for growth and freedom. We do this too.
Maybe it's accepting a new job that requires a leap of faith, a cross-country move, and a new team culture. Maybe it's investing in the launch of a new location or expanding a ministry of your church. Maybe it's reorganizing your team and realigning the structure to prepare you for the future. Will you embrace this new challenge and risk the payoff, or will you sit on your hands, fearful of change, and have nothing to show for it?
Maybe doing nothing isn't as big an issue for you. In fact, if you're like most leaders, your drive and determination push you to always be looking for more. The problem is that you're never content with what you have right now. So instead of stewarding well what you have, you're always comparing where you are to where others are. You focus your attention on the opportunities you don't have rather than seeing the potential of the ones you do. In this way, you are burying what exists in hopes of acquiring something better. The important principle about stewardship is that it's not about the amount we've been given; it's about managing well what we have.
When we're intentional about stewardship, we build the guidelines that equip our teams to make good, consistent decisions about how best to manage the resources of the ministry. Managing resources goes far beyond money. It also means stewarding people and time.
Stewarding People
The stewardship of people is the highest calling of the leader. Our primary responsibility is developing the best in others and calling that out for the good of both them and the ministry. So even when we're operating from the managerial dimension of leadership, the underlying motivation is others. We're building infrastructure that helps provide direction and framework for the people we serve. We're giving them the tools to make good decisions.
In addition, we have the unique privilege and responsibility to steward the gifts, talents, and calling of each of the people entrusted to our leadership. There is something divinely beautiful that happens when we as leaders can pair the gifts of an individual with the needs of the ministry. This is a managerial practice that has truly spiritual implications. We have the privilege of partnering with God to assign his people the roles and responsibilities that allow them to live out their God-given best.
Stewarding Time
One of my annual New Year's traditions is to review my calendar. I revisit the past year to see what I did. What was continuously out of balance? Did I spend enough consistent quality time with my spouse and my family? How about my friends? Did I take breaks and vacation well? Did I have consistent time with God? Did I make time for serving others? What was my routine for working out? Was there enough fun in my schedule?
Stewarding our time gets tricky. Time is a commodity that is difficult to quantify. We live in a culture that values busyness. But being busy doesn't always reflect good stewardship of time. We can be busy doing a lot of things that don't actually help us accomplish the things we're responsible for. David Allen, author of the bestselling book Getting Things Done, has this to say: "What you do with your time, what you do with your information, and what you do with your body and your focus relative to your priorities—those are the real options to which you must allocate your limited resources. The real issue is how to make appropriate choices about what to do at any point in time. The real issue is how we manage actions."
As I reflect on my work calendar, I consider the pace of meetings. Was I always in a hurry? Did I give appropriate amounts of time to the right people? Did I say yes too much or no too much? Were my regular meetings the most effective way to accomplish the goal? What was missing that would allow the team and me to operate better?
Taking all of these questions into consideration, I review my schedule for the new year. I consider new goals and objectives and build a new calendar that supports them. As leaders, we need to understand that the stewardship of time starts with the habits we create for ourselves and extends to applying the same principles to our ministry as well as individual staff members. Rarely will the same meeting schedule, or lack of one, work for your team forever. Growing ministries require growing structures and systems. Every once in a while, you just have to blow it all up to reset what you really need.
In one season of leadership, I felt like our team was bogged down in too many meetings. The intention for each meeting was good, but we had drifted toward not using the time in those meetings as effectively as we once had. We were busy meeting, but we weren't really getting much done. So for a month I canceled all our meetings. I wanted to see how team members would get information and get their jobs down without the structure. Certainly, it was chaotic at points, but the real needs surfaced, and we quickly identified which meetings were actually necessary and which ones had become obsolete or ineffective.
How well do you understand what it takes for each of the people you lead to do his or her job? Although it's incredibly unpopular (at least when you first suggest it), I recommend having your entire staff do a time log for a two-week period. Ask all team members, yourself included, to keep a log in 30-minute increments of how they spend their time each day. Initially employees will feel like this is a watchdog tactic and be resistant, but push through their frustration and help them see that the goal is to help you better understand what it takes to do their jobs. The benefits go both ways. Employees will probably have some "aha" moments about time that gets chiseled away by unnecessary interruptions, and you will gain a greater understanding of the numerous details that go on behind the scenes of their everyday work.
While stewarding time reflects the obvious need to make sure our teams are working wisely, it's equally important to steward time in a way that creates a sustainable rhythm of work for your team. Do you build in time for fun and time for celebration? After intense seasons that require extra focus, energy and commitment, do you set aside a period for rejuvenation? Do you set aside time for your staff to dream, plan, and anticipate the future?
Stewardship is a significant responsibility. As leaders, we are entrusted with people, time, tools, and treasure. The more of these things we're given, the greater the responsibility becomes. We can't deny it. We can't escape it. We can't ignore it. We can't abuse it. We must remember who has entrusted us with this stewardship, and we must be faithful. We can't escape out responsibility by indulging in moments of immaturity. When we understand our responsibility is to be good stewards, we feel the weight of it. It compels us to give our best to what we've been given.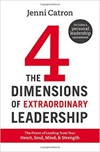 Jenni Catron is a writer, speaker, and leadership coach. She has also served as an executive leader at both Menlo Church in Menlo Park, California, and Cross Point Church in Nashville, Tennessee. Taken from The 4 Dimensions of Extraordinary Leadership by Jenni Catron. Copyright © 2015 by Jennifer Catron a/k/a Jenni Catron. Used by permission of Thomas Nelson.