We Need the Wisdom of Seasoned Leaders
How my life was changed by a woman twice my age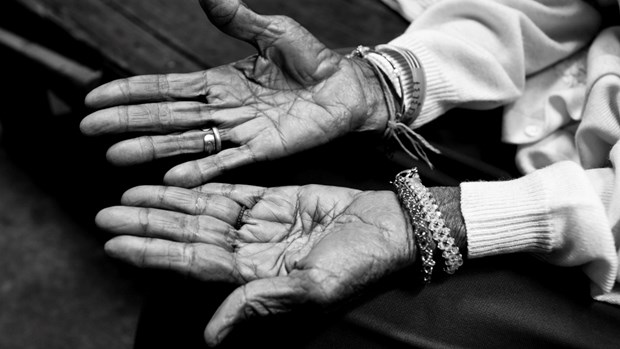 It was a Tuesday morning when I pulled up to the church for my first Bible study. The parking lot was full, I was late, and I still needed to check in my children for childcare. It was quiet when I entered the room, the teacher's engaging lesson holding everyone's attention. The room held more than 100 elderly women, and I was intimidated. But as a new Christian, my deep desire to hear from God and grow in my faith won out, and I found a seat.
I'm so glad I stayed. As I soaked up wisdom from these women, my faith grew in big ways. I started bringing my family to church every weekend, and I started looking for ways to serve. So when I saw an announcement for help with the prison ministry, I inquired about it. The woman over that ministry, Verlene, emailed me to set up a coffee date to talk about the responsibilities. When we met, I instantly recognized her from Tuesday morning Bible study. She was a woman in her seventies, and it was clear she was a seasoned believer. She was very humble and tears streamed from her eyes when she spoke about her love for Jesus. In her wisdom, she could tell that I needed something more than what the Tuesday morning Bible study provided—I needed discipleship. She immediately offered to meet with me one-on-one. That morning was the beginning of a beautiful relationship.
A New Friendship Forms
It felt strange as a young mom to be surrounded by woman so much older than me. It was intimidating to stay at the Tuesday morning Bible study, and it was intimidating to think of meeting with Verlene. Society is fixated on staying young, and the church often follows suit by focusing on ministry to young people. To make things worse, we often seek relationships with people our own age rather than with people older than us. Relationships with people in the same life stage are good, but there is also great power when friendships develop between women of different ages. I'm convinced had Verlene been younger, she would not have had the wisdom to offer me what I really needed: one-on-one discipleship.
We met every week at her home to study. We prayed together and ate together. She shared stories about her walk with Jesus, and she showed up for important moments in my life. When my children were dedicated, she stood up front with our family. When I earned my Bible certificate, she attended the ceremony to cheer me on.
As we met together, my faith grew. I'd been struggling with understanding the Bible, and she found a study Bible with easy-to-read notes that made Scripture clear to me for the first time. It changed my life.
Pretty soon, others started noticing my growth, including the church leadership. They started asking for my help in small tasks, and I always said yes. I was eager to help in any way I could. Before long, I was asked to help lead the Tuesday morning Bible study. As a young woman, they knew I could help change it to be more welcoming to young women. I also started writing the church's newsletters for MOPS, which is where I began my writing ministry. The time Verlene took to invest in me led to these amazing opportunities. As an eager new believer, I wanted a lot at once, but God is patient and his timing is perfect. As I waited, he used Verlene to prepare me for the ministry he had for me.
Our family eventually moved away, and Verlene and I lost touch for a while. Her impact, though, remained. I continued to lead within women's ministry, and I began to write more. I wrote a small book to lead people to Christ, but didn't know what to do with it, so I waited. On a recent visit to our hometown, I caught up with Verlene. At 81, she's still doing prison ministry, and we had a lovely time catching up. I loved hearing about what she was learning in ministry. It was great to see her. As we headed out, I handed her a copy of my book.
Days later, after reading my book, Verlene called me: "Remember when we met you wanted to go into prison ministry? Well, guess what? You're going. I need copies of your book to take with me into the prison. I want to use it with the women inmates." I couldn't believe the journey God had taken me on—from being a new believer, to meeting with Verlene and learning from her, to writing a book that Verlene could use in her own ministry. It was amazing.
What I've Learned
Verlene and I have continued to stay in touch since then, and recently I reflected on all she's taught me. She's taught me to be still before God. She's taught me humility by her example. She taught me how to faithfully serve and the importance of reading Scripture. More than anything, she taught me that ministry should never replace God. Though 40 years and 1,000 miles separate us, she is my closest friend, and I'm thankful for that.
As church leaders, we must be open to learning from godly older women. We need to learn to cherish the Verlenes in our churches because they can impart wisdom from generation to generation. If we want to be wise leaders, we must go to those who have gained wisdom by following God for a lifetime.
God led me to that Bible study years ago that on the outside didn't seem like the right fit. Little did I know it was really the perfect fit. I would not be the leader I am today had it not been for my openness to a woman twice my age. Verlene opened her heart to an excited new believer, and together we are expanding God's kingdom through our love for each other, hope for the church, and relationship with Jesus Christ.
Saleama A. Ruvalcaba is a wife, mother of five, home educator, and Bible student. She will soon graduate with a degree in Church Ministries from Evangel University.