Sister, You Are Not a Mistake
The church needs you and your gifts.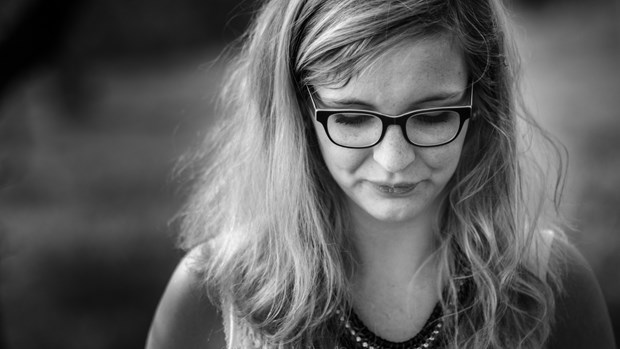 In Christianity Today's article "The Seminary Gender Gap," Sharon Hodde Miller asks why seminaries continue to be predominantly male, reinforcing the impression that men are preferable for ministry leadership than women.
[Several] factors produce a persistent minority of female, evangelical seminarians with a rather tumultuous seminary experience. Evangelical women who discern a call to seminary often find themselves without much community and without many resources. Whether or not they are seeking ordination, women report feeling ostracized by male classmates. Among the evangelical women I have interviewed, most experienced little interaction with the men in their classes, and were even treated as a sexual temptation.
At evangelical seminaries, women make up one in five of the students pursuing an MDiv (see Half the Church for more). When systems, structures, and people within the church and seminaries communicate the message that women don't belong, are objects of sexual temptation to be feared, and will receive little to no help during their seminary experience with few job prospects after graduation, it is no wonder that so many of us hate ourselves and resent God for making us women. When the internal fears of whether you are enough are only reinforced by the culture around you, what other options are there for believing anything else?
As God has healed me of my misogyny and helped me navigate around this painful reality in the church, I see my friends who believe they are exempt from leadership and witness because of their gender. Women who have the power of Jesus to change the world believe their life can only be Pinteresting, not missional, because they're a wife or a mom.
Is This All There Is?
I pray with female students who tell me that they feel worthless because God made them a woman. I hear the stories of women preachers who are sent emails about the clothes they wear to preach on Sunday mornings while their male counterparts receive none of these types of emails. I attend Christian leadership conferences with men as presenters and see the only woman on stage giggle when her husband tells the crowd of thousands how much he wants to go and have sex with his wife.
The crowd laughs, but I sit and wonder, Is this all? Are women just seen here as objects for personal pleasure and procreation? Am I seen like that as one of the few women at this conference because I wear high heels and jewelry?
I hear all these things and I see all these broken realities and I feel dismayed. Yet it makes me long for Jesus to make something new—in my own life and in the church. I long for Jesus to heal the hurting female college students I serve and the bored and frustrated women in the church who want to lead, and I long for the dudes who don't even realize any of this is happening to become aware and repent. I want to see a whole, healthy church with women and men leading and loving Jesus in all that he has created his church to be.
Carolyn Custis James, in her book Half the Church, writes of a vision of men and women working together as God's sons and daughters. She refers to this force as the Blessed Alliance. She writes, "The Blessed Alliance is central to God's kingdom strategy for the world. Without it, we are pursuing kingdom work at a serious disadvantage."
It's Not a Mistake That You Are a Woman
In prayer, God continues to lead me back to his life-giving Scriptures. There in his living Word he tells me who I am, who he is, and what he thinks about me as a woman. And it's good stuff. Recently I read 1 Corinthians 12, and in the context of all the thoughts, fears, and pain swirling around my heart, Jesus led me to these words (1 Cor. 12:12–20; 25–26):
Just as a body, though one, has many parts, but all its many parts form one body, so it is with Christ. For we were all baptized by one Spirit so as to form one body—whether Jews or Gentiles, slave or free—and we were all given the one Spirit to drink. Even so the body is not made up of one part but of many.

Now if the foot should say, "Because I am not a hand, I do not belong to the body," it would not for that reason stop being part of the body. And if the ear should say, "Because I am not an eye, I do not belong to the body," it would not for that reason stop being part of the body. If the whole body were an eye, where would the sense of hearing be? If the whole body were an ear, where would the sense of smell be? But in fact God has placed the parts in the body, every one of them, just as he wanted them to be. If they were all one part, where would the body be? As it is, there are many parts, but one body. . . .

There should be no division in the body, but . . . its parts should have equal concern for each other. If one part suffers, every part suffers with it; if one part is honored, every part rejoices with it.
I want to draw your attention to the verses put in italics. This passage talks about the unity and diversity of the body of Christ, beginning with what would happen in the body if each part wanted to be something different or to just leave the body. The first italicized verse says, "But in fact God has placed the parts in the body, every one of them, just as he wanted them to be." Reading this verse it was as if Jesus said to me, "Jessica, I have placed you exactly where I want you to be. It is not a mistake that you are a woman. You aren't a loser. I have placed you just as I want you to be right here and right now."
I began to feel a calm come over my heart and growing gratitude for Jesus' unchanging, unbreakable love for me regardless of how I looked, felt, or thought of myself; regardless of what people said or thought about me; regardless of whether I was included or excluded.
Yet I continued to pray and question: But Jesus, what about all the dudes who can zoom ahead in their careers because though they might have young children they aren't the ones breastfeeding the baby? Why am I not getting the same opportunities? What about the fact that women have actually been described throughout history as "the weaker sex"? This is not cool.
He answered me in his Word: "[The body's] parts should have equal concern for each other. If one part suffers, every part suffers with it; if one part is honored, every part rejoices with it." The Lord seemed to speak from the page: "My church is suffering because my daughters are suffering."
You Are Indispensable
I couldn't get the faces of friends, students, and moms out of my mind who had silently suffered wounds inside and outside the church because of their gender. I thought about the 603 million women across the world who live in fear of abuse because domestic abuse is not outlawed and rape within marriage is not considered a crime. I thought of the many women who believe that their gifts, abilities, and passions are dispensable in their churches or ministries.
My own painful experiences came to mind—times when I was accused of not submitting to my husband because I preached; when I was told that I was foolish to go to graduate school because I had a baby; or when I shared about my work of traveling and preaching and women asked, "I could never do that, how can you do that? Wow, that must be rough." (I never knew how to answer that question other than, "Jesus. Jesus is how I can do this.")
And then Jesus continued to speak. "Let my daughters know they have beautiful feet. Let them know they are sent, called, restored, and indispensable to me and to my kingdom. Let my daughters know I have created them just as I want them to be. I don't make mistakes. I see their suffering. And in the midst of suffering I am making something new in their lives and in the church."
Sisters, you are too important to God and his mission to keep silent and be still. You are indispensable. I am praying that as the Holy Spirit speaks to you, you will be empowered to share Jesus wherever he has sent you.
—Jessica Leep Fick is a writer, speaker, and Evangelism Resources Director at Stonecroft Ministries living in Kansas City, KS. This article is taken from Beautiful Feet by Jessica Leep Fick. Copyright 2015 by InterVarsity Christian Fellowship/USA. Used by permission of InterVarsity Press.