How I Spent 20 Years in Ministry Without the Bible
I called others to spiritual growth, but I remained unchanged.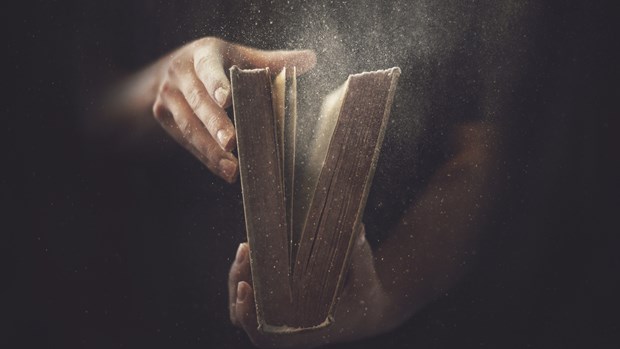 The Bible was big in my home growing up. My spiritual heritage includes an aunt who pitched crusade tents in the middle of the countryside, preached Christ, and planted churches; uncles who pastored and preached; and a grandfather who taught preachers how to dissect the Word and share it with integrity.
My spiritual heritage also includes hypocrites, legalists, and perfectionists. I grew up wondering why the people who did the most Bible reading, preaching, and teaching seemed to be completely unchanged at their core. What difference did memorizing, studying, and knowing the Bible really make? It didn't seem to change the people I knew.
Despite this, I remained faithful to the things I'd been taught. The Holy Scriptures had given me the wisdom to receive salvation. I was sure of its truth. But being sure about those family members from whom I'd learned? Not so much.
Over time, my distrust in them subtly twisted my relationship with Scripture. I still read, studied, and memorized the Bible, but with less consistency. The Bible became a book I felt pressured to know, a task I crossed off a daily to-do list—when I had time to do it. My quiet times sputtered, reviving only around Advent and Lent or when I decided to follow the latest formula for spiritual growth from the evangelical author of the month. I stacked my bookshelves with Christian classics, and I read the best commentaries that I could find, but I rarely read the source text.
Some years I'd pick and choose the books of the Bible I wanted to read. Other times I'd go for days, sometimes weeks, without opening my Bible. I knew a lot about what others knew about God and the Bible, and that knowledge was enough to get me by for over 20 years in ministry!
For 20 years, I did what I needed to do when I had to preach, lead worship, teach, write Bible studies, or lead women's retreats. I'd read others' commentary on the Bible and maybe pull out a verse or two. To a large extent, I'd become what I'd despised growing up: an articulate hypocrite who knew enough to minister, but whose core remained unchanged. I was a fraud who lived vicariously through the Bible encounters and spiritual insights of giants like Beth Moore, Joyce Meyers, Ruth Haley Barton, Philip Yancey, and Walter Brueggemann. But following their ways into Scripture proved too elusive.
A New Way of Relating to Scripture
All that changed during a year of painful transitions at work and at home. The sudden changes caused me to recognize God's desire for me to experience deep and true spiritual transformation, no matter the cost. If I truly desired that transformation, I would have to lay down my history of distrust and choose to be available and vulnerable to God. Could I embrace a teachable spirt toward his Word?
Through Jesus Christ—the Word made flesh—God calls each of us to intentional, deliberate availability and vulnerability to him and his Word. Spiritual transformation happens no other way. Though it wasn't easy, I chose to move the Bible from my to-do list into my daily routine, allowing God to truly change me.
Change isn't easy, though. Hebrews 4:12 says, "For the word of God is alive and powerful. It is sharper than the sharpest two-edged sword, cutting between soul and spirit, between joint and marrow. It exposes our innermost thoughts and desires." Who openly welcomes the deep cuts of a double-edged sword? To guard our hearts, we often hold up shields of guilt, legalism, or excuses. I need a seminary degree to understand the Bible, we think. I don't need the Bible to experience God. Most of the Bible isn't all that relevant to me or the people I'm leading.
Yet the work of spiritual transformation demands we lay down our shields and come to the Bible, having faith that God will meet us. We must be open to the words of our wounded lover who deeply desires a relationship with us, the one who woos us with words that comfort and heal.
To open myself to spiritual transformation, I now stop twice a day to be silent before the Lord and read Scripture. Peter Scazzero, author of Emotionally Healthy Spirituality Day by Day, calls this habit the daily office. The daily office is "not so much a turning to God to get something; it is about being with God—about communion with him," Scazerro writes in the introduction. We must approach this time knowing that our silence and Scripture reading happen before the Lord himself.
Some days, my office is short—perhaps five minutes. Other days, I spend 10 minutes in silence before opening my Bible. Coming out of the silence, I read aloud the words of David, Paul, Peter, the disciples, and the Old Testament prophets—but I now read their words as written by people who were transformed through their encounter with the living God.
Yes, Paul wrote about how to live together as people who had found the Way. But he wrote those letters when he was weary, in prison, and aware of the limits his pedigree and history had brought to his ministry. He wrote them in the crucible of a deep ongoing spiritual transformation that started on the road to Damascus and continued through shipwrecks, floggings, betrayals, and imprisonment. Read Romans, Ephesians, Galatians, and Colossians as personal letters about one man's willingness to be available and vulnerable to God, and you'll never again read them as jargon-riddled rules and regulations about Christian living.
Paul writes in Colossians, "And this is the secret: Christ lives in you. This gives you assurance of sharing his glory" (1:27). When I simply come to the Bible, silent and vulnerable, I begin to grasp the enormity of that statement. Jesus Christ—the Word, the Bible made flesh—lives in me and in you. The Bible isn't a book to know. It's a story to live out every day, a story that we live out only by the grace of God's transformation.
Renee James is the communications director for Canadian Baptist Women of Ontario and Quebec.