Church Leader: Unplugged
Just put down your phone and walk away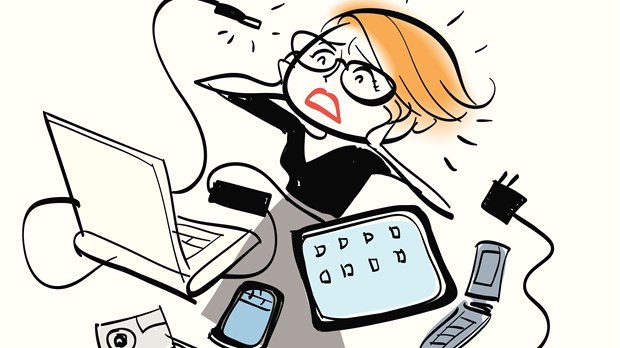 Shunda shares the pastorate of a mid-size church in upstate New York. Her responsibilities span preaching, the youth group, evangelism, and community activism. A multi-talented single woman (she sings, plays guitar, writes, and even paints from time to time), Shunda works unending hours.
Maybe it's because she loves her sheep. Maybe it's because people contact her, rather than her married colleague, during "off peak" hours. Maybe it's because she's a night owl. Maybe it's a combination.
Like many church leaders, Shunda "sabbaths" on a weekday. She and I chatted online one afternoon on her sabbath day. At one point her response rate went from immediate to delayed.
"Sorry," she typed after about 10 or so minutes passed. (This is an eternity on instant messaging.) "My social media is blowing up. A couple of peeps are poking me on Facebook, and another person is texting me—all about church stuff. Don't they know it's my day off?"
"Perhaps you might consider silencing or turning off your phone? Ignoring Facebook messages?" I returned.
"Hmm..." was her vague, and likely snarky, reply.
Filmmaker Alex Moore of the Official Saturday Night Live YouTube Channel fame recently released a documentary on how social media has changed the world. Scott Ross, one of the interviewees, described social media as a "machine that just sits there."
"People have a habit, I think nowadays, of talking through these machines almost 24 hours a day," Ross says. "They've got mobile phones switched on all of the time, talking to friends. And I think in a way that is difficult because it means they can't ever get away from people" (emphasis added).
Constant chatter, information, updates, pop-ups, and notification dings demand our attention. (Squirrel!) Ubiquitous Wi-Fi and hotspots ensure connection to anyone, anywhere, even when we're (supposed to be) on vacation. Smartphones, laptop computers, and tablets keep us in the know when we're on the go. We're always a mere click or send-button away from touching people and being touched by them. The hamster wheel never stops spinning.
Hyper-connection is a recipe for burnout, at best.
Everybody needs a break from people and the "machine," church leaders included. Jesus himself withdrew at times. Lest we not forget, it "was his custom," as Scripture relates, for him to remove himself to pray: in a solitary place (Mark 1:35), in the wilderness (Luke 5:16), on the Mount of Olives (Luke 22:39), on a mountain (Matthew 14:23), and of course, in the garden of Gethsemane (Matthew 26:36).
Retreat and reprieve are necessary, counterbalancing aspects of a busy life. In today's noisy and fast-paced world of the 24/7 news cycle, global community, and unbroken connectivity, we need more than Calgon to take us away. Something strong enough to tear us away from screens that beckon us when we're not looking and suck us in when we are.
Unplug.
Cold turkey, if you must.
Unplugging—it's the twenty-first century's addition to the generations-old tradition of spiritual disciplines.
The purpose of spiritual disciplines is to draw believers near to God. Practices such as prayer, meditation, fasting, journaling, mutual abstinence from sex, silence, and Scripture reading have been a part of the Judeo-Christian faith life for hundreds of years. Aptly named, they do not come easy to us comfort-seeking creatures of habit. Spiritual disciplines require the Holy Spirit's edification, personal commitment, and a willingness to accept responsibility and return to our course when we stray from our chosen discipline's path.
Ceaseless stimulation threatens vivacity. Spiritual disciplines are the elixir of life for parched souls in need of attention and care.
What prevents us from unplugging?
As a rule, evangelicals tend to shy away from mystic practices and experiences, says Rachel Held Evans in her book A Year of Biblical Womanhood. They "can feel a bit too passive and introspective for our activist-driven, free-for-all religious sensibilities."
And yet it was exactly a spiritual discipline, silence, that helped this vociferous sister encounter "Something much bigger" than herself, Something that assured her that everything would be okay if she could just quiet herself and quit trying so hard.
Held Evans was on a retreat at an abbey, by the way, when Something spoke to her through the silence. The lack of Wi-Fi precluded her temporary exile from her readers, who are about as connected to Held Evans as Internet acquaintances can be to a person, and vice versa.
"In the silence, I had found a reservoir of strength that, if I could just learn to draw from it, could make my words weightier. In silence, it seemed, I had finally found my voice."
Hyper-connected minister, heal thyself from social media-related frenzy. Unplug, draw near to the Lord, and God will draw near to you.
Inside this new love, die. Your way begins on the other side.
Become the sky. Take an axe to the prison wall.
Escape.
Walk out like somebody suddenly born into color.
Do it now. You're covered with thick cloud. Slide out the side.
Die, and be quiet. Quietness is the surest sign that you've died.
Your old life was a frantic running from silence.
The speechless full moon comes out now.
—"Quietness" by Rumi
Rev. Angie Mabry-Nauta is a writer and an ordained Minister of Word and Sacrament in the Reformed Church in America (RCA). She served as a solo pastor for six years. A member of the Redbud Writer's Guild, Angie blogs at "Woman, in Progress…". Follow her on Facebook and Twitter @Godstuffwriter.