September 26, 2020
Weekly Meanderings, 26 September 2020
Our weekly selection of links across the web.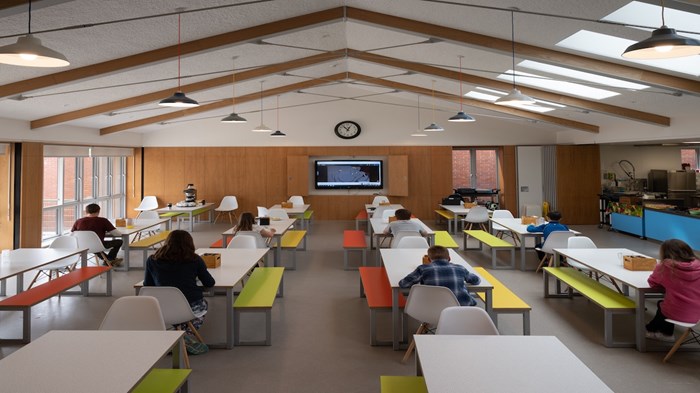 Schools are opening with kids – and some without them. Our seminary is hybrid – some in classroom and some on the screen. But we are almost getting used to this "new normal," even if we'd like to return to the "old normal." Good news, too, with vaccine developments.
10 seconds of sniffing the dogs recognize the virus:
An airport in Finland is using sniffer dogs to detect passengers infected with coronavirus.

Helsinki Airport is trialling the scheme which will see 10 dogs trained in total by Wise Nose, a smell detection agency, with four deployed to work per shift.

It follows a study by the University of Helsinki's Veterinary Faculty, which suggested trained dogs can detect COVID-19 with close to 100% certainty.

Finnish airport operator Finavia said: "We are among the pioneers. As far as we know no other airport has attempted to use canine scent detection on such a large scale against COVID-19.

"This might be an additional step forward on the way to beating COVID-19."

But for those hoping for a quick play with a puppy there's bad news - there's no direct interaction between passengers and the pooches.
COLCHESTER, Vt. (NewsNation Now) — A New Hampshire man beat out the rest of the competition in Vermont with a pumpkin tipping the scales at more than 2,000 pounds.

A crane was needed to place the pumpkin onto the scale.

The Vermont Giant Pumpkin Growers group said the over one-ton pumpkin is the biggest ever to be weighed in the state.

According to Guinness World Records, the heaviest pumpkin ever recorded was 2,624.6 pounds in Oct. 2016 in Germany. Steve Geddes' pumpkin weighed in Vermont was 2,304 pounds.
Unsurprisingly, Hitler's holocaust—­during which at least five million people were herded together and systematically slaughtered—­is cited more than any other global atrocity as evidence in the case against God. Here, we are told, is the ultimate example not just of man's brutality to man, but of God's disregard for people—­His own people.

For this reason, an American rabbi, Dr. Reeve Robert Brenner, surveyed hundreds of holocaust survivors to find out how their experiences had affected their beliefs about God. (Reeve Robert Brenner, The Faith and Doubt of Holocaust Survivors [New York: The Free Press, 1980], 103–105.) Dr. Brenner's conclusions were extraordinary. First, he discovered that the horrors of the holocaust had no impact at all on the religious convictions of a remarkably high percentage (almost half) of the survivors. Somehow these people had endured hell on earth without losing their faith in Yahweh. "It never occurred to me to question God's doings or lack of doings while I was an inmate of Auschwitz, although of course I understand that others did," wrote one survivor. "If someone believes God is responsible for the death of six million because He didn't somehow do something to save them, he's got his thinking reversed. We owe God our lives for the few or many years we live, and we have the duty to worship Him." (Harold S. Kushner, When Bad Things Happen to Good People [London: Pan, 2002], 99–100.)

According to Brenner's research, about 11 percent of holocaust survivors did lose their faith in God (although he observes that their professions of atheism seemed more like an emotional shift than a theological one because so many of them continued to believe in God enough to be angry with Him). However, the really extraordinary discovery made by Dr. Brenner was that 5 percent of the holocaust survivors in his survey had actually abandoned atheism and begun to believe in God as a direct result of their experiences in the Nazi laboratories of death.

If we project that extraordinary statistic onto the total number of European and Russian Jews that survived the holocaust (around 3.5 million people), it is equivalent to 177,000 survivors coming to faith through the concentration camps. To put it another way, it would be like 5 percent of the total population of Los Angeles turning to Yahweh in just five years. In Christian terms, this might be described as one of the most fruitful "revival" movements in any one people-­group during the last seventy years. However, it becomes astounding when considered against the backdrop of the concentration camps, so often held up as primary evidence against the benevolence of God.
HAGERSTOWN, Md. (NewsNation Now) — TJ Kim's unique volunteer efforts are helping rural hospitals receive personal protection equipment. The 16-year-old got his pilot's license nearly two years ago, and when the COVID-19 pandemic hit, Kim's first thought was to help others.

"I wanted to find a way to keep flying so I came up with operation S.O.S. to continue flying and also help hospitals in need," Kim said.

Kim launched operation S.O.S., or Supplies Over Skies, to deliver personal protection equipment to rural hospitals, an honorable way to use his mandatory training hours.

On Sept. 19, Kim flew from Leesburg, Va. to Hagerstown Regional Airport where he donated about 4,000 pieces of much-needed medical supplies to Meritus Medical Center.

Kim wanted to expand his flights to include Maryland after meeting with Maryland First Lady Yumi Hogan at a Korean War Veterans memorial event, according to NewsNation affiliate WDVM.

President and CEO of Meritus Health, Maulik Joshi, stated that he and his staff are so grateful for the donation, calling Kim an incredibly wonderful human being. Joshi went on to explain that almost every organization in the United States has been affected by a PPE shortage.

"I think it means a lot and it shows that COVID is not just your own county or your own region but it really is a country-wide problem and having someone who thinks about all of us, it's so thankful. We are so thankful, Joshi said. "This is not just nice to have, this is absolutely necessary to have. We're grateful because we will use this immediately."

Kim dreams of attending the United States Naval Academy to become a Navy pilot when he finishes high school.
NEW YORK (NewsNation Now) — In week 2 of the return of professional football, several coaches were hit with hefty fines for violating the NFL's mask mandate.

The National Football League will fine the New Orleans Saints and Las Vegas Raiders each $250,000 and coaches Sean Payton and Jon Gruden each $100,000 for failure to properly wear face coverings in bench area during Monday night's game.

NewsNation obtained a statement per a league source:

"The report is true. It's for the head coaches of the two teams. $100k fine for each coach and $250k for each team. You may have seen reports last night that 3 other coaches/teams were fined similar amounts – Denver, San Francisco and Seattle. Those reports were accurate as well."

The first three to get fined were Denver's Vic Fangio, San Francisco's Kyle Shanahan and Seattle's Pete Carroll, according to a person with knowledge of the punishment who spoke to The Associated Press on condition of anonymity because the coaches were not identified.
Amazing article by Nathan Hatch.
Tracing this eighteenth-century story presents certain clear parallels and warnings about our own day. Believers today are powerfully influenced by certain dominant political perspectives. This is so much the case that I fear an actual crisis of faith—the political captivity of the faithful. That danger is evident, I will suggest, both among those who adhere to more orthodox belief, evangelicals and Catholics; and those mainline believers of more progressive inclination.
Funny about Bill Murray and his awful golf clothes:
Get ready to read the most random story of the week! Apparently Bill Murray has his own golf apparel brand (!) called William Murray Golf, and he's been using The Doobie Brothers' classic hit "Listen to the Music" to promote his newest product without the band's permission. As such, the band has mailed him a letter requesting he stop or pay up — except this is a legendary comedian and actor, so the note is a whole lot funnier than what it typically would be for this sort of thing.

As Stereogum notes, this saga began when Murray started running new ads promoting William Murray Golf's latest shirt named Zero Hucks Given, a play on Huckleberry Finn, one of his favorite literary characters. However, the Caddyshack actor's company never contacted The Doobie Brothers to seek permission or compensate the band for the use of their song. Understandably, the Doobies would like some of the cash he's raking in.

Peter T. Paterno, a representative for the recent Rock and Roll Hall of Fame inductees, penned a letter to Murray with the band's permission that essentially meets the actor on his own level to hash out a deal. "It's a fine song. I know you agree because you keep using it in ads for your Zero Hucks Given golf shirts," wrote Paterno. "However, given that you haven't paid to use it, maybe you should change the name to 'Zero Bucks Given.'"
COSTA MESA, Calif. (AP) — Los Angeles Chargers quarterback Tyrod Taylor missed last Sunday's game because a team doctor accidentally punctured his lung, according to a person familiar with the case.

The person spoke to The Associated Press on condition of anonymity Wednesday because of medical restriction issues.

Coach Anthony Lynn said Taylor is still not 100% and that rookie Justin Herbert will get his second NFL start on Sunday against the Carolina Panthers.

Lynn did not have a timetable on how long Taylor would be out but said that the 10-year veteran quarterback was at the team's complex and working with Herbert. When asked about his level of frustration with what happened, Lynn said he wasn't angry about what occurred because the mistake wasn't intentional.

"There were complications with the shot but I know the man (who gave it). People make mistakes. It is something we will talk about internally," Lynn said.

Herbert was the Chargers' surprise starter in last Sunday's 23-20 overtime loss to the Kansas City Chiefs. Lynn said he didn't find out until less than five minutes before kickoff that Taylor would be unable to play.
AUSTIN (KXAN) — The University of Texas is testing wastewater samples across the city of Austin to predict when cases of COVID-19 may be on the rise.

Professor Mary Jo Kirisits is leading a small team in the Cockrell School of Engineering that's taking samples from two of Austin's major wastewater treatment facilities and testing them for RNA that shows the virus.

That viral RNA shows up sooner after infection in feces than other testing methods and is also present before someone would begin showing symptoms, according to Kirisits.

Based upon fluctuations on the concentration of the virus found in wastewater, Kirisits and her team can make predictions that case numbers will soon be on the rise and warn city officials and medical providers in advance that they need to prepare for an influx of patients.
Jesus Creed is a part of CT's Blog Forum. Support the work of CT. Subscribe and get one year free.
The views of the blogger do not necessarily reflect those of Christianity Today.