December 1, 2020
Jesus Creed 2020 Book Awards
Our awards to books by disciplines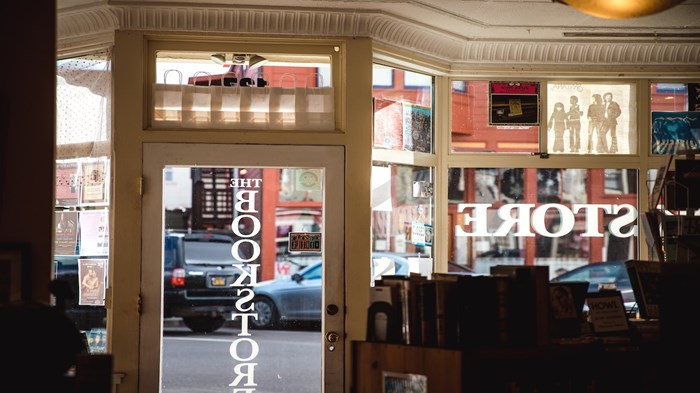 As I mentioned yesterday on this blog, this year has two categories of awards – the 2020 Books of the Year and the Book Awards, which are divided into disciplines. Again, these are based on books that came my way and that I have read. (By the way, love that picture for this post – many an hour have I spent inside bookstores looking out.)
New Testament Studies
Helen Bond, The First Biography of Jesus. An exacting, exciting study of biography in the ancient world as informative for reading the Gospel of Mark.
Judy Diehl, 2 Corinthians (Story of God). Destined to be a go-to for preachers, this lucid exposition of 2 Corinthians sparkles as it also brings out stories illustrating the text.
J Jipp, The Messianic Theology of the New Testament. It was a tough call to decide on Jipp or one mentioned yesterday… but here one finds the most complete "christo-centric" reading of NT theology. Many have thought salvation history was the NT's theological center but Jipp proves in disarming prose and careful analysis – theme after theme – that Jesus as Messiah is the place where it all begins.
Old Testament Studies
One of the challenges many OT professors undertake is showing the relevance of the OT to the Christian faith, a challenge made more difficult these days because many simply don't read the OT – though some do "dip" in here and there. The following are two excellent exhibitions of OT expertise while keeping their eyes on Christian readers.
Carmen Imes, Bearing God's Name, and Sandra Richter, Stewards of Eden. Friends, these are two wonderful books that can be read in church small groups or in college/seminary classes. We just need more and more of these books on the "First" Testament.
Church Life
Aimee Byrd has not been treated well by some in her denomination, and her newest book brought out the worst in some of them. But her book is a solid rap on the door that, when received and read, will open up the minds of many to the importance of discipleship of women in the church. Recovering from Biblical Manhood and Womanhood. She puts into words what many women have experienced in the complementarian movement, and the most important word here is "Listen," with one word added, "please."
The Preaching Life
Two wonderful books came my way this on preaching and I found both of the stimulating, suggestive, and paradigm-altering. For many preaching is a given – "what's the issue?," so many ask. The issue is this: Does it make enough difference in daily life to have so much of the service devoted to it? Perhaps rethinking it some will help. These two will help.
Sally Brown, Sunday's Sermon for Monday's World.
Jerusha Matsen Neal, The Overshadowed Preacher.
Speaking of preaching, two more of a series I think the world of – Connections – appeared:
Excellent sources for anyone preaching the text – so much is here: exposition to the sermon.
Jesus Creed is a part of CT's Blog Forum. Support the work of CT. Subscribe and get one year free.
The views of the blogger do not necessarily reflect those of Christianity Today.