Francis Asbury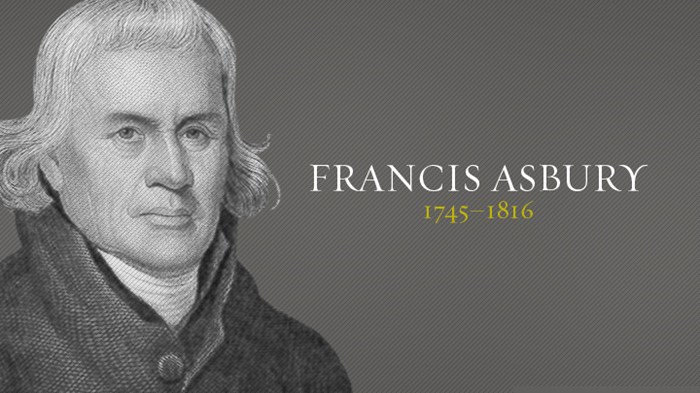 "Under the rush of his [Asbury's] utterance, people sprang to their feet as if summoned to the judgment bar of God."
— Biographer Ezra Tipple
Some today might call him a workaholic. Or maybe just utterly dedicated. English-born Francis Asbury certainly had the numbers: during his 45-year ministry in America, he traveled on horseback or in carriage an estimated 300,000 miles, delivering some 16,500 sermons. He was so well-known in America that letters addressed to "Bishop Asbury, United States of America" were delivered to him.
And the result of all this labor and fame? He put American Methodism on the denominational map.
Rapid ordination
Asbury was born into a working-class Anglican family; he dropped out of school before he was 12 to work as a blacksmith's apprentice. By the time he was 14, he had been "awakened" in the Christian faith.
He and his mother attended Methodist meetings, where soon he began to preach; he was appointed a full-time Methodist preacher by the time he was 21. In 1771, at a gathering of Methodist ministers, John Wesley asked, "Our brethren in America call aloud for help. Who are willing to go over and help them?" Asbury volunteered.
When in October 1771, Asbury landed in Philadelphia, there were only 600 Methodists in America. Within days, he hit the road preaching but pushed himself so hard that he fell ill that winter. This was the beginning of a pattern: over the next 45 years, he suffered from colds, coughs, fevers, severe headaches, ulcers, and eventually chronic rheumatism, which forced him off his horse and into a carriage. Yet he continued to preach.
Timeline

1735

George Whitefield converted

1738

John & Charles Wesley's evangelical conversions

1742

First production of Handel's Messiah

1745

Francis Asbury born

1816

Francis Asbury dies

1827

J. N. Darby founds the Plymouth Brethren
During the Revolutionary War, Asbury remained politically neutral. To avoid signing an oath disclaiming his allegiance to England and to dodge the American draft, he went into hiding for several months. "I am considered by some as an enemy," he wrote, "liable to be seized by violence and abused." By war's end, he had retained his credibility with the victorious Americans and was able to continue his ministry among them.
After the war, John Wesley ordained Englishman Thomas Coke as Wesley's American superintendent. Coke, in turn, ordained Asbury at the famous Baltimore "Christmas Conference" of 1784, which gave birth to the American Methodist Episcopal Church. On Christmas Day, Asbury was ordained a deacon, the following day, an elder, and on December 27, a superintendent (against Wesley's advice, Asbury later used the term "bishop"). As Coke put it, "We were in great haste and did much business in a little time." Within six months, Coke returned to England, and thereafter, Asbury held the reins of American Methodism.
Organizational man
Organization was Asbury's gift. He created "districts" of churches, each of which would be served by circuit riders—preachers who traveled from church to church to preach and minister, especially in rural areas. In the late 1700s, 95 percent of Americans lived in places with fewer than 2,500 inhabitants, and thus most did not have access to church or clergy.
This is one reason Asbury pushed for missionary expansion into the Tennessee and Kentucky frontier—even though his and other preachers' lives were constantly threatened by illness and Indian attacks. According to biographer Ezra Tipple, Asbury's preaching was more zeal than art, and highly effective. Tipple wrote there were occasions when "under the rush of his utterance, people sprang to their feet as if summoned to the judgment bar of God."
Though a school dropout, Asbury launched five schools. He also promoted "Sunday schools," in which children were taught reading, writing, and arithmetic.
Asbury didn't limit his work to administration and preaching. Asbury hated slavery and petitioned George Washington to enact antislavery legislation. "My spirit was grieved at the conduct of some Methodists," wrote Asbury, "that hire slaves at public places to the highest bidder, to cut skin, and starve them."
Asbury pushed himself to the end. After preaching what was to be his last sermon, he was so weak he had to be carried to his carriage. By then, though, Methodism had grown under his leadership to 200,000 strong. His legacy continued with the 4,000 Methodist preachers he had ordained: by the Civil War, American Methodists numbered 1.5 million.