Harry Potter
Since the 1997 release of its first book, the Harry Potter series (along with the film adaptations) has gained immense popularity worldwide. Many Christian leaders initially embraced the book as "wholesome, good-versus-evil fantasy in the spirit of J.R.R. Tolkien or C.S. Lewis." But a populist Christian backlash emerged to the books' witchcraft elements and their increasingly dark tone. As audiences flocked to the final installment, Christian commenters seemed split on whether the series was a Christian allegories or a dangerous gateway.
Featured Articles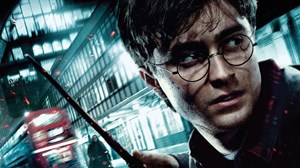 Harry Potter Is Here to Stay
Why the final movie is only the beginning of the Harry Potter phenomenon.
Positive About Potter
Despite what you've heard, Christian leaders like the children's books.
(A Bit Less) Positive About Potter
How Focus on the Family, Prison Fellowship, and others have—and haven't—changed their views about the books over the years.
loading more