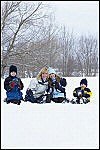 Single Parenting
This six-session course helps single parents navigate the struggles and joys of parenting on their own.
6 Session Bible Study
Being a single parent is one of the tougher jobs a person can be given. This six-session course gives perspective on unique problems that a single parent faces, such as: tight budgets, parental visits, time for yourself, spiritual encouragement, dating again, and loving your job as a parent. Written by a single parent, this course will encourage you that although the job is tough, it's not impossible and can even be a joy.
Session 1
Balancing the Empty Checkbook
How can single parents survive financial challenges and grow stronger in the process?
Session 2
Dual Parenting
Sharing the kids with the ex and the former in-laws requires a delicate balance.
Session 3
Time for Me
Finding time for self is difficult, yet necessary.
Session 4
Extreme Spiritual Makeover
Finding intimate time with God requires a renovation ofschedules and attitudes.
Session 5
Trying Love Again
Dating again requires thought, courage, and a sense of adventure.
Session 6
Little Blessings
Although parenting alone is a challenge, there is no greater blessing than having children.
Total number of pages—60
Single Parenting