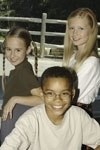 Mentoring Future Teens
Laying tracks to avoid the runaway train of adolescence.
Single Session Bible Study
Overview
Maybe it's your daughter's loose tooth, your son's ankles poking out from under that pair of jeans that you just bought last week, or photos at a family reunion. Usually those big-picture moments work to develop a mix of sadness, pride, and fear in a parent's heart. Am I equipping my children for the next stage of life? How on earth am I going to deal with a teenager in my house?
Dr. Ronald T. Habermas, in his article "Parenting Your Future Teen," writes, "Successful parenting of teens requires successful parenting of young children." It's encouraging to know that adolescence doesn't have to be a runaway train, but a discipleship adventure for which you can lay tracks now. This study will explore biblical principles for mentoring younger children towards a well-rounded adolescence and, more importantly, a deep discipleship.
Table of Contents
SCRIPTURE: Deuteronomy 6:1–9; Philippians 2:1–11; 2 Timothy 3:10–15
LEADER'S GUIDE
• Identify the Current Issue
• Discover the Eternal Principles
—Teaching point one: Christian parents respect their children.
—Teaching point two: Christian parents invite children into their world.
—Teaching point three: Christian parents need to "talk" and "walk" their faith.
• Apply Your Findings
• Additional Resources
ARTICLE FROM CHRISTIAN PARENTING TODAY
• Parenting Your Future Teen, by Ronald T. Habermas (July/August 1998, 5 printed pages)
Total number of pages—
Mentoring Future Teens