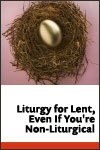 Liturgy for Lent, Even If You're Non-Liturgical
Contemporary Christians, ancient practices, deeper faith.
Single Session Bible Study
Overview
Liturgical churches help lead the faithful to deeper, biblical lessons through seasons in order to prepare for major Christian observances. Through experience and practice, the 40 days of Lent can help Christians to prepare spiritually for the central moment of the Christian year: Easter.
Yet many Christians have not prepared for the joys of Easter by simplifying the life of faith, deepening prayer and Bible reading, practicing Christian disciplines, and engaging in a sacrificial life. A liturgical Lent makes a profound difference in a believer's life. Even if liturgy has not been part of your tradition, you can learn from its practice.
Table of Contents
SCRIPTURE: Matthew 6:5–18; Mark 1:35–41; Ephesians 5:15–20; Colossians 3:1–4, 12–17
LEADER'S GUIDE
• Identify the Current Issue
• Discover the Eternal Principles
—Teaching point one: In his spiritual leadership, Jesus demonstrated how spiritual disciplines help believers grow in intimacy with God.
—Teaching point two: Jesus shows that, whether the disciplines are physical or mental, they all strengthen faith and help Christians grow closer to God.
—Teaching point three: The apostle Paul helps Christians understand that spiritual disciplines are part of a liturgical life in prayer and practice.
—Teaching point four: The New Testament church helped believers use the spiritual disciplines to strengthen personal spiritual life and build the church.
• Apply Your Findings
—Consider reading and meditating on the included daily lectionary readings for throughout Lent, beginning Ash Wednesday.
• Recommended Resources
ARTICLE FROM CHRISTIANITY TODAY
• "Lent for the Non-Liturgical" by Elizabeth Diffin
(Leadership Journal, Winter 2007, Page 72)
Total number of pages—
Liturgy for Lent, Even If You're Non-Liturgical