We Asked 12 Top Humanitarians What Surprises Them in Their Work. Here Are Their Answers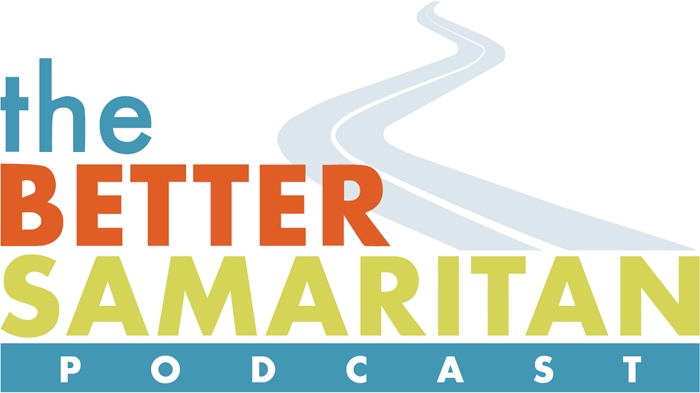 On the Better Samaritan podcast, we've had the great privilege of interviewing many humanitarians doing critical work around the world.
To close every episode, we ask the same five questions:
What has surprised you in your work?
How are you learning to do good, better?
What does humility look like in your field?
How can we make the [Jericho] road safer for those coming in the future?
How do you sustain hope?
For this episode, we compiled every answer to this first question: What has surprised you in your work?
Our guests work diverse fields: public health, racial conflict, climate change, politics, and displacement, just to name a few. We thought it would be fascinating to to compile all the answers to each question, one after the other, in order to notice what themes emerged.
We found the resulting product to be fascinating. Join us and listen in.
I've been surprised by the fact that when I went into a profession that was about caring for other people, which I intensely wanted to do and do well, and help them change or grow or whatever they wanted or needed to do, I was surprised by the fact that God works both sides and that from his perspective, I was there for myself learning and changing just as much as the other person was.—Therapist, expert and author, Dr. Diane Langberg (Power and Abuse in the Church)
The transformation that I've experienced. I'm a survivor of violence myself. I thought I was making a difference in the lives of people, but the truth is God was doing something absolutely miraculous in me. The transformation is what surprised me.—Executive Director, IJM Canada, Anu George Canjanathoppil (The Difference Between Freedom and Slavery: You)
What surprised me recently is the fact that we can finish the job. The biggest impediment to people partnering with groups doing development is not believing that we can finish the job. We drew a line in the sand and said we want to finish the job of providing clean water to everybody everywhere we work in Rwanda. The response from US donors has been amazing. We raised $30 million within three years. We thought it would take five years.—VP of Water, WorldVision, Greg Allgood (One Thing Keeps Women & Children Enslaved for 200M Hours per Day, Globally)
Something that surprised me initially and that I think will surprise many people is that even though dismissive people have the loudest voices on climate change, and dismissive people are people who, like your uncle at Thanksgiving dinner or your brother-in-law or co-worker that will just not shut up about how it's just volcanoes or natural cycles or the United Nations wants to just destroy the world or the antichrist is behind climate action, even though dismissives are very loud and they're voices are everywhere it seems like, especially in the comments section, they're only seven percent of the population. Over sixty percent of people in the United States today are already worried or concerned about climate change, but they just don't know what they can do about it. And when you go look at moms, 83% of us who are moms are worried about climate change. But moms are busy and they don't know what to do about it either and they really don't have time for all that fancy stuff. So that was what surprised me, realizing that most people already care, they just don't know what to do. And that's why, again, it's so important to go back to what my TedTalk points out, and I would encourage everybody to watch it if you have a chance, the absolute importance of raising our voices to talk. And we can talk about what we're doing ourselves. We do see that food waste is a huge way to cut our own carbon footprint, along with hanging up our clothes to dry and switching out our light bulbs. Using our voice is incredibly powerful to build that shared sense of, "we really can do this." And to advocate for change with people who make decisions, whether it's at our church, where we work, or in our city, state, or federal level, using our voice to say, "hey, have you thought of doing this together? Because together we could really make a huge difference."—Director of the Climate Center and founder and CEO of ATMOS Research, Katharine Hayhoe (Yes, You Can—and Should—Talk about Climate Change)
I think that churches approached the previous election season with a great level of intentionality that was all the more impressive to me, given all the burdens related to COVID that are placed on churches, I noticed a significant difference in pastors and church leaders emphasizing the need for congregations to hold together in what was going to be a divisive political season no matter how it turned out. That surprised me. It was a good surprise. And I'm hoping that that's something that we can build on.—Author and founder of Public Square Strategies LLC, Michael Wear (Loving Our Neighbor Through Divisive Politics)
It surprised me how many people are committed to going down with the ship called Trumpism, who continued to drive violent narratives and wedges throughout American society. On the one hand, we were predicting it and preparing for it, but I've still been very surprised as it has played out over the past few months.—Chief Executive Officer & Founder of Preemptive Love, Jeremy Courtney (Undercut the Old Narratives to Show the Love Jesus Requires)
So much of it. One thing that has surprised me in my work over the past year is frankly how critical it is. I've come to realize that there are certain places and certain ways that we sit in certain spaces that if we were not pushing certain conversations as an organization, I'm not sure where those conversations would live or if they would exist anywhere at all.—Executive Director of Healthcare Ready, Dr. Nicolette Louissaint (How Do Churches Combat COVID Misinformation?)
The surprise is that most of the time, [when you go to help someone], they have already decided what they are going to do. Even if you are trying to go and help, they always have an agenda, so you need to go behind sometimes.—Refugee Church Consultant, International Association for Refugees, Pastor Jean Pierre Gatera (Don't Underestimate Refugees in 2021. They May Be Just the Energy Your Church Needs.)
Last year, our organization had to pivot from a more centralized model to a decentralised model. We had a community center, we still have a community center, but as the world was closing down, we started to hear these very deep concerns from our neighbors who are experiencing homelessness, saying "I don't have anywhere to wash my hands. Everybody is saying 'wash your hands,' but I don't have any access to water." And so because our organization has been traditionally involved in using RV units to temporarily house people to transition out of homelessness to become self-sustaining citizens, there's a handwashing station feature on the RV, a vehicle that people frequently use for leisure, I had this idea to repurpose this portable handwashing station and start placing sinks in the street. I started with 5, it grew to 15. And now we have portable handwashing stations in 57 cities all over the United States. Sanitation should be a human right. Being able to wash their hands and protect themselves against the spread of COVID-19. All these companies got involved--the NFL Foundation, Brawny, Coca-Cola, you name it. They helped us to grow this campaign. On any given week right now with partners all around the country, 30,000+ people are washing their hands just from a simple idea. And that surprised me. I equate hand washing to the washing of feet in the Bible.—Author and founder of Love Beyond Walls, Terence Lester (How Can I Leverage How God Has Wired Me for God's Greatest Glory?)
It has surprised me how important laughing is in the work of justice.—Executive director of Christians for Social Action, Nikki Toyama-Szeto (The Biggest Mistake Christian Activists Make)
I just did a band camp where I took 24 musicians down to Texas, and I worked on four records. We did 64 songs in about ten days, and it was insanity. We all did COVID tests. I did a very strict schedule for the first time for something. I thought it would be good, but it surprised me how efficient it kept us. We played hard, we partied hard, we had such a good time. And there was just no ego. It surprised me for how much I enjoyed it. For the most part I was producing and doing other stuff, but It really brought me a lot of joy doing the whole thing. It was great--and no one got COVID.—Lead singer of The Brilliance, David Gungor (Musician David Gungor of the Brilliance on Rediscovering Christian Imagination)
I hate to kind of start off with a negative, but when I came to World Vision in 1998 after 23 years in the corporate world. For the first time I'm in a Christian nonprofit and my first exposure really to global poverty. I think what I was most surprised about was how most Americans are not very concerned about global poverty issues. Fifteen thousand children die every die of preventable causes. If I were the coroner and I had to fill out their death certificates and I had to put the cause of death, I would write the word "apathy" down as cause of death. Because we have the money, we have the knowledge and the resources and the ability to go and be good samaritans. We're in the same moral position as the priest and the Levite in the parable. We see the problem, we're aware of the problem, we have solutions to the problem. We could help, but we choose not to. When I saw "we," I mean the many, many people who do choose to look the other way and not stop and help the person broken down on the side of the roa. Americans are very charitable people, but about 95% of our charitable giving goes to help people in the United States. And there's nothing wrong with helping our neighbors here in the United States, but 95% of the charitable giving of the wealthiest people in the world stays within our borders to help our people. We only give 5% to every cause in the rest of the world. I just think we can do better. I was just surprised at how little Americans were giving to help internationally.—President Emeritus of WorldVision, Rich Stearns (WorldVision President Emeritus Rich Stearns on Servant Leadership in the Nonprofit World)
Resources:
"On Being a Good Neighbor", sermon draft by the Rev. Dr. Martin Luther King, Jr.
This episode produced by Laura Finch
Theme Song "Turning Over Tables" by The Brilliance
Subscribe:Apple Podcasts | Google Podcasts | Spotify | TuneIn | Stitcher | RSS
Follow us on Twitter:@kentannan | @drjamieaten | @laura_e_finch
(Note to the listener: In this podcast, sometimes we'll have evangelicals, sometimes we won't. We think learning how to do good better involves listening to lots of perspectives, with different insights and understanding with us. Sometimes it will make us uncomfortable, sometimes we'll agree, sometimes we won't. We think that's good. We want to listen for correction. Especially in our blind spots.)
The Better Samaritan is a part of CT's Blog Forum. Support the work of CT. Subscribe and get one year free.
The views of the blogger do not necessarily reflect those of Christianity Today.