Tearfund Haiti Director on the President's Assassination: 14,000 People Are Already Displaced
The country has been a tangled web of violence & instability—and now it's under a declared State of Siege. Here's what humanitarians are most concerned about next.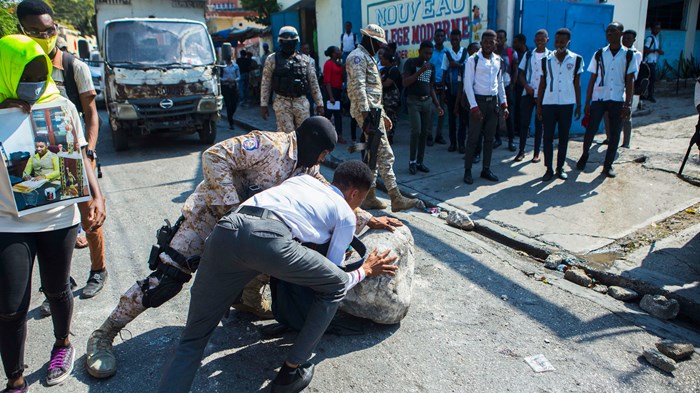 Tensions in Haiti have been high ever since President Jovenel Moïse took office in 2017, with increased violence, tensions, and kidnappings. The opposition had even disputed the date of the end of his term, saying it ended in February 2021 according the Constitution. Moïse refused to step down.
Meanwhile, Marc Antoine, Haiti Country Director for global Christian nonprofit Tearfund, estimates that the actual level of poverty in Haiti is far greater than the 60 percent reported on the World Bank website. He says that's just the general poverty rate, and another 20 percent of Haitians live in 'extreme' poverty.
Now, for the next few weeks, Haiti is under a State of Siege, meaning borders will be closed and food insecurity will be worse than ever. Just a few weeks ago gang violence drove 14,000 people out of their homes... and it's hurricane season.
Listen for more from Marc Antoine, Haiti Country Director for Tearfund, on how political instability has already torn apart the country—and how Christians can pray for Haiti, right now.
Haiti has been tangled in a web of corruption, unrest, instability, political turmoil over the past three decades... Whenever you have tensions like these, it exacerbates the risk families are already facing.—Marc Antoine, Tearfund Haiti Country Director
RESOURCES:
Tearfund website, Instagram and Facebook
"On Being a Good Neighbor", sermon draft by the Rev. Dr. Martin Luther King, Jr.
This episode produced by Laura Finch
Theme Song "Turning Over Tables" by The Brilliance
Subscribe: Apple Podcasts | Google Podcasts | Spotify | TuneIn | Stitcher | RSS
Follow us on Twitter: @kentannan | @drjamieaten | @laura_e_finch
(Note to the listener: In this podcast, sometimes we'll have evangelicals, sometimes we won't. We think learning how to do good better involves listening to lots of perspectives, with different insights and understanding with us. Sometimes it will make us uncomfortable, sometimes we'll agree, sometimes we won't. We think that's good. We want to listen for correction. Especially in our blind spots.)
The Better Samaritan is a part of CT's Blog Forum. Support the work of CT. Subscribe and get one year free.
The views of the blogger do not necessarily reflect those of Christianity Today.