11 Tips for Preaching a Trauma-Informed Sermon
A trauma-informed sermon can provide comfort and hope to those affected by trauma while offering sound biblical teaching.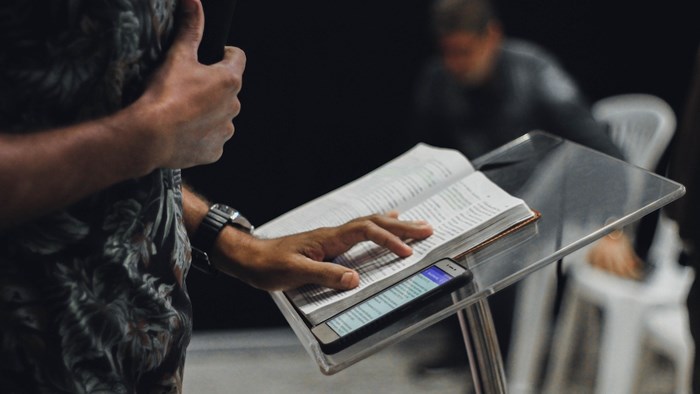 Trauma has a significant impact on both individuals and communities, including churches. As a pastor, you are uniquely positioned to help others who have experienced trauma—in a way that is both meaningful and honoring of their experience. Unfortunately, many sermons overlook the impact of trauma and its effects on individuals, leaving those struggling with unresolved or ongoing trauma feeling alienated and unheard. A trauma-informed sermon can provide comfort and hope to those affected by trauma while offering sound biblical teaching. To help you preach more trauma-informed sermons, we offer these eleven tips.
Remember: there is no "one size fits all" approach.
Everyone's experience with trauma is unique, even within the same community; the same type of sermon will not work for everyone. Acknowledge this fact from the pulpit, so those in attendance know that you recognize this reality and are willing to adjust your message accordingly, if needed.
Carefully choose the language.
The language used in a sermon about trauma should be selected carefully and respectfully. For example, instead of using words like "victims" or "survivors," which carry a connotation of powerlessness, consider using phrases such as "those affected by traumatic events" or "those impacted by violence," which focus on the individual agency involved in surviving traumatic events (Romans 8:37).
Speak from both personal experience and scripture.
Trauma-informed sermons should draw from both personal experience and scripture. Use stories from your own life, if applicable, but make sure to stress how God was present during those problematic seasons (Psalm 46:1). Doing so provides evidence for others that God is indeed faithful, even during times of trial (Romans 5:3).
Discuss how faith can help heal wounds caused by trauma.
It's vital that preachers discuss how faith can help heal wounds caused by traumatic experiences (Psalm 147:3). Relating the importance of spiritual disciplines such as prayer, Bible reading, worship, and gathering in community can help survivors with their spiritual and emotional healing (John 14:27).
Utilize professional insights where appropriate.
While it is essential to integrate teachings from scripture into your sermon regarding traumatic experiences, it can also be beneficial to incorporate professional insights gained through research into these areas (1 Corinthians 12:7). For example, you might discuss concepts like spiritual fortitude, which emphasizes enduring adversity and suffering.
Be mindful of tone when discussing sensitive topics.
When talking about sensitive issues related to traumatic experiences such as abuse or neglect, preachers must maintain an empathetic manner throughout the entire sermon (Colossians 4:6). Avoid using language that could come off as judgmental or triggering, which could prevent survivors from seeking support due to feelings associated with shame or guilt (Romans 12:15).
Encourage survivors to seek out help.
It is also important to remind listeners who may have experienced traumas in their own lives that there are resources and support available, so they don't feel like they must go through it alone (Galatians 6:2). Remind your congregation that we all need help. Emphasize that seeking help isn't a sign of weakness on their part; instead, it shows strength to recognize a need for additional support.
Highlight biblical principles relevant to healing.
There are many pertinent biblical principles for healing from traumas, such as restoration and hope. Highlight these principles throughout sermons, so listeners understand what God desires for them during distress (Isaiah 53:5).
Utilize trauma-informed resources.
To effectively preach a trauma-informed sermon, it's essential to be familiar with resources that provide insight into how trauma affects individuals and communities. Investing time in reading books and articles written by professionals in psychology, social work, and counseling can give helpful information to preachers looking to address traumatic experiences from a spiritual perspective (John 10:10).
Create safe spaces in church.
The church should strive to create safe physical and emotional spaces where those affected by trauma can express themselves without fear of being judged or criticized (Romans 12:15). This could include developing support groups or counseling services that focus on addressing issues related to trauma, as well as providing resources such as mental health awareness classes or workshops that discuss healthy coping mechanisms (Ephesians 2:10).
Make others aware of professional services and resources.
Finally, it's vital to provide resources and information to help people struggling with trauma or related mental health issues. For example, offer printed handouts or bulletin inserts on when, where, and how to get help for trauma (promoting awareness of trauma-informed organizations in your community).
Taking a trauma-informed approach to sermons means being aware of and compassionately teaching complex issues. By following these general guidelines, pastors can adequately address the issues at hand in a way that honors God and shows compassion for those who have experienced traumatic events.
For more tools and practical help, download our FREE
trauma-informed church action tool
. It will guide you through creating an action plan to become a trauma-informed church.
Jamie Aten, Ph.D., and Kent Annan, M.Div. co-direct the Humanitarian Disaster Institute at Wheaton College and are also the co-founders of Spiritual First Aid.
The Better Samaritan is a part of CT's Blog Forum. Support the work of CT. Subscribe and get one year free.
The views of the blogger do not necessarily reflect those of Christianity Today.