A Week in Kakuma Refugee Camp: Glimpses of Hope
It was difficult to visit the camp for a week, and most refugees live there for years. Still, there were glimpses of hope and joy in the midst of despair.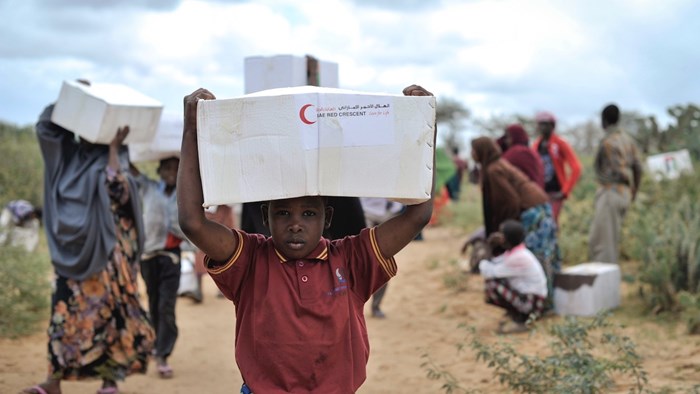 A few weeks ago, I was on a UN airplane that touched down on a bumpy gravel airstrip near the Kakuma Refugee Camp in Kenya. It was the beginning of a weeklong visit to the camp, which is operated by UNHCR and is home to about 240,000. Kakuma is located in northwestern Kenya, an arid and undesirable area, where blowing dust and temperatures in the high 90's are the rule. Shade is limited, since many of the sparse trees near the camp are felled for construction or charcoal. Shelters—haphazardly constructed of corrugated metal or plastic sheeting—are small and chaotically crowded together in most parts of the camp. When I arrived, it had not rained there for over 2 years. The water supply is challenged to meet the needs of the refugees and nearby Turkana community.
The camp was formed hastily in 1992 with a sudden influx of refugees, who had fled the war in Sudan. Media interest in the story of the "Lost Boys" of Sudan brought attention to the terrible toll of the violence there and the plight of orphaned children who ended up in Kakuma in the 1990s. As the number of refugees swelled, UNHCR and various NGOs arrived to provide for basic needs on a "temporary" basis. But the violence causing people to flee Sudan, and later South Sudan, has continued with variable intensity for 30 years.
It is not just the Sudanese that come to Kakuma. Violent conflicts now and over the past three decades in Somalia, the Democratic Republic of the Congo, Ethiopia, Rwanda, Burundi, Eritrea, and Uganda have all produced victims with no choice but to make the long, arduous trek to Kakuma. Kenya, though not without its faults, is a relatively stable country in a region of chronically chaotic and dangerous neighbors.
UNHCR intends refugee camps to be temporary, but the reality is that many Kakuma residents have lived there for two or three generations. Less than 1% are resettled to the US or other nations. Repatriation is rare due to ongoing violence and famine, and Kenya does not support integration into its communities, so refugees are trapped.
The temporary-ness is evidenced in the poor-quality shelter, water, electricity, and road infrastructure. Water and food are rationed at bare minimum levels. Refugees' livelihoods are limited to the informal economy within the camp, since Kenya does not want them competing for work with its citizens outside the camp. If it were not a refugee camp, a poor community like Kakuma would attract NGOs with development programs to enhance shelter, livelihoods, education, health care, water, and sanitation. Also, residents would have greater opportunities to help themselves by farming or building businesses. Forces beyond their control have placed these refugees in a difficult, long-term, in-between place.
Forces beyond their control have placed these refugees in a difficult, long-term, in-between place.
I was in Kakuma, along with three others from the International Association of Refugees (IAFR), to fulfill my practicum requirement for a master's degree in Humanitarian and Disaster Leadership at Wheaton College. Our team's goals were to help women start small businesses and to teach theology and trauma care to local pastors. IAFR, led by Tom Albinson, endeavors to respond to refugees' stated needs rather than bringing a preconceived program to them. This approach benefits from long-term development of relationships with community-based organizations and empowerment of local resources, with IAFR attempting to fill gaps that arise. In Kakuma, IAFR has partnered with the United Refugee and Host Churches (URHC), an organization of some 160 congregations, to respond to interest they expressed in women's livelihoods and pastoral education. In the past, it has funded meeting and classroom facilities for URHC programs; while we were there, a new classroom building was dedicated.
When walking through the streets of Kakuma, Tom and I met a young man who told us in good English, "I am really smart, even though I never went to school." So Tom asked him, "Why didn't you go to school?" He quickly replied, "Because I have no hope." That hopelessness seems justified. It was difficult for me to live in Kakuma for a week, and hard to imagine living there long-term, without the promise of an opportunity for a better life...without hope.
Still, I participated in a joyful worship service at a Turkana church, where I was asked to preach the sermon. While I can't say how well my sermon landed, the singing and dancing were nothing short of amazing.
The dedication of the classrooms (to be used largely for children's programs) was an indication of investment in the future.
The work that the church leaders are doing in the camp and surrounding community to preach the gospel, to address trauma, and to engage in worship is the work of faith.
These were all glimpses of hope.
Stan Diddams retired from Bank of America after 38 years in commercial and investment banking in 2022. He completed his MBA at Northwestern University's Kellogg Graduate School of Management and holds a BA degree in Social Science from Wheaton College in Illinois. Stan recently completed the requirements for a MA in Humanitarian and Disaster Leadership at Wheaton College. He is on the advisory board of World Relief–Western Washington.
The Better Samaritan is a part of CT's Blog Forum. Support the work of CT. Subscribe and get one year free.
The views of the blogger do not necessarily reflect those of Christianity Today.