Extortion is Bad in Colombia, but It's Even Worse for Christians
Fighting in the country has displaced 8 million people since 1985, with church leaders under particular threat.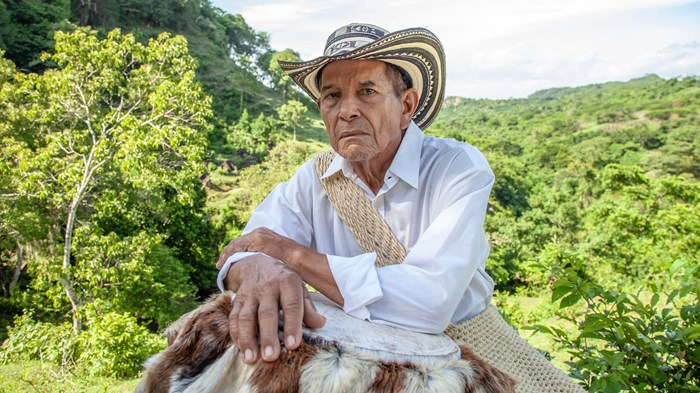 FARC guerrillas showed up week after week at Maria's house demanding vacunas—protection money—the rebels' version of an offer not even a poor Colombian peasant farmer could refuse without risking death for his entire family.
Beyond extortion, the FARC (Revolutionary Armed Forces of Colombia) added fighters by luring them with bogus promises of money, or via forced conscription. Wherever the FARC showed up, children were in danger. That included Maria and her siblings. Colombia's government made no effort to protect families, even those like Maria's who lived near a military base.
So, in the late 1990s, her dad, Saul, uprooted the family to El Tigre, a mountain village two days' walk away. With that, the family joined the ranks of Colombia's internally displaced. Colombia's half-century-long civil war has produced the world's biggest population of IDPs (more than 8 million since 1985). Operation World estimates 7.5 percent of Colombians are evangelicals.
The same guerrillas showed up at his new doorstep, palms extended.
But Saul's family might as well have stayed put. Civilians on that mountain found themselves caught between the 26th Front of the FARC, the guerrillas' paramilitary rivals and Colombia's Army warring for control. The same guerrillas showed up at his new doorstep, palms extended.
Saul, a Christian, believed a strict home life might keep his children from danger. Instead, Maria, 13, ran off with her boyfriend, who started beating her. At 16, she ran from him and joined the FARC. In time, she came to faith in Christ through Christian radio.
Not long after Maria's miraculous liberation from the FARC after losing her leg to a landmine, I met the former guerrilla in Bogota. She'd been a broadcaster for the rebel group. Now in civilian life, she was using her skills to edit sermons for the radio station through which she had come to faith. The station, founded by missionary Russell Martin Stendal's ministry Colombia for Christ, reaches all sides in the nation's civil war. I detail Maria's story from IDP to FARC guerrilla to Christian in my recent book release Victorious: The Impossible Path to Peace.
Although a peace accord ended the war between the FARC and the Colombian government, it didn't bring peace. Since the 2016 signing, more than 650,000 more people have become displaced within the nation's borders. Fighting for control of coca fields, oil drilling, mining and narcotrafficking routes are guerrillas of the National Liberation Army (ELN) and the still-mobilized elements of the former FARC, along with paramilitaries and other criminal gangs.
Meanwhile, across Colombia's eastern border, Venezuela has been under socialist dictatorship for a quarter century. The once-prosperous country is embroiled in chaos, hunger and lawlessness. More than 6 million Venezuelans have become refugees. More than 1.8 million of them are in Colombia.
While writing Victorious I visited Puerto Carreño, a hardscrabble eastern Colombia town on the Orinoco River border full of desperate Venezuelans. There, Colombia for Christ was warehousing Bibles; three former ELN or FARC guerrillas were among those smuggling Scriptures across the Orinoco into Venezuela, an effort empowered with help from both nations' militaries.
Carmen, from northern Venezuela, was selling coffee from a carafe on a Puerto Carreño street. Widowed when police shot her taxi driver husband for a murder he did not commit, she left her daughter with her mom and traveled eight hours to Puerto Carreño seeking work. Carmen planned to earn money to buy food she would send home with her brother.
We heard her story as we bought her coffee. Supporting her microenterprise might keep her from being sucked into prostitution, a common fate of other young destitute Venezuelan women. Russ Stendal's brother called a guy at the warehouse, who brought her a Bible.
Carmen hugged her new Bible. She kissed it.
"They all do that," I was told later.
On my most recent trip to Colombia I changed planes in Panama City. Next to seat 32D, a young woman was sobbing. Cielo, 21, from Venezuela, shared her story, beginning with her name, "heaven" in Spanish. She was born after her childless mother had prayed for a miracle.
Cielo, a Christian, had fled her homeland for Mexico to start a new life with her aunt there. But upon arrival in Mexico City, immigration officials demanded a bribe she could not pay. Mexican officials singled out Venezuelans for extortion. She learned young women had been taken into custody, some for days. Rumors flew of sex abuse.
Cielo saw she had no choice but to board a flight to Bogota, where another aunt lived.
So, I prayed for Cielo, gave her Bible bookmarks and Scripture memes filed between the pages of my New King James and encouraged her from the Word of God that Jesus will take care of her. After we parted, I found a Bogota church friendly to Venezuelans (which, sadly, I learned is not usual among Colombian congregations) and linked her to a family at that church. Fortunately, Colombian immigration officials allowed her into the country to join another aunt.
Colombia is 30th on the 2022 Open Doors World Watch List that ranks countries by the severity of persecution faced by active Christians. That's because criminal gangs, guerrillas and indigenous groups still threaten, harass, extort "and even murder church leaders, who are targeted because they denounce corruption, defend human rights and oppose cartels."
As news crews have long since moved on, Jesus has not. Maria, Carmen, and Cielo are among the world's 84 million forcibly displaced people.
Maria came to faith through the crisis ​brought about by the very guerrilla group that forced her family from their home. Carmen saw Jesus' provision of a Bible and, later, clothing to replace what insects had eaten overnight and money to return home to Venezuela with supplies when her daughter needed emergency healthcare.
And in Bogota, Cielo found paying work on the phone bank of food delivery service while living with her aunt.
God's heart is moved with compassion as He's intervened in each unique plight.
Author and journalist Deann Alford, a former Christianity Today senior writer, is the author of Victorious: The Impossible Path to Peace about her decades covering Colombia, among of the world's darkest places. There she finds radical forgiveness breaks the vicious cycle of violence and reprisal. Victorious is available on Amazon, Apple Books, Barnes & Noble, Google Play and other platforms.
The Better Samaritan is a part of CT's Blog Forum. Support the work of CT. Subscribe and get one year free.
The views of the blogger do not necessarily reflect those of Christianity Today.