A World Displaced: What Refugees Can Teach Us About Hope
On this World Refugee Day, we must commit to view refugees differently.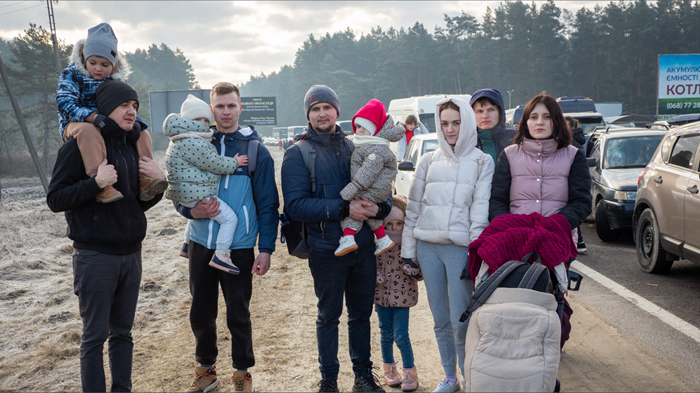 On World Refugee Day, we pause to think about what it means to be a refugee. For those of us who care for refugees each day, like we do at Medical Teams, it is a day to recognize the resilience of the now 100 million men, women and children who have been forcibly displaced from their homes. For others, it is an opportunity to thoughtfully consider the refugee experience and perhaps confront long-held notions, fears and understandings.
The origin of the global refugee movement is widely recognized as beginning after WWII, when the Nazi persecution of Jews created a massive refugee movement across the world. Today, we use terms to define the people who move across borders from their home countries: migrants, refugees, asylum seekers and internally displaced. Oftentimes, migrant and refugee are used interchangeably, but they are not the same. The most basic distinction is that a migrant chooses to leave their home, while a refugee does not. An asylum seeker has left their country because of a serious human rights violation and is seeking protection but has not yet been legally recognized as a refugee. An internally displaced person is forced to leave their home but remains inside their country's borders. (UNHCR)
Most refugees leave their countries because of human rights violations: war, genocide, systematic abuse, natural disasters, climate crises and religious/other persecution. In the decades since WWII, we have witnessed a cascade of complex and deeply traumatizing humanitarian crises. Many have been caused by bloody civil wars, corrupt regimes, ethnic cleansing and weaponized starvation in places like Afghanistan, the Congo, Syria, Myanmar, Ethiopia and Colombia. These crises have led to a record-breaking number that should have never been met: 100 million people are now forcibly displaced around the globe.
A Global Mindset
If the magnitude of these crises shows us anything, it is that the refugee crisis is a global crisis. We must confront the truth that it is no longer "their" crises but rather "ours". Our collective humanity and interconnectedness demand a renewed mindset, joint responsibility and actionable compassion.
It is fitting that the UNHCR's theme for WRD 2022 this year is: Whoever. Wherever. Whenever. The recent Ukraine refugee crisis underscores this reality as we witnessed unexpected and unprecedented displacement of nearly 14 million people in 100 days. The sheer numbers are mind-numbing, even for me, someone who has worked in the humanitarian space for nearly three decades. It took seeing and talking to Ukrainians myself to comprehend the level of shock and loss experienced by this conflict.
I believe the Ukrainian invasion exposed some existing biases that are hard to admit – about what we think refugees look like and where they come from. Watching what has happened in Ukraine is a critical reframe that conflict or a crisis can happen anywhere, to anyone.
The Journey to Hope
Despite these seemingly unsurmountable challenges, we know refugees emerge as incredibly resilient and hopeful individuals. I have seen this truth among refugees around the globe – from Lebanon to Moldova, Uganda to Bangladesh. In dimly-lit tents and straw-roofed huts, in the labyrinths of congested camps and makeshift clinics, I have listened to their traumatic stories. Villages being torched, rape and terrorization. Harrowing journeys through ink-black nights and tumultuous seas. It is the making of nightmares that no human should ever endure.
And yet, there is a common thread that ties each testimony together: hope. Many have narrowly escaped the unthinkable, stopping just short of the edge of death, and yet emerged alive on the other side.
Somehow, they find hope.
What can we learn from them? I'd like to share about two refugees who have much to teach us about this hard-won hope.
Emmanual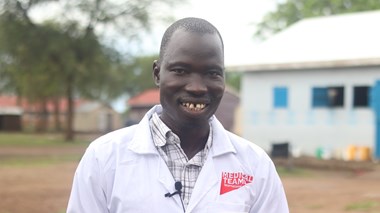 Image: Photo Courtesy of Medical Teams International
Emmanual works in our Ugandan settlement. He is South Sudanese, and has been a refugee twice- once when he was young and his family was forced to flee after civil war broke out. He was repatriated back to South Sudan in 2016 but after another war began, he fled back to Uganda. "It was terrible – watching friends lose their life is very terrible. Leaving your home… it is traumatizing." Emmanuel fought for his life and crossed the border into Uganda again, where he got resettled and began to reshape his future by working for Medical Teams to serve others. "I see my journey as a hope journey. My life has taught me that there is hope."
Maryna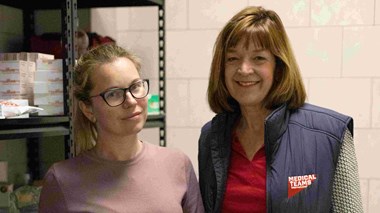 Image: Photo Courtesy of Medical Teams International
Maryna fled Ukraine with her two boys and her 71-year-old mother. Before the war, Maryna said her life was normal. "It had some problems, but now they seem so small compared to the war." Through tears, Maryna recalled what her life was just months ago. "I was working in a kindergarten as a nurse before I left. We're still in a state of shock. No past, no future, just hanging in a state of unknown." Despite her world turning upside down, Maryna wanted to help others who were also fleeing Ukraine. She volunteered in Moldova with our medical team while she was staying at a Refugee Accommodation Center and focused her energy on treating the urgent health needs of her fellow Ukrainians.
Emmanual and Maryna are just two refugees of millions that show us is it possible to continue to press on when everything has fallen apart. They show us that hope can, and always does, find a way.
This World Refugee Day, let's resolve to think differently about refugees. Let's consider what they've overcome instead of where they've come from. And let's celebrate their resilience and the example of hope they offer us in our own hardships and trials.
Martha Newsome is the President and CEO of Medical Teams Intl.
The Better Samaritan is a part of CT's Blog Forum. Support the work of CT. Subscribe and get one year free.
The views of the blogger do not necessarily reflect those of Christianity Today.