Fight the Cost of Your Christmas Feast (While Supporting Those Who Feed Us)
In the weeks ahead, we have an opportunity to secure our nation's food supply and press for bipartisan reforms for our farmworkers, farmers, ranchers, and other food producers.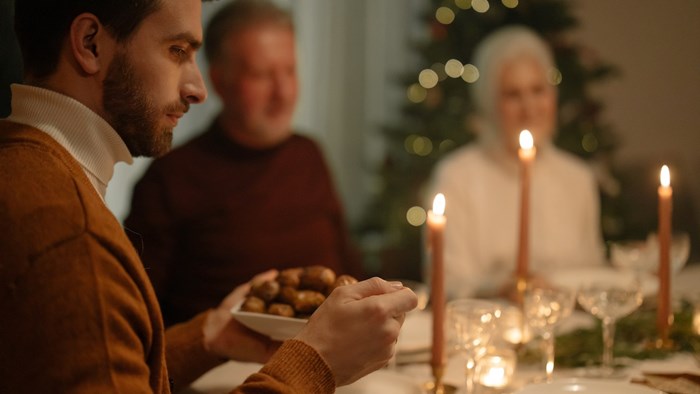 Turkey, Swedish meatballs, cranberries, rice pudding, apple pie and Mom's famous raspberry Jell-O salad: These are some of my family's food traditions that define our Christmastime celebrations each year. But this year, Americans are paying ever-higher prices while farmers and food producers struggle to find people willing to harvest the foods we love to eat.
Compared to this time last year, turkey prices are 23 percent higher, while the price of other essential ingredients like butter, eggs and flour have risen that much or more. While many factors have contributed to these price hikes, one significant factor driving higher prices is the shortage of labor.
As a pastor who served for years in agricultural communities in Western Minnesota—including in Kandiyohi County, the top county in the top state for turkey production—I've seen firsthand the essential role that immigrants play in our local and national economy.
Whether powering meatpacking industries in the Midwest, dairy farms in Wisconsin, strawberry fields in Florida, or apple orchards in Washington, immigrant farmworkers put food on each of our tables at Christmastime and throughout the year. In fact, immigrant farmworkers (half of whom are undocumented) make up an estimated 73 percent of food and agricultural workers in the United States in a $1.053 trillion industry.
Migrants from places like Mexico and Central America, or refugees who have fled persecution in places like East Africa or Myanmar, produce many of the holiday foods we enjoy. And as those living in agricultural communities know, many of these new Americans working in farming or meatpacking are indispensable members of their local communities and economies. Yet because many lack long-term legal status, they live with crippling uncertainty and are easy targets for wage theft and human trafficking, preventing them from building prosperous livelihoods here in the United States.
Furthermore, $600 billion of food grown in the United States (one-third of the harvest) is wasted each year in the fields because farmers do not have sufficient labor to get these crops to market, according to Cathy Burns, CEO of the International Fresh Produce Association. "The U.S. doesn't have a food production problem; we have a labor problem," she said at a recent event hosted by the National Immigration Forum.
As we celebrate Christ's coming this Advent and Christmas season, we're reminded that Christ came to "bring good news to the poor," compelling us to advocate reforms for immigrants willing to grow and harvest our food. And farmers, ranchers and food producers need our voices to help them secure a stable and productive workforce to bring down food prices for all, including Americans struggling to feed their families this year.
For followers of Christ, it's about our moral and biblical obligation to advocate for the God-given dignity of every human life.
Protecting immigrant farmworkers and food producers is not just about the economy. For followers of Christ, it's about our moral and biblical obligation to advocate for the God-given dignity of every human life.
Jesus teaches in Matthew 25 that we love and serve him by caring for the vulnerable. He said, "For I was hungry and you gave me something to eat, I was thirsty and you gave me something to drink, I was a stranger and you invited me in."
In the weeks ahead, we have a unique opportunity to secure our nation's food supply and press for urgently needed bipartisan reforms for our farmworkers, farmers, ranchers, and other food producers.
A version of the Farm Workforce Modernization Act, which passed the U.S. House of Representatives with bipartisan support in 2021, needs to pass the Senate in the weeks ahead. This legislation would reform the visa program for temporary agricultural workers and allow thousands of undocumented workers to receive permanent legal status if they pay a fine.
These reforms are popular among Americans in general, including evangelical Christians. A recent Lifeway Research study found that four out of five evangelical Christians support pairing agricultural visa reforms with border security improvements and a path to citizenship for those brought to the United States as children. These findings are consistent with my own experience working with evangelical churches and leaders from the dozens of denominations and thousands of churches and faith-based nonprofits affiliated with the National Association of Evangelicals (NAE).
Evangelical Christians advocate these reforms because the Bible is clear that God has a heart for the immigrant and foreigner. In addition, one-third of evangelicals are actively ministering to and with immigrants and refugees through organizations like World Relief, the humanitarian arm of the NAE, which puts names, faces, and stories to the challenges our friends face.
Take time this holiday season to write your members of Congress, urging them to provide much-needed reforms for farmworkers, farmers, and ranchers to address food inflation, food security, and agricultural labor shortage crises. Together, we can uphold the dignity of those who provide our food and ensure that no one goes hungry this Christmas and in the years ahead.
Steve Eng is the advocacy director for the National Association of Evangelicals.
The Better Samaritan is a part of CT's Blog Forum. Support the work of CT. Subscribe and get one year free.
The views of the blogger do not necessarily reflect those of Christianity Today.