3 Ways to Help Vulnerable Kids in Foster Care Transition Well as They Head Back to School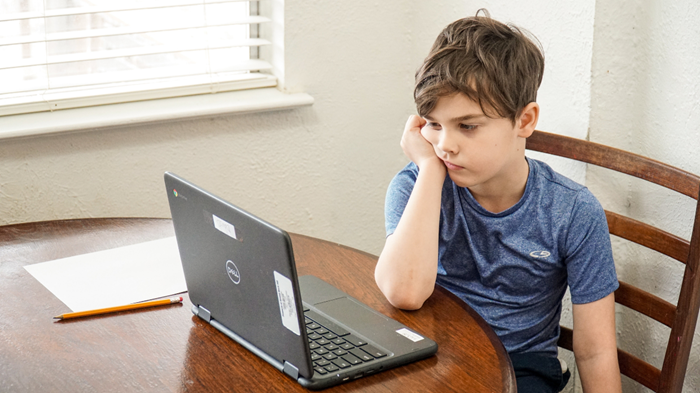 Creating predictability is of the utmost importance as we raise our children. Whether they are 18 months or 18 years, kids and teens thrive on routine and consistency; however, their greatest need is the confidence of consistent love in good times and bad. Our love for our children has been one of the only constants in their world over the last year as the "normal" routine of life has been reoriented completely and as we continue to pursue the ever-moving "normal."
For over a year we struggled to navigate constantly evolving school, community, and relational changes. This continues even now as the Delta variant of Covid-19 continues to wreak havoc on communities all around our country and world.
Despite this, in the coming weeks many of us are bringing back something "normal"--in-person school. On a good year, back to school brings a mixture of excitement, hesitation, and nervousness for students and parents alike. Last year, it brought curiosity and uncertainty as we anticipated continual change.
This year, we have an entire generation of children who are facing school as they ask lots of questions: What will school look like? How long will we continue to wear masks? Will I be able to be near my friends? Will I measure up academically?
Yet there is another group we don't often see who are asking even more difficult questions. These are the children who for so long have sought predictability and have so often been left wanting. The start of the school year is especially hard for children who have been adopted or children in foster care, many of whom have had significant unrest and instability emotionally, relationally, and socially. They not only bring backpacks and pencils to school this year. They bring wounds and trauma.
In 2020, there were over 424,000 children in foster care. That's a lot of children in our schools who need to be seen, heard, and supported in compassionate and caring ways. This number has trended downward for years. However, The Impact of COVID-19 on Students in Foster Care report showed that this past year has been especially hard on children in foster care who have faced a lack of access to adequate technology, a lack of social support, and a lack of access to proper mental health resources like counseling and mentoring.
This coming year is a year of catch-up for all of our kids, but none more than those in foster care situations. Below are three ways we can take special care to help our children in foster situations navigate the start of school well—and build routine and predictability that can lead to greater flourishing.
Extend additional compassion and empathy.
Any transition can be challenging when you come from a place of trauma. For kids in foster care, trauma is a constant companion, influencing the way they see all of life. These children have experienced more wounds in relationships with adults than anyone should in a lifetime. Those who ought to have been protectors, providers, nurturers, and champions have failed them in any number of ways. Theys are coming into school with questions other kids don't have to carry: Will my mom ever come back? Where will I be next year? Am I really loved?
Jesus' model can really help us bring clarity in the way we love these precious children. A leper came to Him and knelt before Him, saying, "Lord, if you will, you can make me clean." And Jesus stretched out his hand and touched him, saying, "I will; be clean." And immediately his leprosy was cleansed.(Matthew 8:1-3).
Jesus offered words, but also offered Himself to this man. Jesus could have just declared the leper to be healed. But He touched him. This was a man who had been ostracized, cast out and forgotten. Physical touch to him was like water in the desert. The first and best thing we can do for children in care is to offer compassion and empathy in every way we can by offering our presence.
Look beyond the behavior and into the heart.
Children in foster care develop coping mechanisms to deal with trauma, and many times, these behaviors are unhealthy - they act out or remain silent. As adults, we place a high emphasis on the behavior of those around us. When children are defiant, disrespectful, or disobedient, it can be challenging to look past the behavior into what's happening in the heart.
It is especially important for church children's ministry to prepare volunteers for these children. Their hurts and trauma are very different from other kid's but it's vitally important for our congregations to be a safe place for them.
We have an incredible responsibility and opportunity to help them heal and ultimately to place their hurt and pain at the feet of Jesus. These children can have great anxiety over academics and friendships while hearing the whispers of doubt in their heads: Where is my mom? Why did she leave me? Where will I be staying next week? Will it be safe?
Helping children in foster care thrive as they enter school and life means going the extra mile even when it's difficult. Relentlessly pursuing their hearts can be painful in the present, but it can lead to true transformation and flourishing long term.
Teach them to tell their story.
Children in foster care will be asked questions that other children won't. Why aren't you living with your mom? Why do you look different than your family? Why have you been in so many schools?
To help them thrive, we must help them tell their story. There will be parts they share, and perhaps parts they don't. They need wisdom and guidance to know the difference and to not shut down completely. They must understand that not all questions need to be answered in full and that not all questions come from a place of condemnation or judgment. Sometimes, a shorter answer can be much healthier.
We must help children build the foundation upon which they can confidently answer the hard questions teachers and peers will ask. Preparing these answers even before school begins will set them up for greater success. As followers of Christ, we can offer them a gift others cannot—we can help them frame their story in the unconditional love and acceptance of Christ. As we share the gospel with them, their story becomes infused with hope. Their story becomes a work of God's redemption story. Their past no longer defines them as they realize that every day they can walk confidently knowing they will never be alone.
Even as the Delta variant upsets a return to what many of us knew, we must move forward cautiously and carefully to protect not only ourselves, but the most vulnerable around us. We continue to wear masks and find options if we are immunocompromised. And yet we continue to pursue all opportunities to help our kids. School brings possibilities of predictability. Armed with empathy, attentiveness to heart, and a toolbox of storytelling options, children in foster care can find that perhaps they can flourish with God's help and our support.
Herbie Newell is the President of Lifeline Children's Services, the largest Evangelical Christian adoption agency in the United States. The organization serves vulnerable children and families through private domestic and international adoption, family restoration, and pregnancy counseling.
The Better Samaritan is a part of CT's Blog Forum. Support the work of CT. Subscribe and get one year free.
The views of the blogger do not necessarily reflect those of Christianity Today.