When Your Job Is Delivering Food to One of the World's Most Dangerous Places
For World Food Day 2021, a World Vision staffer working in South Sudan describes his hardest deployment yet.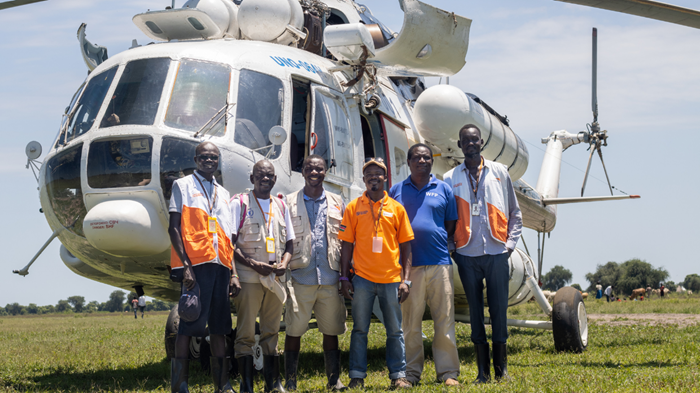 My food distribution job, leading 28 team members and hundreds of women volunteers in South Sudan's isolated and most perilous locations, is both a blessing and a huge risk, involving emergency helicopter rides, cruising crocodile-infested rivers and braving bad weather to get the job done.
This mission, however, is simple. We're distributing food to the hungry. In South Sudan, the world's youngest country, food insecurity is a growing problem. Decades of civil war before South Sudan became a nation in 2011 and in the years since, have left it one of the poorest countries in the world that hasn't been able to provide its citizens the basics of healthcare, education or income opportunities. The combined effects of conflict, climate shocks and the COVID pandemic have only intensified the humanitarian crisis. More than 7 million people in the country don't have enough food to sustain themselves.
World Vision, in partnership with the World Food Programme, has been distributing food since 2016. Last year, we distributed food to over 191,000 internally-displaced people. Of these, more than 35,000 are children.
I started my work with World Vision in February 2016, joining from other aid orgs operating food assistance programs. Though similar work, my current role is more intense. It requires your ability to be deployed within 72 hours, in South Sudan's "deep-field" where few would dare to go.
It's dangerous work. We sleep in tents in makeshift areas that are open to bad weather, snakes, hyenas, scorpions, prowling lions, and even stray bullets.
The security briefing for my first mission to Ulang County, a part of South Sudan's Upper Nile State, was brutally honest: I was being deployed to an active battle front of armed groups.
Humanitarian workers were suspected of being spies. Worse, our operational areas were deemed "no-go" locations. This presented a huge mental, physical, as well as, spiritual debate for me as a humanitarian worker.
The biggest question on my mind: what would happen to my young family if the worst occurred?
The perfect assurance came in the form of Psalm 23:4 "Even though I walk through the darkest valley, I will fear no evil, for you are with me; your rod and your staff, they comfort me." (NIV)
The satisfaction of knowing that when I was called to serve those in need, I answered with gifts of love, representing those who could not make it in person. It comes with a prayer and hope that one day, there will be peace in South Sudan and the South Sudanese people will have a land full of plenty from their own hands.
Still, my hardest deployment was in a place called Riang - a remote, arid land without trees. We set our tents directly under the open skies with little to protect us from the sun's blistering heat.
One of our only water sources was a malfunctioning borehole. The community relied on pockets of shallow swamps that were drying up fast. Communication was limited to satellite phones reserved for emergency calls and texts. We had flown in with food supply to last the team for three weeks.
We hired some women in the village to cook for us but we were also mindful that beyond our makeshift fence, hungry children could be seen peeping into the compound. After the initial ground preparations, the airdrops and distributions followed through. In the stillness, the women chatting happily into the night as they prepared a meal was very reassuring.
The challenge began when the flight meant to pick us up after the food distribution was cancelled due to security risks. We overstayed beyond the planned three weeks. We ran out of food supplies and water. Though we had some money, it was of little use in a community without a market.
We endured using water from the same swamp where the villagers get their supply and boiled it for drinking to survive. We ate one meal a day. It soon reached to a point where the same population we had delivered lifesaving interventions were now sharing their food with us.
South Sudanese women join the food distribution to haul the dropped food from the planes. They tackle the job joyfully encouraging each other with songs as they haul and pull the bags of food.
We strive to support them to be self-reliant by teaching them other means of livelihood like kitchen gardens. We see them hold onto hope despite recurrent disasters such flash floods or extended dry periods.
I am inspired by their resilience and it encourages me to continue this difficult work.
Benard Nyataya is currently World Vision's Food Assistance Coordinator for its Rapid Response team in South Sudan. He has been working in food assistance programming for over 10 years specializing in complex humanitarian emergencies. He has an MBA in Project Management from Africa Nazarene University and Master's Degree in Ministry from Masters International School of Divinity (Online). He is a father of four.
The Better Samaritan is a part of CT's Blog Forum. Support the work of CT. Subscribe and get one year free.
The views of the blogger do not necessarily reflect those of Christianity Today.