An Empowering New Film Out of Saudi Arabia: "The Perfect Candidate"
Maryam Alsafan, a doctor who runs for local office, is the kind of movie hero we need.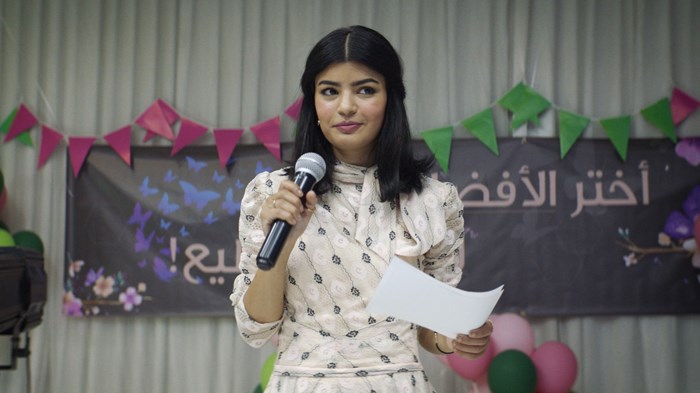 The word that kept coming to mind during this movie was: impossible.
How impossible to be a female doctor in Saudi Arabia.
How impossible to care medically for a community without a paved road to your medical center.
How impossible to do anything as a woman, without a guardian's permission—especially running for municipal council.
That's what Saudi doctor Maryam Alsafan (Mila Al Zahrani) decides to do in "The Perfect Candidate," mainly to achieve her goal of getting that muddy road paved. But the movie is not a political drama—more like a twist on one. We see what campaigning is like for Maryam, but see little of her rival candidates or any shady dealings.
This is a story about the women's subculture in Saudi Arabia, unfolded by one woman testing out new liberties that she has in theory, if not in practice.
"With the opening of cinemas and allowing women to drive in the Kingdom, I want to show how much effort real change will entail," said director Haifaa Al-Mansour in an interview. (On an earlier film, she had to direct from a van on the set in order to avoid mixing with men.)
Al-Mansour further explains the private world of Saudi women:
In public our entire identities are hidden, and our movements and opportunities have always been constricted and controlled. But in private, at home or in women-only gatherings, the coverings are lifted and there is that feeling of freedom and relaxation from all of the pressures we carry outside. The home is very much a sanctuary for women, and I always want to show the strong familial bonds that we have. Weddings, which are also gender segregated in the Kingdom, are another place where women can let loose and be themselves, so it is another setting that featured prominently in the film. I want to show the world what Saudi women are like when the coverings come off, when we can just be ourselves, dance and be sassy or whatever.
The story does feel very real, including real moments of sisters bickering or being silly together. Maryam is impulsive and stubborn, but also totally relatable as a highly competent, energetic professional who is still a bit naive.
"I just want to work in a good place," Maryam tells her sister at one point. "I'll show them what I'm made of and they'll give me a better position." ("I'm not sure that's how it works," her sister responds.)
Unfortunately, Maryam gets zero campaign support from her dad, who is off challenging other cultural norms by touring with his band. (The significance of this might be lost on audiences unless they know that until very recently, arts of all kinds were banned in Saudi Arabia.)
With such an impossible mission, one clear lesson emerges for Christians watching Maryam's story: we are not called to be successful, but to be faithful.
As humanitarians working in systems where much change is needed, or even already underway, it's not always easy to know where to begin.
We still have to start.
But is there any greater joy than watching someone else step into their own empowerment? Maryam doesn't really have help from anyone, except from her sisters, who run her campaign events, and a tech guy she enlists to help. Yet, she doesn't let the overwhelming challenge stop her.
For anyone ready to move beyond the hashtags and start supporting films by new directors with fresh stories, "The Perfect Candidate" is a great place to start. The film is in Arabic, with English subtitles, and earned a whopping 92 percent on Rotten Tomatoes.
Originally released in 2019, it's available starting today on DVD/Blueray and for streaming on AppleTV.
Laura Finch is the editor of the Better Samaritan blog, and has reviewed TV and movies for WORLD Magazine.
The Better Samaritan is a part of CT's Blog Forum. Support the work of CT. Subscribe and get one year free.
The views of the blogger do not necessarily reflect those of Christianity Today.