Christianity Is Not Just Doing, but Being.
Wheaton College M.A. student reflects on COVID ministry in Liberia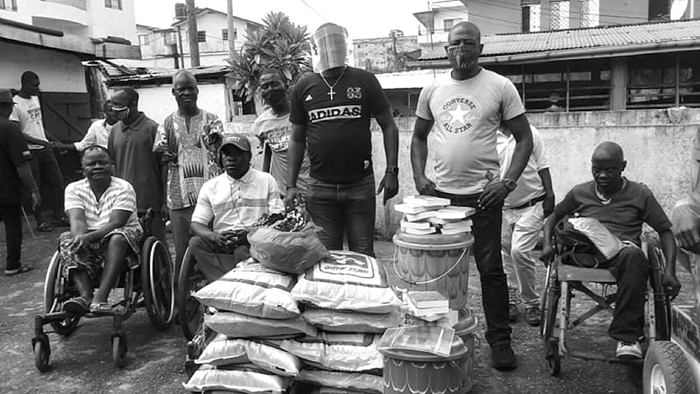 We need to ask ourselves a few questions as we engage in building a better 'Jericho' road.
Martin Burber, the Jewish theologian, said: "We treat people as 'it' when we use them as means to an end or as an object. We treat people as 'Thou' when we recognize each person as a separate human being made in God's image and treat them with dignity and respect."
We live in a world filled with lots of disparities, divisions and discriminations, and we have to understand that the life and mission of Jesus were to transform people who were out of the scope of the Jewish lineage. On many accounts, we saw Jesus reaching out to the Gentiles and people who were considered as Hellenistic. His compassion, love and mission went beyond all boundaries, cultures and religions. His interaction with the Samaritan woman at the well, for example, proves that Jesus' ministry and mission was for the whole people and the whole nation. Jesus' life and teaching are in the context of authentic and unconditional love in nature and character.
This makes me wonder and ponder: what specifically did the Good Samaritan see and feel that was missing in the eyes and life of the Priest and Levite? Are there specific people we have been taught to perceive or view as "it"? Our compassion should be able to lead us to help and unconditionally love those that are hurting, especially during this time of COVID-19 and even post-COVID-19.
We have gone through several years of brokenness, pain and trauma as the result of the 14 years of civil war, Ebola, and now COVID-19. The Association For Life of Africa- Liberia (AFLA-Liberia) is a Christian Non-Governmental Organization that is reaching, rescuing and restoring broken communities and lives through our various centers across Liberia by providing health care, counseling, ministry, education, and social services where lives are being saved and changed. We believe in the sanctity of life and that all lives are valuable and should be respected.
Over the years AFLA-Liberia has helped communities in both the urban and rural communities across Liberia to create resilience and be empowered to serve as agents of change in their communities. Due to the COVID pandemic, which has re-circled the trauma of the 14 years of civil war and Ebola outbreak, many of our people in these communities we are serving have been impacted economically. We were able to respond by reaching out to them with food and some COVID preventive materials. Funding prevented us from reaching the overwhelming economic need in as many communities as we would have liked. However, we provide counseling, mentoring, and trauma healing skills to help empower these communities and people to create resilience and healthy coping skills to deal with the short and long term trauma of COVID.
During one of our distribution events (food and COVID materials supplies to the physically challenged), many of them said, "We are grateful that you were able to reach out to us. We were dying of starvation and severe trauma due to continuous isolation and abandonment by the government and community." Physically challenged people in the country are mostly left to beg on the street for survival and due to social distancing and isolation; they are facing severe economic challenges.
There have been 1,956 cases and 84 COVID deaths so far across the country of Liberia. It is our hope that the food, preventive materials, counseling, mentoring and trauma healing skills acquired through our project; the physically challenged, families and communities will be equipped to deal with the impact and effects of COVID. The goal is to develop skills and resilience in the life of these communities to overcome the trauma and its effects of COVID-19 and post COVID-19.
I believe that when we are able to listen to our community, it creates openness and a trustworthy relationship between us and our community. Christianity is not what we do but who we are. It is not just doing but being. I think it is important to have the right heart and mind (biblical beliefs and attitudes) while engaging our communities and creating awareness to help the hurting people around us. Skills are important but skills without the right hearts and minds might lead to bitterness and prejudice. Our attitudes will certainly produce our belief system which will eventually become our lifestyle. A Better Samaritan is the one who is able to listen with his heart and mind through compassion and unconditional love. Remember, listening is the door to empathy.
George Blamoh is earning a M.A. in Humanitarian Disaster Leadership from Wheaton College, with expected graduation in 2022. He now serves as Country Director for the Association For Life of Africa-Liberia, and won the 2019 Oscar Johnson Award for Excellence in Scholarship & Service.
The Better Samaritan is a part of CT's Blog Forum. Support the work of CT. Subscribe and get one year free.
The views of the blogger do not necessarily reflect those of Christianity Today.