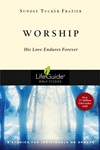 Worship: His Love Endures Forever
What does worship mean? In this multisession study, you'll explore key biblical texts that will expand your understanding of this critical spiritual discipline.
8 Session Bible Study
Overview
Is worship just an activity, or something more? What would it mean to worship God with your whole life? These eight studies take you to the heart of the matter—the character of the God who loves you.
Introduction
Getting the Most Out of Worship
This section introduces the topic, explains the structure followed in each study and offers tips for those approaching the study on their own as well as those participating in a group.
Session One
Soul Satisfaction
David says his soul thirsts, will be satisfied and clings to God. How does worshiping God satisfy David's soul? How might David's reasons for worshiping influence our own?
Psalm 63
Session Two
For Keeps
What role does the Book of the Covenant play in this meeting? How would worshiping with others be different if you entered each time believing that God had called you together to make a renewal of his vows to you and yours to him?
24:1-11
Session Three
Mercy, Not Sacrifice
From what God says to the people, what does it seem has become their attitude in offering sacrifices to God? What commands does God give to remedy the situation? Which one of these commands do you find the most difficult, and why?
Psalm 50
Session Four
Broken for You
Some of the guests call what the woman does a "waste." In contrast, Jesus calls it a "beautiful thing." When have you been told that you were wasting something precious that you gave up to honor Jesus, or when have you thought that about another person?
Mark 14:1-11
Session Five
Plantings of Praise
How does what the servant brings these suffering people transform them into "oaks of righteousness," and what does this title imply? When have you seen someone Jesus healed, provided for or set free become a "display of his splender" to others?
Isaiah 61:1-11
Session Six
All to Jesus
If you are stamped with the likeness of God, what does it mean for you to give to God what is his?
Luke 20:20-26, 45-47; 21:1-4
Session Seven
Living Worship
How do you respond to the idea of being a living sacrifice?
Romans 12:1-8
Session Eight
Our Longing Fulfilled
How does the promise that "there will be no more death or mourning or crying or pain" encourage you in a situation you're facing right now?
Revelation 21:1-8
Total number of pages—63
Sundee Tucker Frazier is a full-time mother and children's writer. She worked for InterVarsity Christian Fellowship for ten years, first on campus and then as the worship leader (with her husband, Matt) for Urbana 2000, InterVarsity's student missions convention. She is a coauthor of Worship Team Handbook.
Worship: His Love Endures Forever