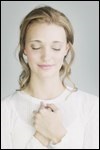 The Fellowship Offering: Giving Thanks
Discover the significance of offering to God the work of our hands, and the role of purity.
Single Session Bible Study
Overview
In this study, we will examine the fellowship offering, also called the peace offering. We will look at the relationship of fellowship, peace with God, and thankfulness, along with the idea that sacrifices and offerings need not always involve atonement for sin. Sometimes an offering is simply a gift of love.
Table of Contents
SCRIPTURE: Leviticus 3
LEADER'S GUIDE
• Identify the Current Issue
• Discover the Eternal Principles
—Teaching point one: Offering gratitude—every feast can be a feast "unto the Lord."
—Teaching point two: Offering extravagantly—our most generous offerings are the ones we share with one another.
—Teaching point three: Offering in purity—God looks on the heart, not only on the altar.
• Apply Your Findings
• Recommended Resources
Total number of pages—
The Fellowship Offering: Giving Thanks