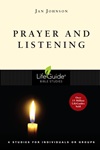 Prayer and Listening
Learn about the disciplines of prayer and practicing God's presence in your daily prayer life.
6 Session Bible Study
Most Christians have experienced the "laundry list" phase of spiritual life, in which praying means giving God an agenda of needs to handle. But how do you move to having real conversation with God? How do you hear what God is saying back to you? How can you make your experience of God's presence part of everyday life?
In this six-session LifeGuide® Bible Study, Jan Johnson covers the disciplines of prayer and of practicing God's presence. Going deeper in these areas will help you to draw closer to God in everything you do.
For over three decades LifeGuide Bible Studies have provided solid biblical content and raised thought-provoking questions—making for a one-of-a-kind Bible study experience for individuals and groups. This series has more than 130 titles on Old and New Testament books, character studies, and topical studies.
Prayer and Listening