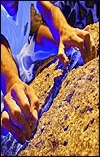 Overcoming Difficulty
See how God is our very present strength in our times of need.
6 Session Bible Study
Overcome enormous odds with the characters in these films. See how God is our very present strength in our times of need.
Session 1
Seabiscuit
Seabiscuit is the true story of an undersized racehorse with a history of failure that went on to become a legend. Explore the more spiritual themes: What is the importance of community? What does it mean to comfort someone? What does endurance look like?
Session 2
Good Will Hunting
We have always been engaged by the tale of the young and talented individual who must overcome difficult obstacles to realize his potential. To that, this drama shows how unconditional love breaks the chains of a young man's painful past.
Session 3
Antwone Fisher
In this story, based on Fisher's true story, he faces his past abandonment and abuse and searches for his lost family. In the process, he learns about his own woundedness and strength.
Session 4
A Beautiful Mind
Based on the true story of John Nash, a Nobel Prize-winning mathematician, this film tells the Oscar-winning story about love, ambition, and paranoia.
Session 5
Rabbit-Proof Fence
Follow the true story of three Aborigine girls as they walk home across Australia. Discuss the kindness of strangers, God's protection, and biogtry with this study.
Session 6
Cinderella Man
This study focuses on three aspects of Jim Braddock's journey: what constitutes a successful life, the qualities of the heroes we look up to, and the second chances we are given.
Overcoming Difficulty