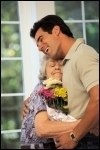 Encouragement for Caregivers
This Bible Study Course can help you get renewing, biblical perspectives on caring for an aging or ill loved one.
3 Session Bible Study
Providing care for the elderly or disabled can be a lonely, all-consuming job. This three-session course will explore how we can honor our parents by showing them care, how caregiving can be a way to express God's love, and how to find joy in our caregiving responsibilities. We hope this study will give hope and encouragement to those who serve God in this way.
Session 1
Honoring Parents by Caring for Them
Providing care for an ill or aging parent is part of the fifth commandment.
What does God require of adult children when he commands us to honor our parents? How is caregiving an expression of that honor? How do we honor parents who may not deserve it?
Session 2
Sharing God's Love Through Caregiving
Why compassionate caregiving is more than a duty.
Being a caregiver is a divine assignment that allows us a unique opportunity to demonstrate God's love. How is caregiving a means of serving God? Why would we want to voluntarily take on this kind of responsibility?
Session 3
Finding Joy in Caregiving
Behind the burdens lie many blessings.
Providing ongoing care for a spouse or parent who is frail or ill is hard work. Too often it can seem burdensome and, over time, may lead to physical and emotional burnout. This is less likely to happen if we think about our role as caregiver in a proactive manner.
Total number of pages - 32
Encouragement for Caregivers