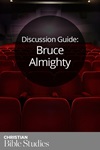 Bruce Almighty
A comedy that illustrates the power, presence, and goodness of God.
Single Session Bible Study
Overview
Bruce Almighty stars Jim Carrey as Bruce Nolan, a discontented man who accuses God of doing a bad job running the universe. When God gives Bruce his powers to see if he can do a better job, Bruce eventually realizes that love and humility are more important than getting your way.
This discussion guide looks at the movie's themes of injustice in this world, our response to God, and the goodness of God's authority over our lives.
Discussion Guide
• Movie Summary
• Discussing the Scenes *Bonus Material: DVD Scenes to Watch*
–Problems and Injustice
(Job 30:20–23, 42:1–9; Isaiah 45:7; Matthew 5:11–12; Acts 5:40–41; 1 Peter 2:20)
–Communication with God
(Daniel 6:10; Matthew 6:9–13; Luke 18:1–14; James 5:13–16)
–God's Active Presence in Our Lives
(Psalm 139:7–10; Zechariah 2:10–13; Matthew 18:20; Luke 17:20–21; Romans 8:38–39)
–God's Goodness
(Deuteronomy 32:1–4; Psalm 84:11; 2 Peter 1:3–10)
• As the Credits Roll
Based On
Bruce Almighty (Universal, 2003), rated PG-13.
Photo © Copyright Universal
Total number of pages – 7
Bruce Almighty