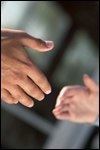 Bless and Honor God
As we develop an honest relationship with God, our trust blesses him.
Single Session Bible Study
Overview
God wants to relate to us–personally and individually. He has purpose in all that happens to us, so we can find a new type of reasoning within our anger. Instead of always wanting God to bless us (at least in the way we want to be blessed) and growing mad when he doesn't, we can learn to bless and honor him. But how can we bless God when we're so angry with him? Does God really need us to bless him? Is blessing God just saying what we don't mean?
Table of Contents
SCRIPTURE: Job 1:13–19; 2:7–9; Psalm 73; 139:23–24; Ephesians 4:25–32
LEADER'S GUIDE
• Identify the Current Issue
• Discover the Eternal Principles
–Teaching point one: Describe the indescribable.
–Teaching point two: Refine the relationship.
–Teaching point three: Learn from the ladies.
–Teaching point four: Move to the next level.
• Apply Your Findings
Total number of pages – 14
Bless and Honor God