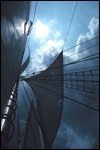 Amazing Grace
A study of the classic hymn and the transforming power of God's grace.
Single Session Bible Study
Overview
"Amazing Grace" is one of the most popular and well-known hymns of all time. Written by an "old converted sea captain" who truly appreciated the mercy God extended to him, it helps us to value God's grace. Grace changes lives, empowering us to live beyond our fears and troubles.
Why is grace amazing? How is fear changed by grace? Does grace continue its work even after we have become Christians?
Table of Contents
SCRIPTURE: Psalm 118:1-14; 2 Corinthians 12:7-10; Ephesians 2:1-10
LEADER'S GUIDE
• Identify the Issue
• Discover the Eternal Principles
-Teaching point one: We are saved by grace alone.
-Teaching point two: Grace both alleviates our fears and inspires fear.
-Teaching point three: God's grace gives us strength in times of trial.
• Apply Your Findings
• Recommended Resources
Total number of pages - 11
Amazing Grace