Bookworms fret inconsolably about how little time there is to read all the books they would like to read. As Christianity Today's book review editor, and a bookworm myself, I can testify to this mindset. Sometimes, contemplating the unread volumes under which my shelves perpetually groan, I wish the publishing industry would take a few years' intermission, so I can begin catching up.
I suspect music lovers share in this anguish. Think of all the songs stored in our friends' iPods, the CDS stocked at entertainment retailers, and the vinyl records housed in our grandparents' attics. How can anyone listen to everything they might enjoy hearing?
This relentless accumulation of intellectual and artistic output goes some way toward explaining why we experience these "year's best" features as both blessing and curse. Anyone fond of books and music (check back next month for CT's movie awards) will want to know which authors and musicians distinguished themselves over the preceding year. We just wish the objects of our fondness wouldn't multiply quite so quickly.
So why would CT pile another stack of recommendations atop the already overwhelmed? Why, if you come to our awards issue weary and heavy laden, will we not give you rest?
One could surely invoke George Mallory's celebrated explanation for undertaking to climb Mount Everest: "Because it's there." We can't very well ignore the good stuff that thriving publishing houses and record labels keep pumping out. An extended intermission, whatever respite it might offer the harried bookworm, makes little business sense.
But beyond marketplace dynamics, we should insist on a scriptural warrant for commending excellence. Consider the apostle Paul's closing exhortation to the Philippians: "Finally, brothers and sisters, whatever is true, whatever is noble, whatever is right, whatever is pure, whatever is lovely, whatever is admirable—if anything is excellent or praiseworthy—think about such things" (Phil. 4:8).
Not unlike most other years, 2011 had such things in abundance. Here are our best efforts to identify them. –Matt Reynolds, CT associate editor
Our early judging began with 390 titles submitted by 52 publishers. Christianity Today's editors selected finalists in each category, and our expert judges went to work discovering the books that rose to the top. Here are the 12 winners (including 2 ties) and 11 notables that offer insights into the people, events, and ideas that shape evangelical life, thought, and mission—with comments from the judges.
Apologetics/Evangelism | Christian Living | Biblical Studies | Christianity and Culture | Spirituality | History/Biography | Missions/Global Affairs | The Church/Pastoral Leadership | Fiction | Theology/Ethics
Apologetics/Evangelism
Good God The Theistic Foundations of Morality
David Baggett and Jerry L. Walls (Oxford University Press)
"This book mounts a strong case that the argument for belief in God on the basis of morality—so widely effective in C. S. Lewis's Mere Christianity—continues to deserve a leading place in apologetics, despite decades of assault from professional and amateur philosophers."
Award of Merit
God and Stephen Hawking Whose Design Is It Anyway?
John C. Lennox (Lion)
Christian Apologetics A Comprehensive Case for Biblical Faith
Douglas Groothuis (IVP Academic)
Interview: Douglas Groothuis on Good Apologetics | The philosophy professor wants all Christians to go out and defend the faith in love.
* * *
Christian Living (TIE)
"Tchividjian diagnoses how and why Christians form gospels to suit themselves. Prepare to be exposed and counseled into a true recovering of the gospel."
Excerpt: Jesus + Nothing = Everything | Many who assume they understand the gospel fail to actually apply its riches to their lives.
And
The Colors of Hope Becoming People of Mercy, Justice, and Love
Richard Dahlstrom (Baker Books)
"I appreciate the artistic metaphor, the emphasis on justice, mercy, and love, and the recognition of the complexity of life, including the Christian life."
Award of Merit
Tempted and Tried Temptation and the Triumph of Christ
Russell D. Moore (Crossway)
Excerpt: Tempted and Tried | Temptation and the triumph of Christ.
* * *
Biblical Studies
"This astonishing book is the fruit of decades of rhetorical analysis and cross-cultural anthropological work. We often hear Paul's answers without knowing the questions. Bailey comes to our aid by explaining what life would be like in Paul's Roman Mediterranean world."
Award of Merit
Did Adam and Eve Really Exist? Who They Were and Why You Should Care
C. John Collins (Crossway)
Coverage: The Search for the Historical Adam | Editorial: No Adam, No Eve, No Gospel
* * *
Christianity and Culture
"Chaves explains commonly cited trends such as mainline decline and megachurch popularity, and offers new statistics that help Christians situate themselves in the larger religious marketplace."
Award of Merit
Jesus Christ and the Life of the Mind
Mark A. Noll (Eerdmans)
Interview: Mark Noll on the Foundation of the Evangelical Mind | Christian scholarship must be rooted in the person and work of Christ, says the Notre Dame historian.
* * *
Spirituality
Ravished by Beauty The Surprising Legacy of Reformed Spirituality
Belden C. Lane (Oxford University Press)
"Lane excavates stunning discoveries about beauty, desire, yearning, and God's creation that reverse caricatures of Calvinism. He weaves together evocative writing, academic rigor, brilliant memoir, and a passion for nature, urging recovery of both Calvinism in its comprehensiveness and care for God's creation as an act of Christian spirituality."
Award of Merit
One Thousand Gifts A Dare to Live Fully Right Where You Are
Ann Voskamp (Zondervan)
Her.meneutics Reviews: Why Gratitude Is Not Enough | 'One Thousand Gifts,' Reconsidered
* * *
History/Biography (TIE)
Charles Hodge Guardian of American Orthodoxy
Paul C. Gutjahr (Oxford University Press)
"Given his vast influence since the mid-19th century, Hodge deserves to have had several biographers by now. But Gutjahr offers the first major critical appraisal of the life and work of this 'guardian of orthodoxy.' It will serve as the definitive biography of the titan."
And
God and the Atlantic America, Europe, and the Religious Divide
Thomas Albert Howard (Oxford University Press)
"Howard's elegantly written book adds depth and clarity to a question that has long confounded Americans and Europeans: Why has religion become an influential political force in America even though it was stripped of formal political stature? Howard has mined the writings of a stunning variety of European intellectuals, conservative and liberal, who judged the American experience to be out of step with modernity."
Award of Merit
Heaven in the American Imagination
Gary Scott Smith (Oxford University Press)
Picturing Paradise: A Review of 'Heaven in the American Imagination' | How conditions on earth shape our views of the afterlife.
* * *
Missions/Global Affairs
Word Made Global Stories of African Christianity in New York City
Mark R. Gornik (Eerdmans)
"Gornik's study makes the critical connections between a vibrant, local form of Christianity, its strong ties to founding churches in Africa, and numerous links with non-African Christians. His book introduces a truly global Christianity now found in major cities around the world."
Award of Merit
Understanding World Religions An Interdisciplinary Approach
Irving Hexham (Zondervan)
* * *
The Church/Pastoral Leadership
Renovation of the Church What Happens When a Seeker Church Discovers Spiritual Formation
Kent Carlson and Mike Lueken (IVP)
"Carlson and Lueken describe with authenticity and courage their church's journey from a 'seeker sensitive' emphasis to one of 'faith formation.' What's extraordinary about this is how the church grew smaller, not larger, but in the process became more faithful and more grounded."
Award of Merit
The Theological Turn in Youth Ministry
Andrew Root and Kenda Creasy Dean (IVP)
* * *
Fiction
"Brooks transports her readers to the days before America became America, revealing the beauty and tension of the relationships between the Puritans and Native American tribes. The book offers an inspiring story of one girl's quest to understand the world around her through her faith's doctrines, her society's traditions, the knowledge she receives from the classics, and the mysterious ways humans try to worship an unfathomable God."
Award of Merit
The Insulted and Injured
Fyodor Dostoevsky, translated by Boris Jakim (Eerdmans)
* * *
Theology/Ethics
"Averting his gaze from the kind of popular evangelicalism that is nondenominational in style and never quite confessional in ethos, Horton delivers the Reformed goods to a new generation."
Award of Merit
Union with Christ Reframing Theology and Ministry for the Church
J. Todd Billings (Baker Academic)
Related Elsewhere:
See our book awards from 2000-2012.
Have something to add about this? See something we missed? Share your feedback here.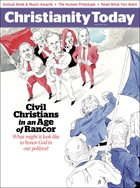 This article is from the January 2012 issue.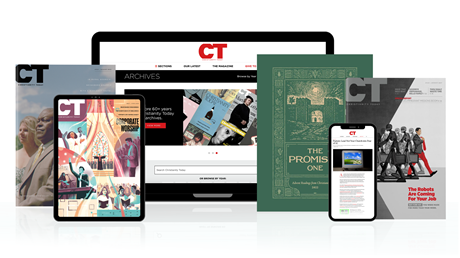 Annual & Monthly subscriptions available.
Print & Digital Issues of CT magazine
Complete access to every article on ChristianityToday.com
Unlimited access to 65+ years of CT's online archives
Member-only special issues
Subscribe
2012 Christianity Today Book Awards
2012 Christianity Today Book Awards