8 Ways You're Appreciated
We asked male leaders why they're thankful for you.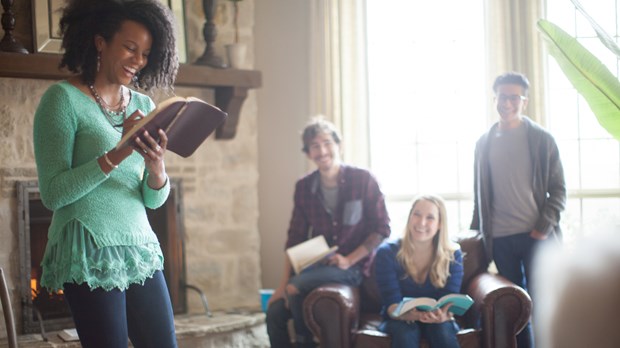 As a special gift to you this year, we asked male leaders why they're thankful for women who lead in the church. We loved all the responses, but the following eight really caught our attention. We hope you spend a few minutes reading their responses and feel seen, appreciated, and impactful in what you do.
I am profoundly grateful for the women pastors and leaders at Tenth Church and their spectacular leadership! Your wise executive leadership, Christ-centered preaching, courageous pursuit of justice, and loving pastoral care have built our church community. Without your Spirit-filled investment, our church's ministries would shrivel on the vine. The church at large is a healthier and more complete reflection of the Body of Christ with leaders like you. I am truly honored, inspired, and ennobled by the privilege of serving with you.
Ken Shigematsu, pastor of Tenth Church in Vancouver, BC, and author of God in My Everything
I am so grateful for all the women leaders in our church! They have such wonderful servant hearts, are so compassionate, and bring lots of wisdom, insight, and creativity in their leadership. Our teams really thrive when we have women leading them, and it's so inspiring watching them inspire other young leaders, too. The mission of God and the community of God are only complete when we have men and women working alongside each other with the gifts God has given them!
Carter Moss, campus pastor and life groups director for Newbreak Church, a large multi-site church in San Diego
I believe that throughout the centuries God has given gifts to his church through empowering and equipping women and men to lead both in the church and in the wider culture. I am grateful for the biblical leaders such as Ruth, Deborah, Jael, Mary, Priscilla, and Junia. I would not be the person I am today without the example of magnificent women such as Elizabeth Elliot, Amy Carmichael, and Catherine Booth, whose stories, lives, and teaching have always challenged me to live courageously for God. In my home church the women on our elder board bring clarity, wisdom, and great insight to every discussion we have together as leaders. I love the fact that there is a distinctly growing number of female movers and shakers in the national church scene—like Jo Saxton, MaryKate Morse, Bethany Hoang, and Danielle Strickland—who model in powerful ways to me a commitment to understanding Scripture and to living it out. So with a sincere heart I thank God for the godly women leaders who are impacting my life.
Dr. Krish Kandiah, theologian, justice activist, and author of God is Stranger: Finding God in Unexpected Places
Our women leaders have dramatically changed the culture and ministry impact of our church. They bring both a strategic boldness and a pastoral sensitivity to the work, a balance that we desperately need. By nature and training, women leaders are generally more intuitive, relationally insightful and extremely passionate. Thus they bring an emotional and intellectual energy to the teams they lead and to the teaching they provide. And it is clear some of the smartest leaders we have on our campuses happen to be women. When it comes to a missional mindset I find women leaders "feel the needs" in our greater community long before many men do, likely because many have been caregivers at work and in the home. Or maybe it is because women in general have been often overlooked, abused, neglected or marginalized in the world. So they have a special heart for the poor, the orphan, the widow and the stranger—the groups the Bible identifies as closest to the heart of God and deserving of special focus. I am so glad our church has women leaders—we would be "half a church" without them.

Dr. Bill Donahue, group life consultant, leadership coach, and professor at Trinity International University
Thank you to all the women leaders in the church. I am thankful for your strength to face obstacles that are unique to women in ministry. I am thankful for your perseverance through times of oppression and heartache. I am thankful for your guidance and leadership in my life and in others. I am thankful for your wise council that helps lead the church. I am thankful for your faith that continues to be at the center of your being. I am thankful that God made you in his image and that you are an ambassador for his kingdom. I am thankful to my sisters in Christ that I have the honor to be co-workers with in Christ Jesus. Thank you!
Brad Himes, involvement director at Broadway Christian Church in Mattoon, Illinois
I can remember the moment like it was yesterday. We had been visiting a traditional African American church in my hometown of Orlando, and I turned to ask my single parent mother what Women's Day was. As my mom began to explain that it's the one Sunday of the year that the church sets aside to honor and thank the women of the church, I asked her, "So you only get one Sunday a year?" I will never forget her laughing as she reminded me that every Sunday is about Jesus, not us. My mom has a way of reminding me about the important things of life, and this is true of all women leaders. They not only remind us what's important, but also remind us of the strength and beauty of God's bride, the church. I hate to even think of where we would be without women in the body of Christ. Thankful not only for the women that God has placed in my life but also very thankful for what women offer the body of Christ.
Maina Mwaura, missions pastor at West Ridge Church in Dallas, Georgia
Professionals in their fields outside the church, the women leaders in our church bring their expertise in social work, counseling, and various forms of leadership, filling the ranks of our diaconate. Every significant ministry to the marginalized in our city is led by women. Some seminary trained and gifted teachers are among them. Experiencing their combination of power and humility is one way we most tangibly encounter Jesus Christ.
Sharad Yadav, elder of preaching and teaching at Bread&Wine in Portland, Oregon
I appreciate the women leaders at my church because I personally have learned so much about God and myself by listening to them and serving alongside them. I know that this sentiment is shared by the congregation at RISEN. The diversity that women bring through their experiences, perspectives, and talents has blessed and served our church greatly. Our women leaders embody passion with humility, servant leadership, and a strong commitment to our gospel vision and mission. The vision of RISEN church fails if it were not for the women that God has called to serve and lead it.
Martin Cachero, pastor of RISEN church, a new church plant in San Diego, California
—Compiled by the editors