Make a Difference for the Kingdom
Whether or not your name eventually appears in history books, we're all called to do our part.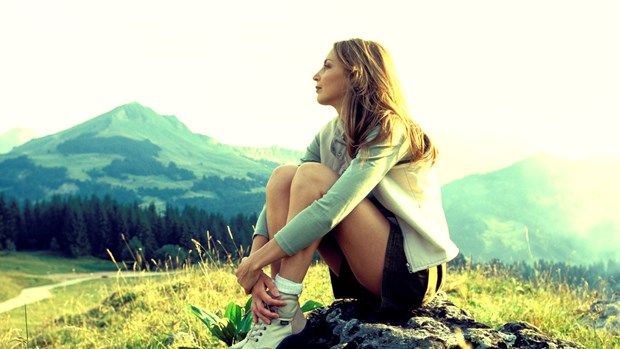 Editor's Note: As we wrap up Women's History Month this week, we want to remind you that you have a valuable role to play in God's plan—even if your name never appears in history books. Today we celebrate all the women who have fought the fight, lived fully, and loved generously without public recognition, and that includes you. —Amy Jackson
When a well-known or well-respected person passes away, we stop to reflect on the impact that person made on society as well as the loss the world now faces. Robin Williams, Charles Colson, and Anotonin Scalia are just a few people whose death was felt across America. What they did within "the dash" between the dates of their birth and death impacted the world.
As Christians, our gauge for greatness is more than just a person's impact on the world, though. We reflect on the impact a person has had for the kingdom of God. Throughout church history, many women have been recognized as great heroes of the faith, accomplishing the remarkable in the name of Christ. When I read what these women accomplished for the kingdom, I am both inspired by their faith and—if I'm really honest—intimidated by the extent of their ministry. I often wonder how I, a typical Southern woman, can make an eternal difference like these women.
As a woman past my Jesus year (33), time no longer feels on my side. In light of my anxiety, I began to reflect on what God calls believers to do for his kingdom. This brought to mind the many women who have played a significant role in my spiritual formation. As a Christian woman, God not only commands, but also desires that I play a specific role to advance his kingdom, and he equips me for the task. While some members of the body are more well-known in history, each is valuable in his story. Everyone is called to be a difference maker.
Impacting the Kingdom
In my quest to truly make an impact, I began to search Scripture, going back to the core teaching of Jesus. Christ sums up the greatest commands in Scripture in this way: Love the Lord your God with all your heart, soul, mind, and strength, and love your neighbor as yourself (Mark 12:29–31). Later, Christ gives the new command that his disciples are to love in the same manner in which he loves (John 13:34–35). Those who belong to the kingdom are those who prioritize God and others. Life is not about my own ambitions or wants. It's about surrendering all to allow God to use me as a vessel of his love to others.
Think about the women who have gone before us, and you'll see a common thread: passion for God and compassion for others. Hannah More, a British playwright, left a life of fame to educate rural women and children. She faced opposition from farmers and clergy who saw education as dangerous. Her efforts led to what we know as Sunday school.
Gladys Aylward was an uneducated woman who felt called to go to China as a missionary. Though the mission agency denied her application because they believed she was too old to learn Chinese (at age 30!), she saved up her money and bought her own train ticket to China. There, she learned the language and ministered to orphans, even protecting them when the Japanese forces invaded China. Later, she created an orphanage in Taiwan and worked there the rest of her life.
Harriet Tubman is known for leading slaves to freedom through the Underground Railroad, but she also served the Union Army as a cook, nurse, and spy. When she led the raid at Combahee Ferry, she became the first woman to lead an armed expedition. Later in life, she was active in the women's suffrage movement.
Of course, not every woman who has impacted the kingdom is listed in history books. I can barely remember my third grade Sunday school teacher's face, and I never knew her first name, but I know that she loved Jesus and she wanted us to love him, too. She faithfully showed up, brought cookies, and taught us the Word every Sunday. One Sunday morning she asked me if I had a personal relationship with Jesus. In that moment, God used this woman in a long dress with her hair tied up in a silver bun to forever change the course of my life. All because she had a passion for Christ and compassion for children.
God Equips the Called
God does not call the equipped; he equips the called (see Philippians 1:6 and Hebrews 13:20–21). Throughout Scripture, we see God use ordinary men and women to do extraordinary things. The same holds true in recent Christian history. Gladys Aylward was clearly not equipped before God called her to China. Yet, through God's enablement, she learned the language, became a Chinese citizen, and made such an impact as a Chinese missionary, a movie was made from her biography.
I have seen God equip me for his purposes in my own life. I never thought I would be able to teach children biblical truths until he called me. I never thought I would have the words to encourage a mother who just lost her newborn son until he equipped me. I never thought I could break the language barrier with a Palestinian Muslim until he used me. When I doubt whether I can truly make a difference, I am inspired by the fact that God has used ordinary people throughout history, and he has used and equipped me in the past to do the work he has called me to do.
A Shift in Focus
As a chaplain, I minister to people in the midst of crisis. I listen to their stories and help show them how God is at work in their lives. They'll never know my full name—and they probably won't even remember my first name. Yet I'm at peace because I know I'm making a difference. When I'm invited to intercede on their behalf, I call on a Name that is so much great than my own, and that's the name I want them to remember.
My goal as a chaplain, wife, mom, church member, volunteer, friend, citizen—and whatever other roles God may give me in my lifetime—is to make a difference each day, not by building fame or wealth, but by freely giving myself to God and to others. I'll leave you with this note on being a difference maker: "Each of you should use whatever gift you have received to serve others, as faithful stewards of God's grace in its various forms. If anyone speaks, they should do so as one who speaks the very words of God. If anyone serves, they should do so with the strength God provides, so that in all things God may be praised through Jesus Christ. To him be the glory and the power for ever and ever. Amen" (1 Peter 4:10–11).
Cortney Whiting is a wife and a mother of two young children. She received her Masters of Theology in New Testament Studies at Dallas Theological Seminary. Cortney serves as a chaplain in the Atlanta area. You can read more from her on her blog at www.becomingministries.blogspot.com.