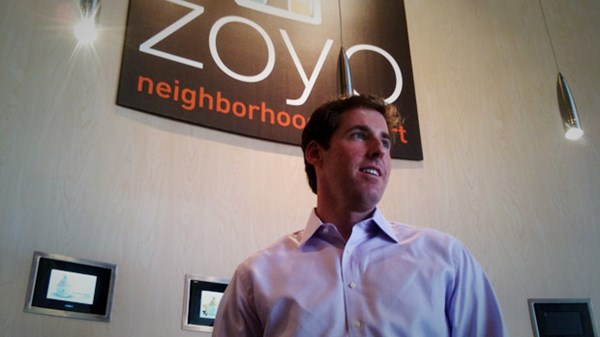 How Creative Business Blesses a City
Phoenix native Aaron Klusman's fast-paced career is a model for Christian entrepreneurs nationwide.
10.12.12
Baseball was Aaron Klusman's first career. A Phoenix native, he played while attending Brophy, a private Jesuit school downtown, then became an All-American pitcher at Arizona State University (ASU) before signing as a top prospect with the Los Angeles Dodgers in 2004.
But sports is an especially front-loaded career, and when injuries began sidelining him, Klusman was forced to face the reality of life without baseball. "I had fully planned on being the best baseball player in the world," he says. "Then I started asking: If I don't have baseball, who am I?"
Some of Klusman's ASU teammates were Christians, and through involvement with the campus chapter of Fellowship of Christian Athletes during his freshman year, Klusman began reading the Bible for himself. "God was working on a lot of different fronts, opening my eyes to the truth of who he is," Klusman says. "Life suddenly had color, and I discovered a purpose greater than myself."
A Broken Theology of God and Business
While playing at ASU, Klusman tried his hand at business by starting a retail clothing company, which grew to include sales representatives nationwide. As the business took off, and as doubts about a future in baseball mounted, Klusman began sensing that God may have uniquely equipped him to be a businessman. But he struggled to reconcile this new sense of calling with his budding faith.
"I was your poster child for a broken theology of God and business," he says. "I was in this horrible spot, feeling God had wired me for business, but with a theology that said God's against money."
Klusman considered becoming a pastor or otherwise "going into full-time ministry." Eventually, however, he realized he might not be gifted for pastoral ministry and that even pastors aren't immune to the sins of pride and greed. "We can't outrun our sin circumstantially," he says.
As he took steps to develop his entrepreneurial ventures, Klusman began meeting for coffee with a longtime friend and former teammate who had become a pastor in the area, to discuss what it might mean to engage the city of Phoenix, looking at it "from two sides of the coin" – one as a pastor, the other as an entrepreneur.
The Camelback Society
Amid those conversations, Klusman concluded there had to be others in Phoenix asking similar questions about faith and business. And he was right. Soon, a small group of young businessmen started gathering to discuss marketplace dynamics in light of their faith, primarily based on a sampling of books about the integration of faith and work. Klusman began envisioning "a really rich relational platform in Phoenix where, over the course of their careers – over 20, 30, or 40 years – guys could work on honing their worldviews together."
In January 2011, after five years of meeting informally, the group became the Camelback Society, led by Klusman along with an advisory board made up of entrepreneurs and executives with decades of experience in Phoenix. The Camelback Society provides a forum for young businessmen to explore how God has uniquely "wired" them for business. "Know your strengths and weaknesses," Klusman tells members, "and then start cultivating your craft."
Intentionally setting a high bar for membership, the Camelback Society asks members to sign a covenant, affirming a core doctrinal statement including the Nicene Creed, as well as specific commitments to prioritize their families, to build lifelong friendships of mutual accountability, to maximize God-given leadership potential, and to live lives of faithful presence in the Phoenix marketplace.
The group's 25 members meet weekly for breakfast to review life goals and to discuss assigned readings, which include both theological and business perspectives. Recently, they discussed a chapter on the sin of pride from Mere Christianity, along with a surprisingly similar article from the Harvard Business Review arguing that exceptional business leaders "[blend] the paradoxical combination of deep personal humility with intense professional will."
The Camelback Society also hosts a monthly Civic Leader Breakfast, which is open to the public and often features a guest speaker representing government or civil society, intended to facilitate connections with those in different spheres of society for the common good. One recent speaker was Don Cardon, a real estate and public administration leader who also serves on the advisory board of the Camelback Society. Cardon's real-estate business focuses on mixed-use development and other urban projects in Phoenix. He recently served as director of the Arizona Department of Commerce, during which time he transformed the department into a public-private economic development organization renamed the Arizona Commerce Authority.
During his talk at the Civic Leader Breakfast, Cardon advised young business leaders to be careful what they wish for. Sharing candidly from the highs and lows of his own experience, he warned that lingering insecurities often become all the more pronounced the more successful someone appears to be. "As you're granted success," he said, "you become increasingly aware how little it is about you and how much it is about the grace of God."
When entrepreneurs reach their 30s and early 40s, says Klusman, 31, they often begin to gain real traction in their businesses. This success, however, requires long hours, competing with families for time and attention.
"We experience this tension," Klusman says, "and it often goes in one of two directions. Some decide they can't handle family pressures, so they dump themselves into their work, which happens subtly over time. Or they decide they can't handle the pressure of business, and they just settle for a paycheck somewhere."
Faced with these tendencies, a key priority for Camelback members is to develop life plans and commit to monthly reviews, including any needed changes before problems escalate beyond the point of repair.
Business and the Flourishing of Phoenix
Married with small children, Klusman is forced to practice what he preaches – and to make mid-course corrections along the way. A self-described "serial entrepreneur," his business involvement runs the gamut from real estate to financial services to private equity. He is CEO of IPO Solutions, an online investment bank that aims to do to investment banking "what eTrade did to the brokerage business." And, as co-founder and managing partner at HWK Partners, a private equity and venture capital firm, Klusman helped to facilitate a $15 million investment in a Hollywood film company. He is also managing partner at Camelback Realty Group, specializing in land and commercial development in Phoenix, with transactions upwards of $75 million. He's also the founder of Zoyo, a self-serve frozen yogurt franchise with eight locations across Phoenix and a ninth in the works. And together with business partner and mentor Bert Hayenga, he is the largest Dunkin Donuts franchisee west of the Mississippi.
"Aaron has been highly competitive in a very humble way," says Cardon, a mentor of Klusman's. "He doesn't live just for the moment. He has the rare ability to have a macro understanding, blending patience with a capacity to aggressively move forward when the time comes for that as well."
Klusman works hard to turn a profit, as success in business requires, but the dividends extend beyond his investors. As he sees it, thriving businesses are instrumental to the flourishing of any vibrant city, and Phoenix is no exception. "If you're going to talk about the well being of the city, the reality is that you have to understand economics," he says. "A city flourishes as its economic engine thrives."
'If you're going to talk about the well being of the city, you have to understand economics. A city flourishes as its economic engine thrives.'—Aaron Klusman
Michael Barth works for Klusman as Zoyo's director of operations, overseeing current stores and working to expand the franchise to new locations. He also joined the Camelback Society after Klusman personally invited him. "He's a very caring, relational guy," Barth says of his employer. "He's always asking everyone how they're doing."
Barth has also been impressed by Klusman's innovative approach to business. "He's got a new idea every day," Barth says. "There's always something that someone else hasn't thought about."
The belief that the work of our hands is a way of honoring God has become foundational to Klusman's theology of work. "There's intrinsic value in making a table," he says. "You can take joy in that each day. You don't need to slap a Bible verse on the leg of the table for it to be stamped with the approval of God."
Cultivating the Entrepreneurial Craft
Klusman recognizes that like any endeavor, business can be twisted to serve destructive ends, which leads to difficult questions – especially for an entrepreneur, for whom there are tangible implications. As an investor in a film company, he wonders what faithful presence in that sector looks like, as his seat at the table seldom warrants him a say in the kinds of movies made. And while Dunkin Donuts and Zoyo provide great environments for families, he wonders about the merits of selling foods that aren't particularly healthy.
"When you start to think through all the ways you can influence culture, you realize everything can also influence in the wrong direction," he says. "Everything can be abused."
Even so, Klusman recognizes daily opportunities to seek the common good, beginning by affirming that all relationships – with customers and employees, with business partners and neighbors – provide opportunities to serve. These distinctions may seem insignificant, but Klusman believes choices like these do shape the culture of a company. Given enough time, and taken together with the common-good decisions of others, the economic culture of Phoenix may even begin to change.
It's easy to disparage the licentiousness of Hollywood or the greed of Wall Street from a distance. But Klusman isn't content doing that. Alongside his mentors and peers, he's made the decision to practice faithful presence in Phoenix, where God has placed him, cultivating his craft as an entrepreneur.
Tim Høiland is a writer and communications specialist working in the field of international development. He lives in downtown Phoenix with his wife, Katie, where together they enjoy palm trees, sunshine, dry heat, and most recently, frozen yogurt from Zoyo. He explores the intersections of faith, development, justice, and peace in the Americas at tjhoiland.com.
MORE FROM CHRISTIANITY TODAY