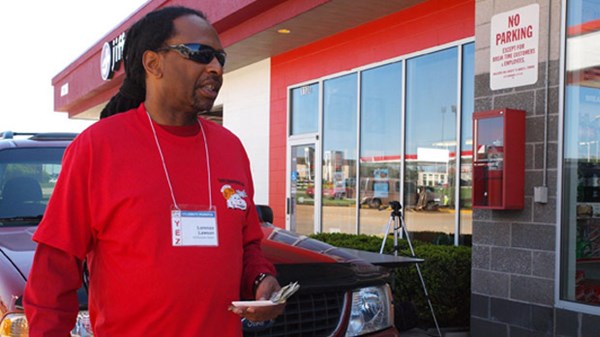 A Savvy Peacemaker Building across Missouri's Race Lines
From city council meetings to street corners, Lorenzo Lawson is shaping a more just Columbia, Missouri.
2.23.12
On his weekly "Straight Talk" radio show in Columbia, Missouri, Lorenzo Lawson isn't afraid to ask tough questions. This time, Lawson and his co-host have the superintendent of Columbia Public Schools on the air at KOPN 89.5 FM.
"What are we doing about the high-school dropouts, especially when it comes to African American males?" Lawson says on the January show. "What's the plan for that?"
It's an issue close to Lawson's heart. A black community activist, he attended Columbia Public Schools during and after segregation before dropping out of high school himself. Now, the criminal-turned-preacher can be found at city council and school board meetings, helping to ensure the voice of the African American poor is heard.
Lawson can empathize because he knows what it's like to live in poverty in Columbia. With a rough past marked by violence, drugs, and pimping, Lawson came to Christ in prison and returned to Columbia in 2000 to bless the city he had once damaged. He started an inner-city church and founded a nonprofit to help African-American youth find jobs. When disaster struck, he organized a center for victims of Hurricane Katrina.
"I believe my calling is to champion the calls of people of poverty and enlighten them, to uplift them so they can be part of the solution and not the problem," Lawson says.
To newcomers, Columbia appears to be a typical college town with a trendy downtown area. But census data show 23 percent of residents live in poverty, much higher than the nationwide rate of 14 percent. Walk a few blocks north of University of Missouri campus, past the nice shops, and you run into public housing projects.
Moreover, while Columbia is 11 percent African American and 79 percent white, about 67 percent of public-housing residents at family sites are black, according to Columbia Housing Authority statistics from 2011.
The divide has resulted in tension between the African American community and the predominantly white authorities and social service agencies. Lawson sees his calling as bridging that gap.
"One problem in the social service environment is that the people providing the service have never experienced what the clients are going through," Lawson said. "If you don't have an idea of the ailment and the symptoms, then it's hard to come up with the proper medication."
Making Peace During Crisis
Hurricane Katrina and its aftermath gave Lawson a first-rate opportunity to practice peacemaking, as many evacuees sought shelter in Columbia. Clients pouring into local nonprofits were mostly African Americans from New Orleans, whereas the social service workers trying to help were mostly white mid-Missourians.
"People had been traumatized and were trying to figure out where to go, what to do," Linda Green, former executive director of the Boone County Community Partnership, said. "In those situations, the cross-cultural issues are heightened. People felt they were being talked down to or asked personal questions, or they had never asked for assistance before and now they had to, so it was humiliating."
In response, Green appointed Lawson to coordinate disaster relief efforts under the nonprofit.
But not everyone welcomed his leadership. Some social-service workers felt that their efforts were being criticized, Green said. Shortly after Lawson was selected, a local nonprofit leader interrupted Lawson at a community meeting. He pointed at Lawson, Green recalls, and said, "You don't know anything about this. Who do you think you are?"
Lawson didn't lose his calm, Green recalls. "I'm a person who cares and a member of this community, and I know something needs to be done," he said.
As the group moved forward, Lawson continued working to diffuse tensions. The social service agencies worked together daily at the Disaster Recovery Center, headed by Lawson, but many of the leaders were still angry at each other. In response, Lawson brought in several black pastors to pray with the group every morning, which Green said helped remind the group why they were there.
"You can't really be mad at someone who says, 'Well, let's join hands and pray about that,' " Green said. "It takes all the wind out of people's sails."
The center Lawson organized was an office set up as a one-stop shop for more than 250 evacuees from Hurricanes Katrina and Rita who needed assistance. Here, people could fill out a simple assessment detailing their needs, and then they were directed to booths where social service agencies were on-site. The office was set up like a living room with a greeter and some coffee—a stark contrast from most agencies' dull waiting room.
"I wanted to make sure they were welcomed and really treated like they should be, with dignity and respect," Lawson said.
Realizing that normal office hours wouldn't be enough, Lawson pushed to keep the Disaster Recovery Center open from 7 a.m. to 7 p.m., seven days a week, often putting in 90 hours a week. The city later recognized his efforts with the Columbia Values Diversity Award in 2006.
Green had nominated him. "He was the finest kind of demonstration of what it means to be a Christian, to bring people together, to be a peacemaker, to find out what people's needs are and get their needs met," Green said.
An Advocate for Youth
Hurricane Katrina wasn't the first time Lawson's peacemaking skills were called upon. In 2004, a shooting outside the Columbia Mall—widely considered a safe location—awakened Columbia to youth violence. The First Ward council representative called a series of town hall meetings, and Lawson stepped up to help organize the meetings and do further research, visiting neighborhood hangouts and surveying African American youth. The majority said they needed good jobs so they wouldn't resort to crime.
Soon the Boone County Community Partnership put Lawson and fellow activist Nathan Stephens in charge of a pilot youth employment project. That summer, 42 at-risk youth were able to get jobs through the program, but only 20 percent kept them for longer than 30 days.
Lawson and Stephens realized it was going to take much more than a summer project to prepare youth to succeed. "The resources that other kids get—such as parents, mentors, employment etiquette—these kids don't have," Lawson said.
The partnership hired Lawson to change that with the Youth Empowerment Zone (YEZ), which matches 35 to 40 youth with employers and serves another 60 to 115 youth in other capacities every year. The nonprofit teaches them how to create resumes, prepare for interviews, and dress professionally. Now, 75 percent of YEZ youth keep their jobs for 30 days or more, and the zone has 42 corporate partners who have agreed to hire them.
A Networker and Activist
Lawson's cross-cultural relatability allows him to network with everyone from politicians to gang leaders. Serving on the United Way board, for example, he has defended funding black-run nonprofits, and he helped transform the Minority Men's Network into an advocacy organization.
When Lawson (now the network's secretary) first came on board, the Minority Men's Network's main purpose was to select minority students for scholarships. Lawson balked. "All this stuff is happening in the community, and we're meeting to give away two scholarships a year?" he said. "What's this all about?"
"He brought an on-the-ground perspective to the group," Minority Men's Network President Steve Calloway said. "He is a strong advocate for us to be involved more definitively in issues that affect the minority population."
Lawson pushed for the group to advocate for the Citizens Police Review Board, an independent body of Columbia residents who investigate complaints against police officers. With the network's support, the City Council voted in summer 2009 to create the Citizens Police Review Board.
"The police were policing themselves, and it wasn't effective at all," Lawson said. "This was a more democratic type of initiative, where you have an independent board look at complaints from citizens. It's not the police looking at it from their point of view. Because they think some of the stuff they do is in the line of duty, when in fact a lot of it is excessive force."
By now, Lawson is a regular at City Council meetings, lobbying successfully against cutting city bus routes (and unsuccessfully for a police taser ban). The next issue he's tackling is payday loan reform, partnering with State Rep. Mary Still and the Grass Roots Organizing nonprofit to run a petition drive. With enough signatures from across Missouri, the proposal to cap the interest rate of payday loans at 36 percent would appear on the November 2012 ballot. Lawson is spreading the word on his KOPN radio show, at community meetings, and from the pulpit.
"He's got credibility on the street, in board rooms, in the school system, and within social service agencies," Green said. "You don't see that very often. A kid from the streets who has a felony record and went to prison—how many of [them] are sitting in decision-making positions in this community?"
Sitting in his office one autumn day, Lawson took a moment to reflect. "I just turned 58, and I think maybe it's time for me to slow down," he said, as if entertaining the idea for a moment. "But it doesn't look like it's going to happen. God just has too much for me to do."
Catherine Newhouse is a University of Missouri-Columbia student majoring in journalism, religious studies and international studies. She writes regularly for Christianity Today magazine.
MORE FROM CHRISTIANITY TODAY