How Your Church Can Say 'Welcome'
4 principles of creating welcoming spaces.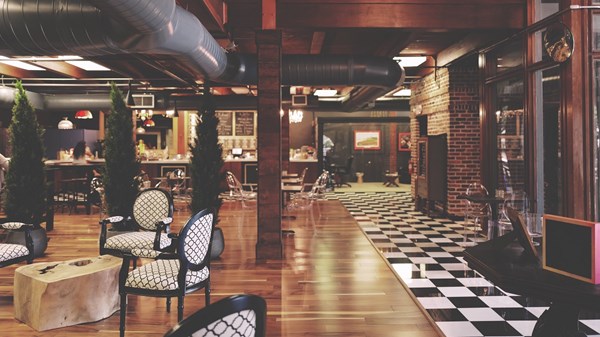 How Your Church Can Say 'Welcome'
The church lobby is where first and lasting impressions are made. Yet for many years, the lobby served as either a coatroom-hallway or a vast space meant for people movement. Recently churches have begun to emphasize how they use the lobby to communicate with first-time and long-time attenders.
Tell your unique story.
Showcase your church's story. As one long-time architect advises, "It starts with understanding your unique DNA and wiring." Think of how your church started, your mission, your values, your role in the community. Let the unique character of your church shape how you use your welcome space.
Community Christian Church in Naperville, Illinois defines its mission as "Helping people find their way back to God." Aside from having the message displayed as wall art, they designed their space with the purpose of community outreach. They run a café open to the public throughout the week. They offer their lobby as a workspace with free Wi-Fi. Fifty different organizations in town now use their facilities. People who normally wouldn't go to church come into the space and feel less intimidated by the idea of going to a Sunday service. The lobby plays a role in achieving the church mission.
Keep signs simple.
Signs and kiosks help people understand where to go, but they often compete for attention and create a cluttered atmosphere. Architect Derek DeGroot of Aspen Group asks, "As soon as I get in, do I know where my kids go, do I know where the restrooms are, do I know where I can get coffee, do I know where the doors to the auditorium are, do I know what's expected of me?" Use clear and large signage to denote major areas so newcomers can navigate easily.
With temporary signs, like promotions for an event or new study, simplicity is the rule. Laura Copeland, Small Groups team member at Saddleback, shares that each week their team asks, "What's the one thing that's the most applicable to the most people?" They choose, then put the promotion in temporary display boxes at each entry. She explains, "If you give people five options, they probably won't do any, because they don't know which one they should do. Then they'll just leave. But if you say 'Here's the one thing you should do,' they're not having to think about it or decide. You told them 'This is the one most important thing for you to do.'"
Replace your brochures with your people.
"I get home on Sunday mornings about 20 to 25 minutes later than I used to because people stay around."
As opposed to the traditional wall of brochures and information, the focus now is to offer literature nearly only in the form of a welcome gift. This Welcome Guide includes information on staff, beliefs, values, and small groups. As Mark Waltz, executive pastor at Granger Community Church, explains, "Too much information, too many brochures, overwhelms people and doesn't invite them in; it may repel them because 'I see too many choices and I'm not sure what to do with all that.'"
Instead, Waltz advocates a "prominent, visible guest-services kiosk and the staff there able to knowledgably answer questions." Volunteers from your ministries represent the church and their ministry better than a brochure. They are able to make a face-to-face connection and give personal invitations to join.
Create 5-minute spots and 50-minute spots.
Derek DeGroot says, "Churches have been trying to use their lobby to foster environments for social interaction," and he identifies two different locations for the interactions: 5-minute spots and 50-minute spots. A 5-minute spot is a place for a quick conversation, a place to "get off the highway" of traffic flow, a place with standing-height tables to set a drink on, and bar stools. A 50-minute spot is meant for deeper conversation, somewhere to sit comfortably and intimately with soft seating and an enclosed space.
Mark Waltz explains, "When a space is open and provides seating, there's an invitation to sit and be present for a while." When Waltz's church had no lobby, people rushed in and out. Dave Corlew, senior pastor at Arlington Countryside Church in Arlington Heights, Illinois, discusses a similar story at his church. Upon entry, people faced a brick wall, leaving no room outside their sanctuary to gather. But since the church added a larger welcome space, he says, "I get home on Sunday mornings about 20 to 25 minutes later than I used to because people stay around."
Such a tangible change in a church's community life is proof of the difference small changes can make. When intentional choices are made in church lobby design, the impact goes beyond aesthetics into a lasting transformation in the life of your church.
Grace Toliver is a student at the University of Minnesota and an intern with SmallGroups.com.

08/08/2016