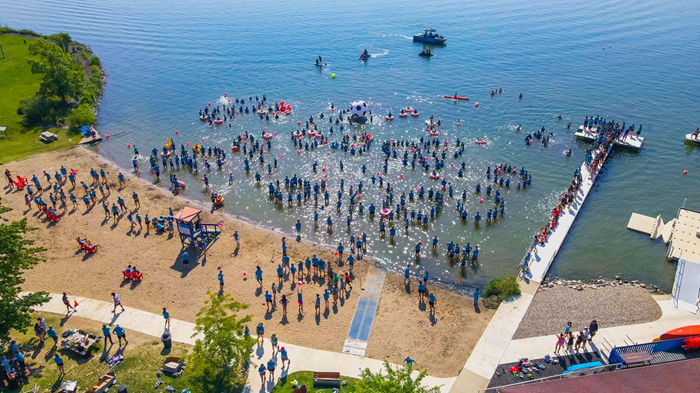 Image: Courtesy of Grace College
Eleven evangelical college and universities have announced record enrollment this fall—which is a record for breaking records, as far as anyone in Christian higher education remembers.
Asbury University saw enrollment jump 20 percent, while East Texas Baptist University's student population climbed above 1,800, the highest in the school's 111-year history. Abilene Christian University has more than 1,000 incoming freshmen, and Cedarville University is celebrating an increase of 374 students for a total incoming class of 1,017. Grace College, marking its 75th anniversary in Winona Lake, Indiana, grew by 465 new undergraduates, and Taylor University, also in Indiana, added 606 students to its rolls.
Concordia University, St. Paul, beat its previous record by 218 students. Lipscomb University welcomed more than 700 first-time freshmen. Dordt University's enrollment climbed to 1,911 students and Samford University's incoming class is 11 percent larger than last year's, continuing a decade and a half of growth. Ouachita Baptist University had a 14 percent increase in undergraduates and now has a total of 1,581 undergraduates on its campus in Arkansas.
Overall enrollment numbers at schools affiliated with the Council of Christian Colleges and Universities are not yet available. But several other evangelical schools have also reported strong numbers, including Houghton Univeristy and Wheaton College, which surpassed its enrollment goal by about 50 students after a few difficult years.
College presidents and vice presidents who spoke to CT say prospective students are drawn to the community at small Christian schools. The incoming class suffered through the social isolation imposed on them through the pandemic in high school and now are looking for deep connections in college. They place a high value on the very thing that evangelical institutions have always offered—discipleship, relationships, and a place to grow.
"It's hard to be an 18-year-old student right now," said Jennifer McChord, Asbury's vice president of enrollment and marketing. "When they see a place where they can have these meaningful, authentic connections where they are seen and known, it stands out. Because that's what they're craving."
Schools like Asbury have also been working very hard to get the message out about the value of Christian higher education. After the institution, named for an early American evangelist, learned that many local high schoolers didn't know what Asbury was, the marketing department decided to invest in an intensive digital advertising campaign. For the last two years, social media ads have targeted 16- and 17-year-olds in the area who express an interest in growing in their Christian faith and one or more of the academic and extra-curricular programs that Asbury offers.
"A lot of ads. A lot of videos. A lot of value content," McChord said. "We use the digital platforms to drive a student to engage with a counselor and drive them to visit, where they can see."
Asbury also developed a number of partnerships with Christian high schools in the region, offering scholarships and developing a stronger pipeline from evangelical secondary education to evangelical post-secondary education.
According to Mark Pohl, Grace College's vice president of enrollment management, less than a third of graduates from Christian high schools go on to Christian colleges. Increasing that percentage could mean a lot to a school like Grace.
Pohl and Grace College president Drew Flamm visited about a dozen Christian high schools in Indiana, Illinois, Ohio, and Michigan the year before Grace broke its enrollment record.
"We encourage students to talk to their families about the continued discipleship process and the value of Christ-centered education as they make their faith their own," Flamm told CT. "We're a discipleship institution. Part of the application process has students indicate a relationship with Jesus. And we also emphasize you can get a good job with a Grace education."
Christian schools have also been working on improving the pipeline out of college—where students go when they graduate. Bethany College, a West Virginia school affiliated with the mainline Disciples of Christ, has signed agreements with other institutions to guarantee qualifying graduates a seat in medical school, law school, pharmacy school, and veterinary school.
"We want to tell mom, dad, and student you can get there from here. That second phase of post-secondary education is already worked out if you come here," said Bethany's interim president Jamie Caridi.
Bethany, like other Christian colleges and universities that spoke to CT, does not often compete against peer institutions for prospective students. Most of the young people considering Bethany are also looking at public universities, Caridi said.
Small Christian schools have to find ways to credibly promise a career path that seems equivalent to what someone could get at a state school. And then they add a promise about the potential for close relationships and spiritual growth. The West Virginia school, which went through a severe financial crisis in the 2010s, now offers degrees in cybersecurity, digital marketing, and health care administration, as well as pre-physical therapy, pre-occupational therapy, and criminal justice.
"We feel like America today needs Christian education more than ever before in history," Caridi told CT. "But if we're honest, at some point the marketplace lost sight of the value of Christian education. The marketplace has shifted, so we need to offer academic programs that are relevant to the marketplace but are a good mission fit for us too."
Many Christian schools have made similar shifts in emphasis in the last few years. That "program innovation" seems like it's paying off for some of them in 2023.
Nearly 10 percent of Ouachita Baptist's record undergraduate enrollment, for example, is made up of nursing students—a program that didn't exist a few years ago. The Baptist founders may not have envisioned that in 1886, but the administration sees the pre-professional degree plan as a natural fit for the Christian school.
"When I talk to these students, they talk about a calling to nursing," president Ben Sells said. "And that comes in part out of their Christian faith and seeing the need to meet the nurse shortage in our state and, more often than not, some need in their family. We're extending our mission to serve students who want to be really proficient in nursing and who are sincere about their Christian faith."
Individual institutions may also be benefitting from larger trends that have little to do with changes to the curriculum or outreach efforts. Early data collected from 841 colleges and universities showed a surge of applications in 2023.
A number of large public schools have also reported record enrollments this fall, including University of Ohio, University of Kentucky, University of Tennessee, University of Arkansas, University of Alabama, and Michigan State University. That growth can't really be explained by an emphasis on small communities and the importance of faith formation. It appears that some prospective students delayed college, waiting for the pandemic to end.
"If you are basing how you're thinking or feeling on the life decisions of 17-year-olds," Wheaton president Philip Ryken said, "there's going to be a complexity and inscrutability to that, no matter what."
Top Christian college administrators are acutely aware that one or two good years may not signal a reliable upward trend. The president at Bethany said, "no one is spiking the ball," while the president at Grace said recruiters would need to continue to remember the fundamentals of a good defensive strategy.
Many in higher education continue to worry about how declining birthrate will impact the total number of potential college students. Some experts have talked about an "enrollment cliff" as soon as 2025.
"I don't know that we are seeing some dramatically new situation for Christian college enrollment," Ryken said. "I think, year by year, we're going to see some winners and losers and we're going to continue to see that it's tougher than ever financially to sustain your mission."
But all of the presidents and vice presidents who spoke to CT said they were, nevertheless, hopeful. The rising enrollment numbers give them a sense of momentum, and they're encouraged that recent events seem to have helped people recognize the value of Christian higher education.
"As horrible as the pandemic was, it probably increased interest in Christian higher education," said Beck Taylor, president of Samford University. "Students who did not enjoy online education are looking for places to really invest in community. … We can really live into the relational aspects of university education and do it with credibility."
For Christian colleges, seeing a record number of students show up feels like the reward for many years of hard work. It also feels like an opportunity to fulfill the mission of Christian education.
"We can really be clear about the value," said McChord at Asbury. "When we can lock arms and pour into these students who are suffering from social isolation, anxiety, and so many other challenges today, continually pointing them back to the cross, pointing them to the truth, and challenging them to find what God says about it, that is value. And that's what they're looking for."