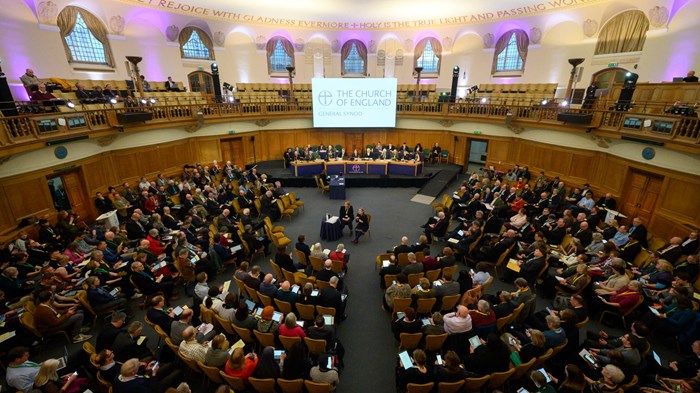 Image: Leon Neal / Getty Images
Update (November 16, 2023): Following a nine-hour debate, the Church of England's General Synod voted on Wednesday to introduce special services asking for God's blessing for same-sex couples "on a trial basis."
The national director of the Church of England Evangelical Council (CEEC), John Dunnett, said that the proposals marked "a 'watershed' moment, in that it appears that the Church of England no longer sees Scripture as our supreme authority."
Nikki Groarke, a senior member of the clergy in the diocese of Worcester and a member of Inclusive Evangelicals, wrote that she was "thankful … that we can be a welcoming and inclusive church for all. Recognise this step will be painful for some, but I believe it is the right one."
The Synod's lengthy discussion highlighted divisions over the legal process for the change. Bishops had suggested that "stand-alone" services blessing same-sex couples be subject to approval by the General Synod—a process that would not have been complete until 2025 and might not have met the threshold for approval. But this week, the Bishop of Oxford moved an amendment asking the bishops "to consider whether some standalone services for same-sex couples could be made available for use, possibly on a trial basis."
This was passed by a narrow majority: by just one vote in the House of Laity, one of the three houses of the Synod. The two archbishops had already indicated that they would support the move.
------
Church of England clergy could soon be authorized to pray for God's blessing over same-sex couples, though not quite affirming their unions as they would a marriage, according to a controversial paper set to be debated at an upcoming meeting of the church's national assembly, General Synod. Services with liturgy to bless the couples wouldn't take place until 2025.
In the 108-page document, bishops make the case for celebrating the "faithfulness, stability, fruitfulness, love, faith, grace" in same-sex relationships, with pastors "finding ways to help people move forward in holiness in a world that falls far short of ideals in every area, without giving up on the idea of the ideal altogether."
They also speak of "acknowledging and celebrating what is good in same-sex relationships even if the Church is unable to commend every aspect of some relationships."
Both conservatives and progressives have spoken out against the rationale for the proposals in the paper, calling it "bonkers theology" and "another fine mess."
The report is the latest development in a lengthy and often painful process of discernment for the Church of England as it grapples with deep internal disagreement about same-sex relationships in what it describes as a "rapidly changing social context."
In February, after eight hours of debate, the General Synod voted to welcome proposals by the church's bishops to issue prayers to bless same-sex unions in church. This update, issued ahead of November's gathering, sets out how difficult the bishops are finding it to bring the proposals to fruition.
The new paper explores how the prayers might be approved under canon law, the legal framework governing the Church of England. To authorize new liturgy, the bishops, clergy, and laity in the General Synod must approve it by a two-thirds majority in two houses. This process typically takes years to complete.
Or they could bypass General Synod. They could introduce the same-sex blessing services under a part of canon law that allows ministers to use forms of service that are "neither contrary to, nor indicative of any departure from, the doctrine of the Church of England in any essential matter." Under another part of canon law, the archbishops can approve a service themselves.
After the February vote, the bishops indicated that they might opt for one of the alternative routes, prompting the intervention of a group of church leaders, including several high-profile evangelicals. The critics warned that bypassing the General Synod would be "unlawful, illegitimate and unconstitutional" and leave the church exposed to "significant legal challenge."
The latest decision has left neither conservatives nor progressives happy. The bishops have decided to "commend" a collection of prayers, blessings, and readings ("Prayers of Love and Faith" or PLF) that ministers can use with same-sex couples during a regular church service. This is described as "pastoral provision."
This collection will not need to be approved by the General Synod. The paper acknowledges that providing prayers of blessings for same-sex couples who may be in "sexually active relationships" might represent a departure from the previous understanding of the church's teaching. But they argue that this would not be a departure from the doctrine of the church in an "essential matter"—a highly contentious conclusion.
When it comes to "stand-alone" services, where the blessing is the focus, the bishops have decided to seek approval of the General Synod. This might begin in February next year, but a vote on final approval wouldn't take place until 2025.
Given that last February's vote on same-sex blessings secured only narrow majorities in two houses, it remains uncertain whether the two-thirds threshold would be met.
It is clear from the paper that the bishops were anticipating criticism. The Bishops of London and Winchester, who wrote the introduction, explain:
We recognise that for some, pastoral provision represents far too little, and is considered deeply disappointing and distressing. We also recognise that others dispute the claim that this pastoral provision does not represent a change in doctrine.
But they argue that the fruit of their deliberations reflects "significant disagreement" within the church. They refer to offering "pastoral provision in a time of uncertainty," noting that there exists "a consensus for change within the Church but not a consensus on what that change should be."
Twelve bishops have already issued a statement earlier this month announcing that they are unable to support the decision to commend the prayers.
LGBT Anglicans and their allies have expressed disappointment at the content of the paper, with many describing it as a retrograde step for a church whose bishops recently publicly apologised for homophobia. Some suggested that for all its talk of "pastoral provision," it offers no real change.
"It is almost unfathomable, yet entirely predictable, that we have ended up exactly where we started," wrote Charlie Bell, a psychiatrist and priest in London. "Out of years and years of patient work, all we can do is pray for people like we already could do, and now we are specifically banned from holding special services for them."
Other aspects of the work have also been pushed back, including guidance on whether clergy such as Bell can enter same-sex marriages, which is currently prohibited.
The motion approved in February was amended to stipulate that there would be no change to the church's doctrine of marriage and that the final version of the prayers "should not be contrary to or indicative of a departure from the doctrine of the Church of England."
The new paper repeatedly offers reassurance that the prayers do not equate same-sex relationships to marriage. It states that, in a service of blessing, rings should not be given or exchanged "to avoid the impression that the service is a marriage service" and emphasizes that the prayers "fall short of affirming a couple's entire way of life as 'made holy by God' and 'blessed' as a marriage service would do."
Helen King, a lay member of General Synod, suggested that the paper was "all about … conservative fear" and that "any sense of joy, of celebration, of welcome, of blessing, has now disappeared."
The paper's drafted "pastoral guidance" provides an idea of the sort of concerns that have been voiced by churches who will not use the prayers; it includes advice on how to communicate this decision to a couple and whether such churches could face legal action under secular equality legislation.
There is reference to establishing an "independent reviewer" who would hear disputes over the decision to use or not use the prayers. The paper also acknowledges that some Anglicans have called for "structural differentiation," whereby churches who do not agree with the blessing of same-sex relationships might, for example, be overseen by bishops who share their convictions.
The paper has been published in advance of the meeting of General Synod in London next month, when members will simply be asked to recognize the "progress" made by the bishops since February and encourage them to continue their work on implementation.
LGBT Anglicans and their allies show signs of losing patience with the bishops after years—and ultimately decades—of discussion, consultation, and study.
"We have had enough," wrote Bell this week. "We have been taken for granted in Synod, and you should know, bishops, that you are no longer guaranteed inclusive votes based on private assurances. You are called to 'serve and care' for your whole flock, and that includes us."
For the majority of the English population, who do not attend church and no longer describe themselves as Anglican, the debate is unlikely to hold much traction. The "rapidly changing social context" to which the paper refers includes high rates of approval for same-sex marriage, while the majority of heterosexual weddings are now carried out in secular settings.
But for the Church of England and the Anglican Communion, the stakes are high. A statement issued on Monday, at the end of a meeting of Anglican leaders from the Global South in Cairo, applauded the stand taken by the 12 dissenting bishops and reaffirmed an earlier statement that said they were "no longer able to recognise" the archbishop as "first among equals."
Among those present was Nicky Gumbel, a former vicar of Holy Trinity Brompton, a flagship evangelical church and pioneer of the global Alpha course. To date, Gumbel has sought to avoid taking a public stand on sexuality but was one of the signatories to the September letter warning that the bishops' proposed process was unlawful.
For the bishops seeking recognition of their work to date, the plea is for understanding about the challenge of holding together a church riven by deep disagreement.
The Church of England is in a "complex space," they argue, "in which we want change but without changing the doctrine of the Church; we lament and repent of the mistakes of the past but are uncertain about the future."